Nigerian singer turned blogger, Tunde Ednut has recovered his Instagram account.
The controversial IG blogger announced his arrival on Tuesday evening saying he made most blogs popular and alleged that they hate him.
"BLOGGERS! IYA YIN… UNA MAMA… Do you know why I'm called the king? Ask yourselves. I made most of you blogs popular. You all blogs have paid me, except Instablog to be big. I posted you and you are hating on me, When I did extra posts for most of you for free? Why?
"I came back after the second time and got 1 million followers in 2 days. How many of una do am? Noooooooo, let's be realistic. How many don get 2 million in 2 days? Why hate me meeeeeeen? Common men," he wrote.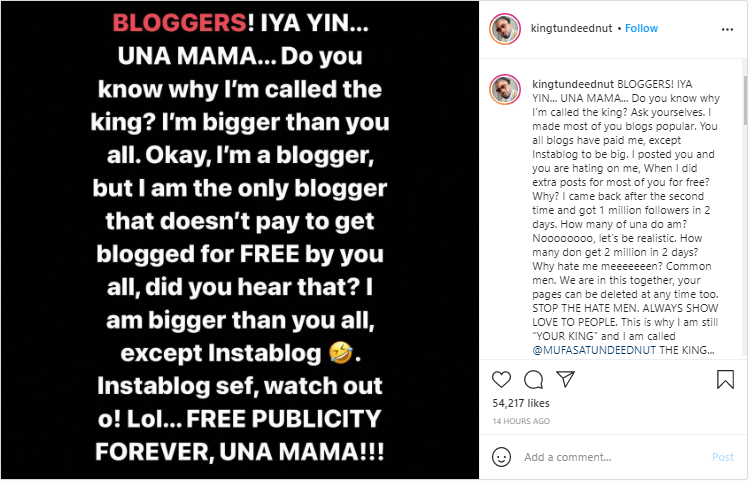 In another post he said, "KING Tunde Ednut!!! MUFASA FOREVER!! All these young bloggers paid me to be BIG. I don't hate you all. I still love you all.
"This is KING MUFASA FOREVER and I will forever be back. Do you know the meaning of BABATUNDE? Go and find out. FULL STOP!!! Una MAMA MAMA MAMA. Call me boss anytime you see me."
Tunde's account was suspended on Tuesday morning, making it the third time he got suspended.
His first account got disabled on December 22, 2020.
He opened a new one on January 10 which got 500 thousand followers within four hours with the help of several celebrities.
"THE KING IS BACK @kingtundeednut," Tunde wrote as he announced his arrival back to Instagram.
Tunde also gave out N1m to a social media comedian Aloma Issac who won a giveaway contest on January 12.
Shortly after crediting Aloma's account, Instagram suspended his account.
Tunde recovered his account with his followers intact on January 22.