In a post on his Instagram, AY said that even though he heard while growing up that Nigeria would improve, things are getting worse in the country, especially now that he's in his fifties.
Ay further noted that the more things seem to be different, the more they stay the same, making him wonder why we live in a situation that feels like the same thing happening over and over again in this country.
AY went on to ask how many people make enough money to meet their basic needs.
"Nigeria go better us what one grew up hearing. I'm still hearing it in my fifties. What kind of Groundhog Day existence do we live in in this country though? The more things seem to change, they remain the same."
Captioning the post, AY Makun wrote:
"How many of us do have wages more than sufficient enough to cover the bare cost of living in Nigeria?".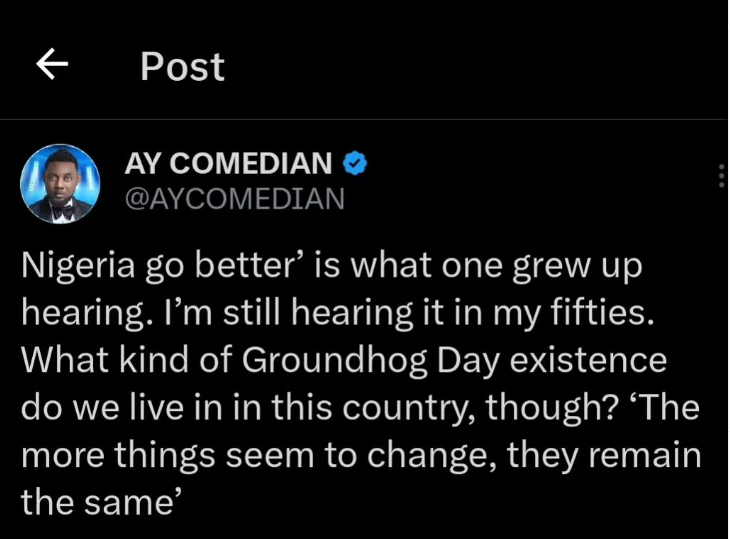 Read Also: 'People are suffering' – Actor, Kevin Ikeduba laments the cost of living in Nigeria (video) 
Glamsquad recalls that four weeks ago, AY Makun's wife, Mabel took to her Instagram page to cry out over the current state of Nigeria.
Mabel who is an interior designer disclosed that she has never been scared of her country. Lamenting about the foreign exchange rate and Increase in the prices of commodities, she noted that businesses are recording losses at a fast pace.
Pitching her tent with the poor masses, she stated that an average Nigerian can't afford to buy a loaf of bread and parents are now withdrawing their children from school for home tutors. The mother of two further noted that basic needs have graduated to become luxury and suddenly, affordability has become a myth!