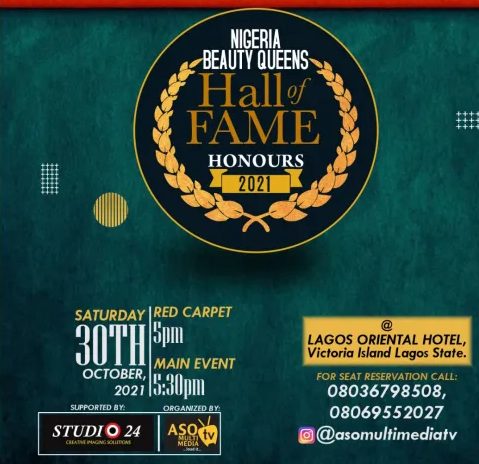 The Second Edition of Nigeria Beauty Queens Hall of Fame (The Queens' Night) is a distinguished event that honors notable former and present Nigerian beauty queens for their accomplishments during their reigns.
This year's event will take place on Saturday, October 30th, 2021, at the prestigious Oriental Hotels Victoria Island in Lagos, Nigeria.
The event is intended to honor both former and current Nigerian Beauty Queens who have distinguished themselves as role models for all young women who aspire to be beauty queens.
Read Also: Fela misses out on 2021 Rock and Roll Hall of Fame
The initiative serves as a point of reference for celebrating excellence, responsibility, and how far Nigeria's industry has progressed since independence.
To honor their contributions to the business, these outstanding individuals will be admitted into the prestigious Nigeria Beauty Queens Hall of Fame.
This luxurious event will draw Nigeria's past beauty queens, politicians, prominent media executives, and industry captains.
The occasion will also feature the unveiling of a compendium of prior beauty queens from 1981 to 2021.
The Special Guest of Honor will be Her Excellency Mrs Ibijoke Sanwo Olu, First Lady of Lagos State, while the Mothers of the Day/Guest Speakers will be Hajia Lami Tumaka and Senator Florence Ita Giwa, among other notables.
Read Also: Top 10 Nigerian movies on Netflix (2021)
Other Awardees Includes;
Dr Matilda Kerry Osazuwa- Most Beautiful Girl in Nigeria 2000, Omowunmi Akinnifesi- Most Beautiful Girl in Nigeria 2005, Adaeze Yobo- Most Beautiful Girl in Nigeria 2008, Chioma Obiadi- 40th Miss Nigeria, Ezenne Akudo Anyaoha- Miss Nigeria 2013, Sylvia Nduka- Most Beautiful Girl in Nigeria 2011, Anna Ebiere Banner- Most Beautiful Girl in Nigeria 2013, Queen Celestine- Miss Universe Nigeria 2014, Amb Enwongo Eyoette, Tarere Obaigbo- Mrs Nigeria, Winifrey Dania okolo, Jennifer Osayamen Oseyomon, Rose .O Tinuola, Ivie Young, Winifred Uduimoh, Tony – Nweze Makuochukwu, Nerita Ezenwa, Jessica Okeke Stephanie Korie, Jane Ezenwa, Nerita Ezenwa, Iveren Inyaregh, Sharon Robert, Patience Adokpe, Chime Evangel Obianujunwa, Princess Mercy Odey, Omerakwa Victoria, Queen Zion Torkwase Kilgore, Queen Nancy Zinny Inyama, Chikaodili Nna-Udosen, Queen Mercy Atang, Jennifer Agboje, Edidiong Ezekiel Uwah, Precious Okoye, Kate kalu, Makbere Usinzibe Marian, Successful Ochigbo, Ebere Mercy Asomba, Samantha Ubani, Miebaka Douglas, Princess Smart- Ayoka, Princess Adedoja Adeyemi, Ebbah Blessing, Ndukwe Linda Chioma,Olamide Adeleke, June Alaare Wisse, saadatu Momoh, Joy Oranezi, Jennifer Ephraim, Mrs Sandra ofili- Nwaoyo , Omoboyewa Ademoluti , Mitchel Ihezue, and Ifunanya Igbobi.
Mr Guy Murray Bruce, Mr Anthony Abraham, Studio 24 Nigeria, Zikel Cosmetics, Lush Hair and Silverbird Group will receive Special Recognition Award.