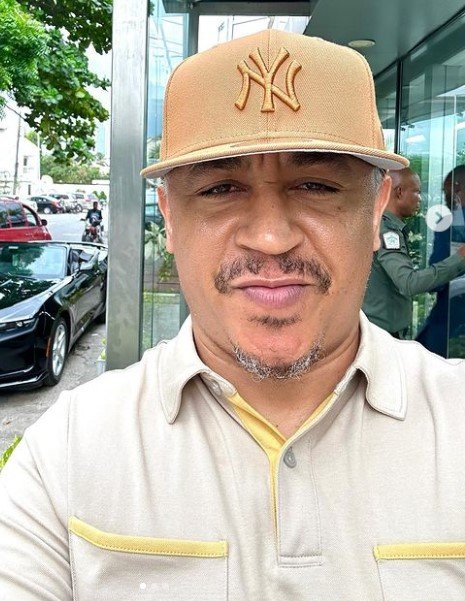 Media personality, Ifedayo Olarinde, better known as Daddy Freeze has come under fire after he opined that "Thanking God for life where people have died is selfish".
The 46-year-old shared his opinion following a video making rounds on social media where a man who survived a building collapse shared his survival testimony in a church.
Reacting to the video, Daddy Freeze said it is selfish to give a testimony for surviving a tragic incident that led to the death of others.
Taking to his Instagram page, he wrote:
"10 people lose their lives in a collapse building and the one person who survives gives testimony? Really? This is not a testimony! Rather, it's a manifestation of our innate caveman mentality, built on the foundations of greed and selfishness…"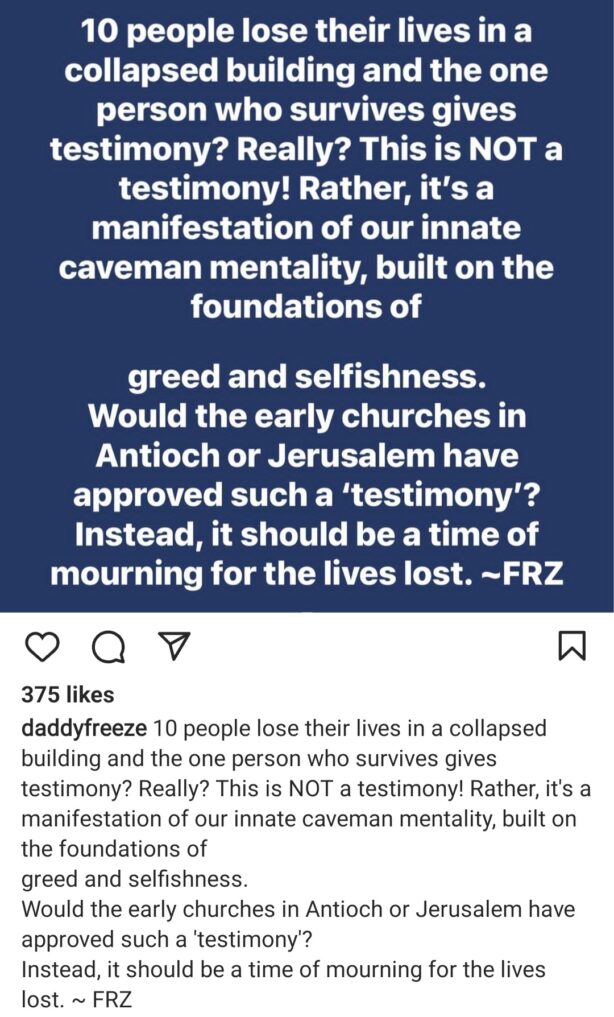 Fans and followers of the media personality disagreed with him while they noted that the survivor has every reason to express gratitude to God. However, he begged to differ in his reply. He wrote:  "Thanking God for life where people have kpaid is selfish."
Following his reply, Netizens reminded Daddy Freeze that the Bible urged Christians to thank God in all situations, replying, he asked them why they didn't also thank God when Asiwaju Bola Ahmed Tinubu was announced the winner of the 2023 presidential election.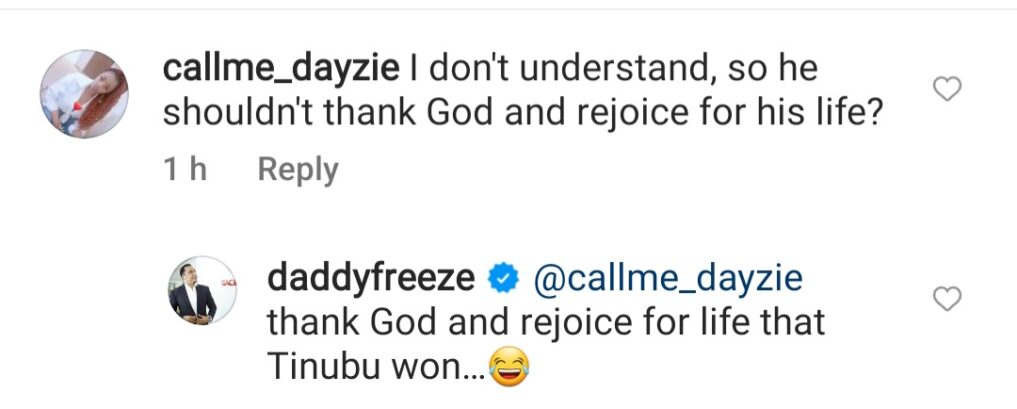 See other reactions called from Instagram
One Pestal wrote: "Mr freeze just wants the man to have "Survival's guilt" which isn't healthy… It's a sad thing people died, but people die everyday and we the living keep on living and celebrating life"
One chick Avenue wrote: "There's a purpose to why we were put on earth…and sometimes God saves us even inspite of ourselves to bring it to fulfillment. Jonah in the Bible, Moses in the Bible, Joseph in the Bible were all spared and God worked wonders through them… So when God saves you,thank God ,testify of Gods goodness..shout it from the rooftops to who cares to listen… Then go to your secret place and find out God's purpose for your life…and ask for grace to fulfil them. Thanksgiving is a Bible instruction…and not a trend…so do it regardless of what daddy freeze or social media says."
One Official Made in Heaven wrote: "There's no mentality there, I disagree with Daddyfreeze on this one, we all today celebrate the Sosoliso girl Kechi survivor of the ill fated air crash, in good and bad times give thanks to the Lord, so because other lost their lives she shouldn't thank God for his own? , Daddyfreeze celebrates his friends successes and wins, why doesn't he look away because others are not winning….. just like telling someone who built/bought a house not be happy because others are homeless….."
One Miss Juls wrote: "Ant!chr!st of our time!
Even traditionalists thanks their deity for life. But when a Christian does the same,Freezer starts fidgeting."
One Danny wrote: "Omo its too late for this individual. So don't Thank GOD for daily bread because some people don't have ?. The reason for giving thanks is basically because grace found you. Wth do you mean don't thank GOD"
Read Also: "He will never stoop that low" AY recalls receiving phone call from Basketmouth amid their beef 
Do you think Daddy Freeze's opinion matters as everyone is entitled to how they interact with God?