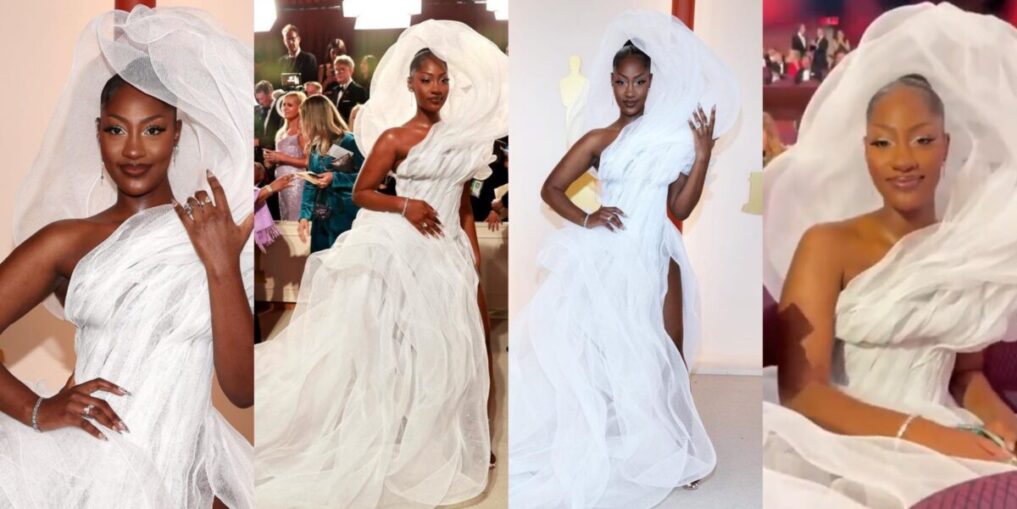 Grammy awards winning songstress, Temilade Openiyi better known as Tems is currently trending on all social media platforms over her outfit to 2023 Oscars.
The 95th Academy Awards was  held on Sunday night, 12th March 2023 at the Dolby Theater in Los Angeles, United States of America.
Tems, a participant of the event, stunned onlookers on the red carpet with her elegant white dress and coordinating headpiece.
The 27-years-old 'Essence' crooner was nominated for 'Best Original Song', for her feature in "Lift me Up" from Black Panther: Wakanda Forever and others on 'Lift Me Up'.
However, she lost to "NAATU NAATU" from the hit Telugu-language film RRR.
NAATU NAATU made history by becoming the first Indian film song to win an Oscar….
Despite not winning her normination, Tems was still the centre of attention in her Lever Couture SS23. The beautiful dress had a huge head piece that has gotten many talking online.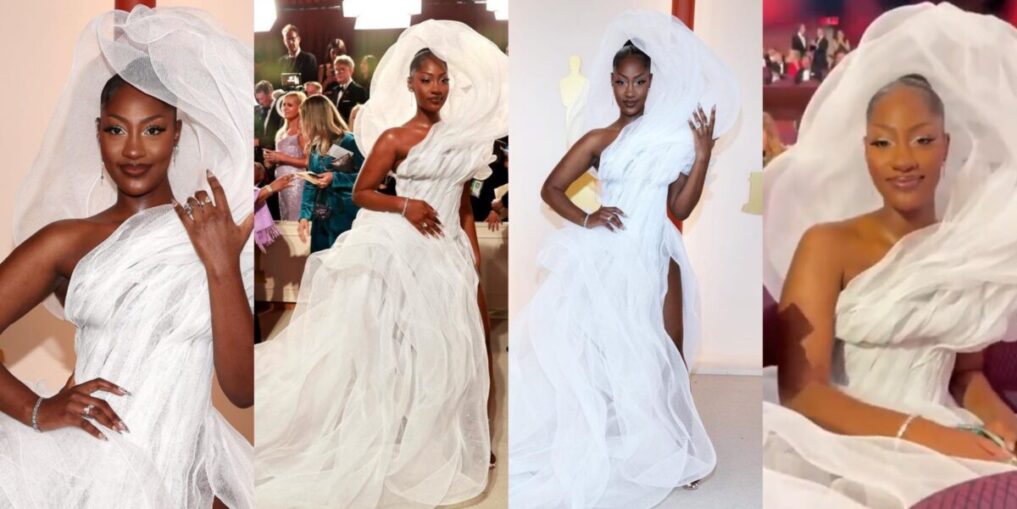 Netizens slams Tems over her outfit
Social media users tagged her insensitive for rocking such headpiece as they reckon it would block the view of people sitting behind.
Marie wrote: "Beautiful dress. But she should have been considerate of other people's view or sit at the corner of back…just saying
Sstarr wrote: "Nice, but she definitely obstructed the view for those behind her"
Bonzee creations wrote: "What in the name of fashion is this? Is that why she's trending for the wrong reason? Cos people sitting behind would be affected. We need to learn to show consideration to other people. She would have still looked hot without the hoodie design. Oyinbo folks don dey drag her for Twitter Sha with a pic of her sitting in the crowd… purpose defeated"
Purity wrote: "Beautiful but please it's too much… imagine using your dress to obstruct people's view
Timmy wrote: "Lmao not caring about anyone behind her!
Mercello wrote:  "Missed opportunity. She is beautiful but the outfit choice was miss".
Read Also: Oscar 2023: At 94, James Hong, star of 'Everything Everywhere', attends his first Oscars
Suzan wrote: "Gorgeous but wasn't suitable for the occasion. More of a Met Gala kind of outfit"
Bonzee creations wrote: "What in the name of fashion is this? Is that why she's trending for the wrong reason? Cos people sitting behind would be affected. We need to learn to show consideration to other people. She would have still looked hot without the hoodie design. Oyinbo folks don dey drag her for Twitter Sha with a pic of her sitting in the crowd… purpose defeated"
Sssahh wrote: "I kinda feel this outfit is wrong for the said event. She's beautiful though"
Doris wrote: "Very inconsiderate I thought because she was covering the people behind her. Wrong choice of everything for sitting inside
Read Also: Rihanna stuns with glamorous baby bump at the 2023 Oscar Awards