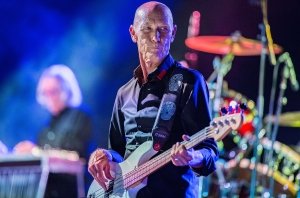 Michael Rhodes, a bassist and session musician who was elected into the Musicians Hall of Fame in 2019, passed away. He was 69.
Billboard received confirmation of Rhodes' passing from a representative. On Saturday morning, Rhodes passed away at his residence in Nashville, Tennessee (March 4). As of publication, no cause of death had been disclosed.
In 1953, Rhodes was born in Monroe, Louisiana. He learned how to play the guitar at age 11 and started playing it professionally before switching to the bass.
READ ALSO: Sani Abacha's son, Abdullahi dies at 36 in Abuja
He spent time living in Austin and Memphis before arriving in Nashville in 1977, where he joined the local rock band Nerve and the in-house demo band for Tree Publishing.
He told Nashville Arts that he received what he later described as "a great crash course in the art of playing a song, and what was needed for a song" there.
He later enjoyed a successful career as a session musician, contributing to hit songs by Shawn Colvin (1996's "Sunny Come Home"), Lee Ann Womack (2000), and even LeAnn Rimes and Trisha Yearwood in 1997, when they covered Diane Warren's "How Do I Live."
Rhodes is survived by wife Lindsay Fairbanks Rhodes, son Jason Rhodes and daughter Melody Wind Rhodes, and Lindsay's sons, Van and Weston Hayes, as well as grandchildren Cayman Rhodes, Cora Rhodes, Wylder Rhodes, Kingsley Rhodes, Jenna Nicole Hillman and Ryley Bruce Hillman.