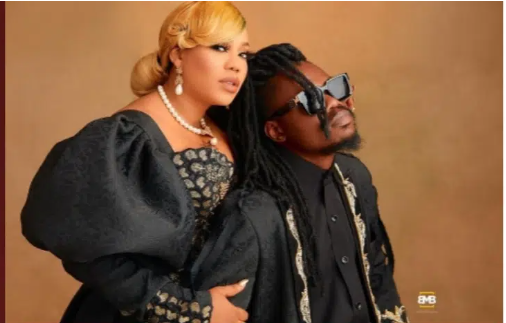 Segun Wealth, a photographer and the spouse of renowned stylist Toyin Lawani, has shared one of his favorite things about his wife.
He openly announced to the world that his wife provides him money when the couple appeared on Pulse TV's "Fun Facts" segment on the marriage.
Segun Wealth insisted that he is the go-to celebrity stylist despite Toyin Lawani's efforts to cover it up and silence him.
The photographer said that he loves that she provides him money among other things when Toyin Lawani asked him to list the three qualities about her that he enjoys.
Toyin Lawani later acknowledged that her husband never spends her money. She noted how she credited his account once with N20 million and he never spent it.
"What do you love the most about our relationship?" Toyin asked her man.
"3 things that I love is that one, the relationship isn't getting old, we do everything together and lastly, you give me money." he replied.
"Segun ti ba interview je (Segun has spoilt the interview). Which money?" Toyin said.
Her husband responded; "I like that you bring a lot of money"
"They would bow say it's because of money u married her" Toyin replied.
Her husband then asked; "What's my concern. Don't you give me money?"
Toyin responded; "Egbami o Sugar Mummy. What I love about our relationship is that you are one of the people that I have dates that I know isn't after my money, even when you need something, you literally kill yourself before you ask me for that thing. You never take advantage of me. Times that I will leave 20m in your account, I will come back and meet it there. You will need money for yourself, you wouldn't even touch it."
Toyin Lawani vowed that no man can dupe her with her money again, "No man can chop my money again".