In a recent interview, Nollywood's queen of boobs Cossy Ojiakor confirmed the news about having a bum implant. Earlier she made good her plans to get a new bum to compliment her humongous boobs, which have earned her fame far above what her talents could have pulled off.
The Nutty Queen revealed to Potpourri in a private chat that having a new big bum to replace her relatively small one is a done deal and that, it actually set her back some millions of naira.
When asked if she had actually done the butt job she said she would do, the actress who's always economical with words replied in the affirmative. "That's old news. I have a big butt now," she replied briefly with a chuckle of mischief in her voice.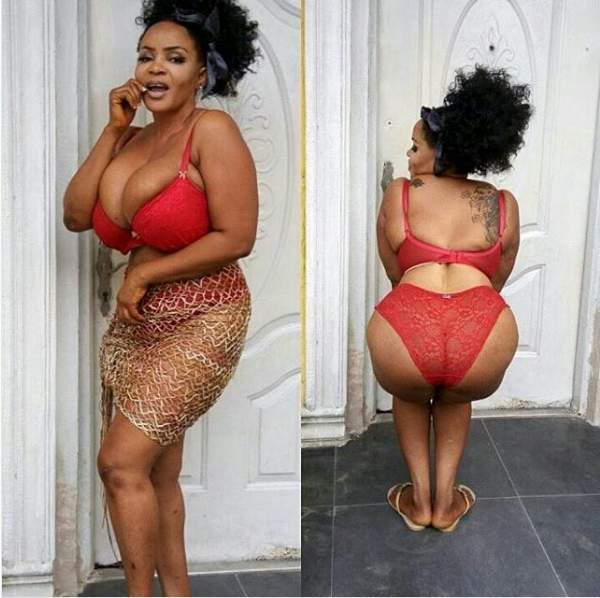 Then, Potpourri inquired if she could share the picture of the new big butt. She obliged with more chuckles. "So, you expect me to give out my new massive butt pictures just like that? After spending N1.5 million? Please chill. I 'm not giving it out yet. You will see it from my new music video," adding with more chuckles and teasing words.
Cossy caught everyone by surprise when she announced she was going under the knives to make her bum as massive as her legendary humongous boobs. There's probably no other African movie star more popular for their bumper boobs than Cossy Ojiakor.
I prefer to call her 'Commotion Cossy' because wherever she goes, commotion follows her, as all male eyes and even female ones bulge from their sockets at
the sight of Cossy's colossal twin-towers. Some have called her Nollywood's queen of boobs and rightly so, as the Nutty Queen has never failed to put her boobs on the line but it appears the diva wants to give her fans the best of two worlds.