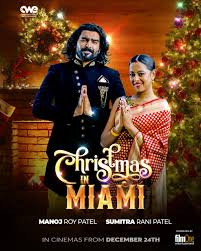 As we all know a lot of movies can be over rated but in this case it isn't.
As expected, we always get the best from AKPOS as he always delivers.
Read Also: Naija 2 The World: 21 Biggie Nigerian Song In 2021
Christmas in Miami is the fourth installment of Akpos series the previous where; 30 Days In Atlanta, A Trip To Jamaica and Ten Days In Sun City which all got massive views and response from the viewers.
However, this particular series is about Apkos(played by AY) who travelled with his dad (played by Richard Mofe Damijo) and elder brother (played by Osita Iheme) to US – Miami to represent Nigeria in an international TV game show, on getting their, they realized there are also a lot of families from all over the world – China, India, UK and Brazil – who are there representing their countries.
Read Also: Top 10 Leading Nigerian Tiktok Stars In 2021
They definitely represented Nigerian well by speaking in the Nigerian Pidgin Language.
The entire movie is subtitled for everyone to enjoy, well, as you know a comedy movie is never complete without a little swing at politicians and this one covers it.
A few swings where made at President Buhari and his incompetent administration however you won't notice it unless you watch properly!