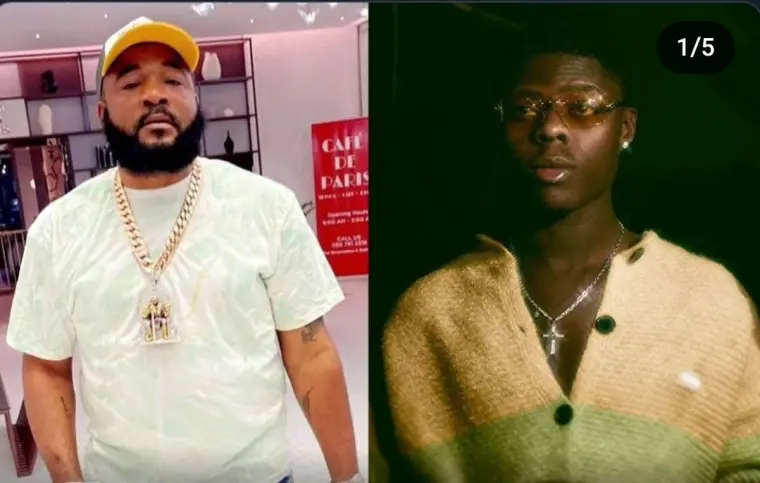 Since the death of Mohbad, Nigerians have called for the head of Naira Marley and his associate Sam Larry who were alleged to have bullied the "Peace" crooner before he passed on.
Sam Larry was particularly captured in a video trying to hit Mohbad physically while he was doing a music video shoot with Zlatan Ibile who intervened.
Nigerians blacklisted Sam Larry since the video went public and asked for him to be arrested by the police.
Sam Larry who has been in Kenya returned to the country and surrendered himself to the police as part of investigations.
ALSO READ: Mohbad met his wife, Wunmi at Naira Marley's record label – Mohbad's father spills
While investigations continue, a statement believed to be released by Sam Larry which he gave an account of what led to his altercation with Mohbad has been circulating online.
The statement said:
"Two years ago, I gave Ileri (Mohbad) N2m to perform at my mother's annual remembrance concert at Ikorodu, the boy never turned up. So, I called him to ask why.
"He then said he was not feeling well and when I asked for a refund, he said he lost his phone and money recently when the NDLEA raided his place in the process and since he was leaving Marlian Records, he is now broke, with no commitment to repay.
"I then left, all for me to later hear that this same boy was having a musical video shoot the next door, practically next street to my house, so I went there to ask for my money again, we had an argument that lasted 5 minutes, even one of his friends insisted he was going pay the money, up till today one kobo they have not paid me, this was early last year. I have since then moved on.''
On his alleged involvement in the singer's death, Sam Larry said:
"I traveled to Kenya to find new African act that can perform at my mother's concert this year. I have been away since August 20 till now.
"I don't know anything other than what was written in the blogs and press. I don't even know where he lives.
"I only know his former label boss and their house. I don't know any nurse or doctor or hospital, I don't know anything about his movement, I don't have that time, I have lost a lot more money than that before, you win some you loose some."
Despite this statement, critics have argued that he is trying to cover up the bullying Mohbad allegedly suffered in his hands.
However, it is surprising that Sam Larry travelled all the way to Ghana in search of an artist when there are several artists in Nigeria including those signed under his associate, Naira Marley's record label.
Unless the statement making the rounds are untrue, there is a bit more to be uncovered.
What do you think? Please tell us in the comments section.