Nollywood actress, Ruth Kadiri has slammed former presidential media aide and writer, Reno Omokri over his interview with embattled singer, Naira Marley.
During an interview with Reno Omokri on Wednesday night, Naira Marley shared a video from his final conversation with his late ex-signee. In the video, the departed artist candidly discussed his battle with suicidal thoughts.
Naira Marley also stated that he was not in the country when the tragic incident occurred, and was on good terms with Mohbad before his untimely death.
Reacting to the interview, Ruth Kadiri slammed Reno Omokri and Naira Marley. She said that one can identify them by their fruits, implying that the two are comparable.
The mother of two further noted that if Nigeria had laws, we would not be talking who is wrong or right on social media.
Read Also: Mohbad: 'Go and report yourself' Bella Shmurda throws shade at Naira Marley after claims of innocence
"By their fruits, you shall know them! If Nigeria had laws would we even be on social media discussing who is right and who is wrong? Trying to get justice from the core of our existence??? Like I always say! May Nigeria not happen to you!".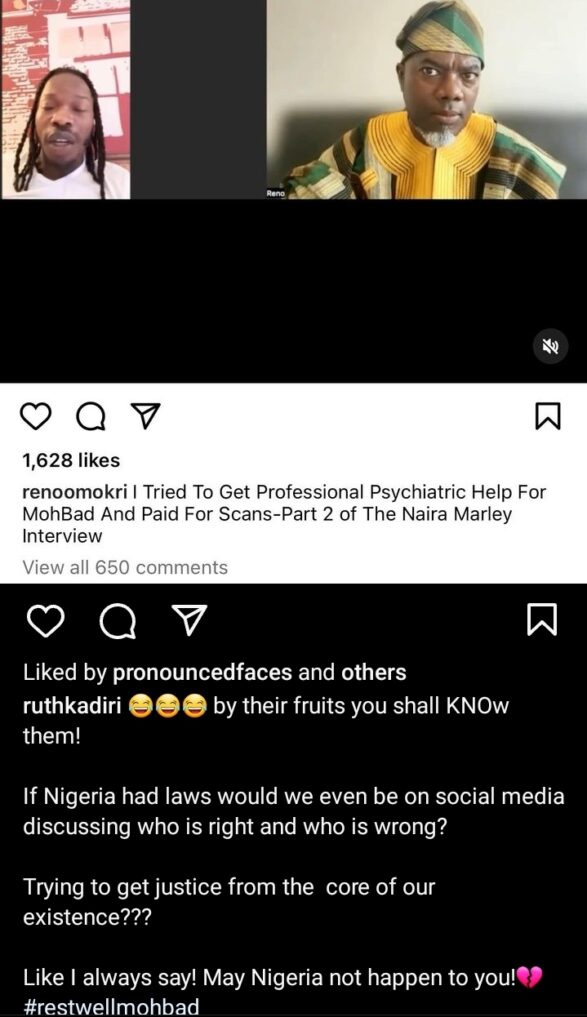 Under Ruth Kadiri's post, Netizens also slammed Reno Omokri and Naira Marley.
One Official J baby wrote: "Their kind no go ever touch ground. U go explain tire n evidence choke. No peace for the wicked. Reno na kukuma mumu ma before".
One Real Richness wrote: "This is so annoying. So instead of reporting to the station, he is granting interview with Reno"
One Emma Courage Official wrote: "Make all of them go report themselves for police station, period"
One Official Daliz CEO wrote: "Naira if you no bring out a medical report that shows Mohbad had mental issue nah Ogun go Kee you"
One I Am Brezzy wrote: "Getting justice in Africa is a waste of time because how many rich people are in jail over there. Rich and famous people only get arrested Abroad not in Africa"
One Real Africana wrote: "Dis mumu man just wan trend as Peter Obi matter drop. Next case na Mohbad obviously"
Recall that on Tuesday, Naira Marley released a public statement where he claimed innocence on Mohbad's death.
He stated that he doesn't belong to any cult or fraternity and he is not a drug lord. Read statement here
Read Also; Mohbad: "Naira turn yourself in and explain later" Tonto Dikeh responds to Naira Marley's PSA