CEO of EbonyLife TV Mo Abudu has officially denied allegations that she enjoyed a romantic relationship with Minister of Transportation, Rotimi Amaechi.
The media mogul has also denied ownership of a flat in the building where the Economic and Financial Crimes Commission (EFCC) discovered a large stash of monies worth $50million.
Lere Olayinka, spokesperson of Ayo Fayose Ekiti state governor, had alleged that one of the flats in the property situated on Osborne road, Ikoyi, belongs to Abudu.
"Cover up game has started. Rotimi Amaechi owns the house. Mo Abudu lives in Flat 7A, money found in Flat 7B," Olayinka had tweeted.
In a quick reply, lawyers of Abudu, Streamsowers & Kohn, says she has never been given an apartment by Rotimi Amaechi, the minister of transportation.
"Our attention has been drawn to certain false statements being peddled by individuals on several social media platforms," the attorney wrote.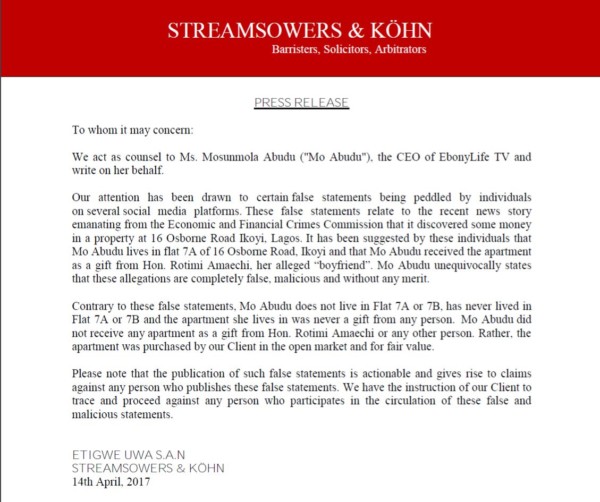 The statement, which was signed by Etigwa Uwa, SAN read: "These false statements relate to the recent news story emanating from the EFCC that it discovered some money in a property at 16 Osborne Road Ikoyi and Mo Abudu received the apartment as a gift from Hon Rotimi Amaechi, her alleged "boyfriend". Mo Abudu unequivocally states that these allegations are completely false, malicious and without any merit.
"Contrary to these false statements, Mo Abudu does not live in Flat 7A or 7B, has never lived in Flat A or 7B and the apartment she lives in was never a gift from any person. Mo Abudu did not receive any apartment as a gift from Hon. Rotimi Amaechi or any other person. Rather, the apartment was purchased by our client in the open market for fair value.
"Please note that the publication of such false statements is actionable and gives rise to claims against any person who publishes these false statements. We have the instruction of our client to trace and proceed against any person who participates in the circulation of these false and malicious statements," the statement read.
The anti-graft agency on Wednesday said it uncovered $43.4m, £27,800 and N23.2m in a fire proof safe at Osborne Towers in Ikoyi, Lagos.