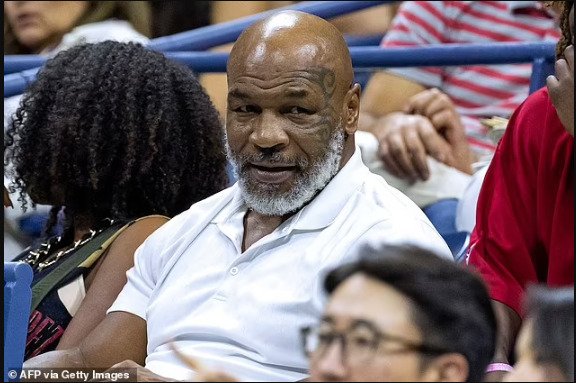 A lawsuit has been filed against boxing legend,  Mike Tyson by a woman who alleges that the boxer violently raped her in a limousine after they met at an Albany nightclub in the early 1990s.
The anonymous plaintiff in the lawsuit, who is seeking $5 million in damages, claims in their complaint filed in Albany that the alleged rape has caused them to suffer from "physical, psychological, and emotional injury" over the years.
The woman's affidavit does not specify a specific date for the alleged attack but states that it occurred in the early 1990s, around the time when former heavyweight champion, Mike Tyson, was convicted of raping 18-year-old beauty pageant contestant, Desiree Washington, in Indianapolis.
Mike Tyson, who is now 56 years old, was found guilty of raping Washington on February 10, 1992 and served three years in prison. He has consistently maintained his innocence in that case.
The legal action in Upstate New York was filed under the state's recently passed Adult Survivors Act, which allows sexual assault victims to file lawsuits over attacks that occurred years or even decades ago within a one-year window.
Read Also: Kanye West to visit Australia to meet the family of his new wife, Bianca Censori
The alleged victim stated in her affidavit that she encountered Tyson at a popular nightclub called "Septembers" and later entered his limousine after he offered to pick up her friend and take them both to a party. She alleged that Tyson immediately began to touch her and attempted to kiss her.
A part read:
"I told him no several times and asked him to stop, but he continued to attack me," the woman said. "He then pulled my pants off and violently raped me."
The document does not indicate whether Tyson's driver was present in the vehicle during the alleged rape or whether the limousine was stationary or moving. The woman is requesting to remain anonymous as she states that the publication of her name "would certainly pose a risk to me of further mental harm, harassment, ridicule or personal embarrassment."
The attorney representing the plaintiff, Darren Seilback, stated in a separate filing that his office did not solely rely on the woman's account but thoroughly investigated her allegations and found them to be "highly credible."
Mike Tyson achieved global fame as the undisputed world heavyweight champion from 1987 to 1990, but his personal life has been plagued by controversies and his battles with addiction.
In divorce papers, Tyson's first wife, actress Robin Givens, stated that their brief marriage in the late 1980s was marked by "unprovoked rages of violence and destruction." His second wife, Monica Turner, filed for divorce in 2002, accusing him of infidelity during their six-year marriage.
Tyson married his third wife, Monica Spicer, in 2009 shortly after her release from prison on a fraud conviction. The couple has two children together and Tyson also has five older children from previous relationships.
Read Also: Alec Baldwin won't be charged for shooting 'Rust' director – See details