Are you looking for top musicians from Benin Republic? Are you searching for musicians that are well recognized in Benin Republic? This article dwells on top musicians from Benin Republic.

Angélique Kidjo (born July 14, 1960) is a Grammy Award-winning Beninese singer known for fusing many musical genres together in her music.
READ ALSO: Yemi Alade Releases New Video With Angelique Kidjo Titled "Shekere"
Kidjo was born in Ouidah, Benin. Her father is from Ouidah and her mother is from Yoruba, hence she has a mixed ethnic background. When she was young, she loved the music of artists like Jimi Hendrix, James Brown, and Otis Redding.
Performing with her mother's theatre company when she was six years old gave Kidjo a strong foundation in African traditional music and dance. She began singing in her high school band, Les Sphinx, and had national radio fame as a teen with her interpretation of Miriam Makeba's "Les Trois Z" song. Her brother Oscar and Cameroonian producer Ekambi Brilliant helped her record her debut album, Pretty. It included songs like Ninive and Gbe Agossi, as well as a homage to a singer she looks up to in Bella Bellow. After the album's success, she was able to go on a world tour. Because of the ongoing political unrest in her homeland Benin, she was unable to work as a freelance artist and was forced to leave for Paris in 1982.
She studied music at the CIM, a renowned Paris jazz school, where she met and married musician and producer Jean Hebrail, with whom she has collaborated on the majority of her work. She got her start in local bands as a backup singer. In 1985, she joined Jasper van't Hof's Pili Pili, a well-known Euro-African jazz/rock band, as the lead singer. Jakko (1987), Be In Two Minds (1988, produced by Marlon Klein), and Hotel Babo (1989) were the next three Pili Pili studio albums to be released (1990). She was one of the most prominent live artists in Paris towards the end of the 1980s, and she released a solo album on the Open Jazz Label, titled Parakou.
Chris Blackwell, the founder of Island Records, spotted her in Paris and signed her to a record deal in 1991. Before Chris Blackwell left Island, she made four albums for the company. Columbia Records signed her to a two-album deal in New York in 2000.
Some of her favorite genres of music are Afropop, Caribbean zouk, Congolese rumba, jazz, gospel, and Latin, and some of her heroes are Miriam Makeba, Jimi Hendrix, and Carlos Santana.
Since 2002, she has served as a UNICEF Goodwill Ambassador. She has visited numerous African nations while working with UNICEF. The UNICEF website has reports on her travels and interactions with the children she met. As a result of Kidjo's work with The Batonga Foundation, thousands of African girls have been empowered to take the lead in changing their continent. As part of its mission, the foundation awards scholarships and builds secondary schools to help girls get an education. It also helps them enroll in those schools, improves teaching standards, provides school supplies, and supports mentor programs.
While in Hong Kong for the 2005 World Trade Organization meeting, she advocated for Oxfam's Fair Trade Campaign and traveled with them to North Kenya and the border of Darfur and Chad with a delegation of women leaders in 2007. She also appeared in the video for Oxfam's In My Name Campaign, which featured Will I Am of The Black Eyed Peas. Since 2007, she's hosted the Mo Ibrahim Foundation's award ceremony for leadership achievement on the continent of Africa twice in Alexandria, Egypt (November 26th in 2007 and again on the 15th of November 2008).
West Africa's most well-kept musical secret is Orchestre Poly-Rythmo de Cotonou (OPRC). Their output was astounding, both in terms of number and quality. Between 1970 and 1983, Samy Ben Redjeb was able to acquire around 500 songs from the Orchestre Poly-Rythmo de Cotonou.
Traditional Beninese music, with its wealth of cultural and spiritual significance, has a profound influence on the sound of contemporary Beninese music. It is believed that Vodun (also known as Vodoun or as it is known to Westerners as Vood) originated in Benin, a religion that entails the worship of over 250 deities. Music is constantly used as part of the rituals performed in honor of the deities. Even for a skilled musician, the majority of the vodun's complex polyrhythms remain obscure and difficult to discern. In the minds of anthropologists and ethnomusicologists alike, this religion represents the primary "cultural bridge" connecting Africa and all of its Diasporas in the New World, and as a result, many of its complex rhythms had a significant impact on popular music styles like Blues, Jazz, Cuban, and Brazilian on the other side of the Atlantic.
READ ALSO: 30 Nigerian Celebrities Who Bleached Their Skin; See Before and After Photos
Orchestre Poly-Rythmo

For Orchestre Poly-Rythmo, two Vodun rhythms stand out: Sato, a thrilling and energetic rhythm played on a massive vertical drum, and Sakpata, a rhythm dedicated to the deity who protects people from smallpox. Both are featured prominently in the band's music. On this track, you'll hear elements of both hip-hop and funk as well as Funk, Soul, Crazy Organ, and Psychedelic Guitar. This ancient rhythm comes from Vodun and is played by the band's leader Melome Clement. You can't just play Sato whenever you want because it's utilized in Benin for annual rituals in memory of the dead. The drum referred to as Sato is used in the ceremonies. A whopping 175 centimeters high, it's massive. They dance around it while simultaneously hitting it with sticks wielded by drummers. It's quite well-executed. An orchestra of smaller drums and shakers supports the Sato drummers. We also reworked the Vodun rhythm Sakpata in modern fashion. Two of the Sakpatas are referred to as "Mi Ni Non Kpo" and "Houi Djein Na Da," respectively.
Except for Mawa Mon Nou Mio, none of these tracks have ever been released outside of Benin. These obscure labels from the coast only had a limited distribution footprint, only reaching as far as Cotonou and Porto Novo. These recordings had relatively restricted pressings due to financial reasons; totals rarely exceeded one thousand copies, and many labels made no more than 500 copies of each record.
In addition to being extremely rare, the music on this compilation shows how Orchestre Poly-Rhythmo thrived with the support of a number of local record labels by combining the coolest parts of funk, soul, latin and vodun rhythms into a new sound that not only reflected Benin's musical culture and heritage, but also transformed it and turned the small country into such an incredible musical melting pot.
There is a 44-page booklet with rare photos and record covers that introduces Analog Africa to three important Beninian producers who were responsible for some of the best music ever released on the Benini label: Echos Sonores du Dahomey' Gratien K. Aissy, Disques Tropiques' Bernard Dohounzo, Aux Ecoutes' Lawani Affissoulayi, and Poly-Rythmo Nigerien Honliasso Barnab Samy Ben Redjeb also spoke with Vincent Ahehehinnou, the man behind some of Benin's most funkiest music, and Kineffo Michel, the man behind Poly-famed Rythmo's Nagra "home" recordings, both of whom were interviewed by Samy.
T.P. Orchestre Poly-Rythmo
Originally from West Africa's Republic of Benin, T.P. Orchestre Poly-Rythmo is one of the continent's lesser-known large bands. It's believed that this collection will help to restore the equilibrium by capturing their diverse polyrhythmic moods. This unique mash-up of powerful Afro-Funk, driving Afrobeat, deep Afro-Latin, and Cuban grooves reigned the dance floors of urban Benin in the 1970s.
Youssou Pierre GNONNAS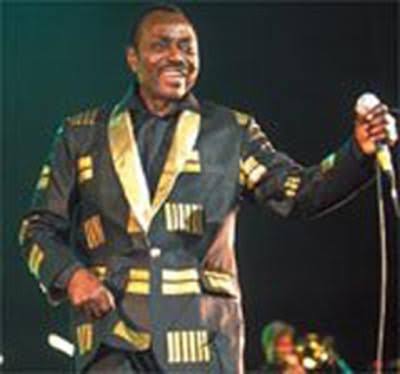 Youssou Pierre GNONNAS: (Gnonnas Pedro), Beninese singer and trumpeter, was born 10 January 1943 at Lokossa in Benin; he died on the 12th of August 2004 in Cotonou (Benin).
Africando, a supergroup of African musicians, included late bloomer Gnonnas Pedro, a singer and guitarist. Since getting involved in the Cotonou music scene in the early 1960s, he had been well-known in his native Benin.
With all of his many abilities, including trumpet and saxophone playing, singing, and dancing, he was called a master of all trades. His fashion sense was also customized for a country that hasn't had much of a musical culture of its own due to the overwhelming influence of its neighbors.
However, it was his lifelong love of Latin music that helped him achieve mainstream fame in his latter years. After collaborating with French crooner Charles Aznavour on a song in 1964, Pedro went on to command his own band, Pedro y Sus Panchos, for the remainder of the era's decade. When Latin music was popular in West Africa at the time, they took advantage of it by fusing it with Fon and Yoruba tradition to create genres like agbadja.
Orchestra Poly-Rythmo, Pedro's band, and their Yoruba highlife tunes like "Feso Jaiye" were popular in Nigeria throughout the 1970s. In the ensuing decade, his band was dubbed Ses Dadjes (Seven Dads). The prominent Benin, Ivory Coast, and Nigerian record producer began working with influential Senegalese producer Ibrahim Sylla in 1984. This song went on to become an international hit in the following year with the release of the video for "Les Femmes d'Abord".
Using three Senegalese singers and the top of the New York Latin music industry, Sylla formed Africando in 1993, igniting an interest in African salsa around the world. In 1996, a year after the death of their singer Pape Seck, Sylla invited Pedro to join the group. Over the course of the band's next four albums, Pedro appeared as a guest vocalist on songs including "Dagamasi," "Musica en Vérité," "Dacefo," and "Hwomevonon," often performing material from his previous career.
In 1997, Pedro made his UK debut at London's Equinox Ballroom, where he dazzled with his vibrant dancing, effervescent grin, and irrepressible "Yee-hooo!" yells at the end of songs, Africando toured Europe, the United States, and portions of Africa. Sekouba is a musician "In the words of Pedro's longtime collaborator Bambino Diabaté: "He loved his work and genuinely enjoyed delivering pleasure to his fans as well. In addition, his stage presence was vivacious and animated; he was a true natural performer."
Julien Jacob

Julien Jacob was raised in the south of France after moving there as a kid from Benin. African chants and rhythms, Jazz, Motown, oriental chants, and 1970s pop-rock all combine to develop his artistic genius, which he has been passionate about music since he was a child.
He was 17 years old when he made his stage debut as the lead singer of a rock band. On his own accord he departed the band in the year of 1983. He devoted the rest of his time to writing music. While this was going on, he had backstage contacts with musicians like David Bowie and Miles Davis, as well as a memorable evening with legendary Fela Kuti.
Julian Jacob moved to Paris from the south of France in 1993. His artistic self-identity was firmly established at this point. When inspiration struck, he was moved to sing in a language only he could understand because the words had no real meaning other than to convey the emotions they carried. Julien decided to sing only in his native language from that point forward. And he spoke directly to the heart of everyone, to their personal sanctuary. At the same time, he began to write novels as part of his ongoing quest within. He uses music and writing as two different mediums to communicate his thoughts and feelings about life.
Things picked up speed when he was adopted by a family in Brittany, France, in 1995. In 1999, he published a four-track EP, then in 2000, he released his debut album, "Shanti" (Warner). For the next four years, he toured the world, performing at WOMAD festivals in the United States, as well as concerts in Australia, New Zealand, the United Kingdom, Spain, the Canary Islands, and Italy. In addition, he served as Suzanne Vega and Cesaria Evora's opening act.
In 2005, he released his second CD, "Cotonou," on Wrasse Records. His third CD, "Barham," came out in 2007. (Volvox Music). This album affirms Julien's artistic identity with roots tones, austere arrangements, and an emphasis on acoustic instruments such as guitar, voice, and percussion.