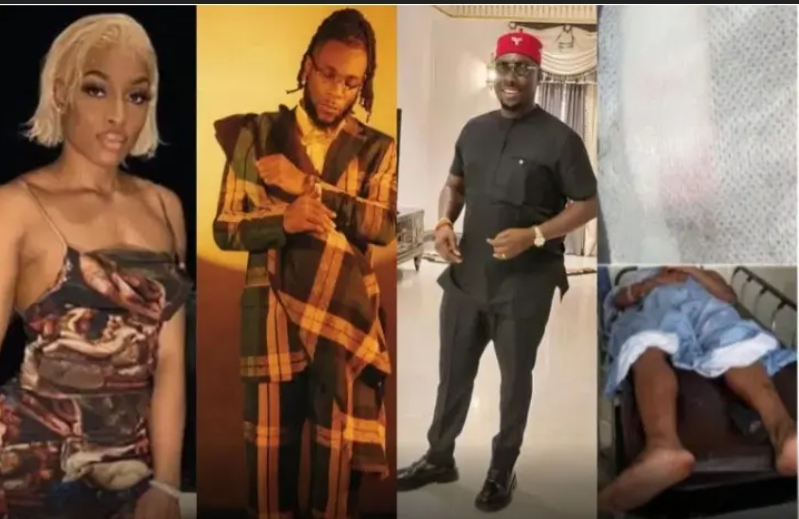 Things seem to be taking a different turn as the married lady behind the shooting at the Cubana club has finally spoke up.
The woman who was identified as NemeBriella via her Instagram page took to social media to break down the whole story.
She recounted how they all went to Obi Cubana's club in Lagos at 3am celebrating their childhood friend who was getting married when the ill-fated happened.
They were all having a good time when Burna Boy and his friends came in and one of them approached her.
Read Also: Father's day celebration: Uche Ogbodo showers lover on her baby daddy, Bobby Marris
She stated that she turned down the offer to meet with the singer as she told his friend who approached her that she was married.
It was at the third attempt that things escalated as they all flared up.
Burna Boy's friend allegedly attacked one of their friends and this situation degenerated and turned into a fight.
As the fight started, Cubana's security stepped in and calmed the situation but unfortunately, Burna Boy's security started another fight and shot into the air which left club attendees screaming and running for safety.
The lady revealed that she was traumatized and broken down since the incident.
She constantly had random flashbacks and nightmares.
She added that the lack of remorse and accountability from the singer is beyond her.
The lady also disclosed that Obi Cubana reached out to her after three days claiming he had no idea of everything that went wrong.
The club couldn't even provide a CCTV footage or statement of the incident and business has carried on in the club.
Read Also: How some Nigerian celebrities celebrated father's day
However, a supposed eye witness identified as King Kong took to Twitter to counter her story.
Taking to Twitter, King Kong claimed the woman had gone to take pictures with Burna Boy, which didn't sit well with her husband.
Instead of him to wait for his wife to return, he went there violently to drag her out, then he was resisted for confronting the singer.
Things escalated from there and Burna Boy decided to leave when the man attacked him and in defense, the policemen attached to the singer shot into the air.
Burna Boy laughed at the situation because it was funny to him how am ordinary picture taking activity can turn messy.
"What really happened at Club Cubana.

The guy's so called wife went to snap with Burna Boy in the VIP top corner and instead of him to wait till she returns, he went there violently to drag her out, then he was resisted for his confrontational approach by Burna's security.

Immediately after things started escalating Burna decided to leave with bis people. But the same guys crying foul made advance to attack Burna. It was the policemen attached to Burna, shot to disperse them accidentally hitting two guys.

Burna throughout was just trying to avoid the situation, he was even laughing (like what the fuck is this) but this guy's wanted more than the whole issue, and made his kind gesture taking selfie with a perceived fan escalate quickly'.
Shutting down his reports, Briella Neme has shared a video from the incident to prove herself.
She noted how her section at the club was very far from the singer.
Briella revealed that Burna Boy's parents came to visit her parents to negotiate and calm the situation and to offer them them money to silence the case.
"How can you lie through your teeth like this?"

"Look at where @burnaboygram was at the start of the video. The VIP section in the middle of the club with two sections. We were literally opposite each other!

"No one from our section approached him.

"This is me clearly in my section with my partner who took this video btw.

We were literally popping bottles, spending money and minding our business. So all the stories told by @goldmynetv are fabricated.

"This is my best friend and her husband. Everyone keeps making this about money. Money is not our problem. If you did nothing wrong why were your people contacting us to offer is hush money? Why did your parents visit our parents yesterday?".
See post below;