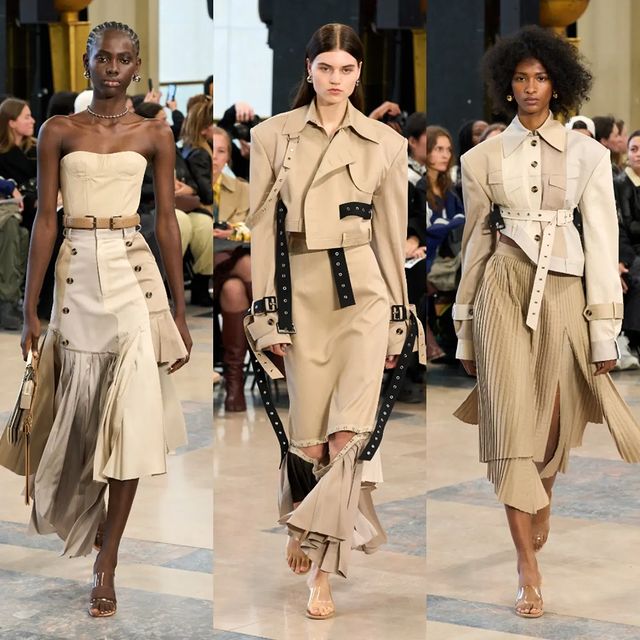 Rohk SS 2023 RTW Collection brought smile to the faces of their loyal customers as the designs displayed at the Paris Fashion Week where impeccable in every way.
The fashion house started the show with models walking down the space provided for them in as runway in knee length coats and Leather bags.
Read Also: FASHION HISTORY: the history of Zuhair Murad
As you know, fashion is not only about what you wear but in the whole detail of the outfit – including the jewelry, bags and shoes – and as expected, the fashion house didn't disappoint.
It's interesting that this spring collection focused heavily on, well, heavier things. This is another small story of note from Paris lately. According to Hwang, it was all a result of remembering those earlier deliveries, when the sun, like that knee, would require some convincing to emerge.
Some of the better pieces were these: It was subtly intriguing and effective from both a functional and decorative standpoint, like a fantastic cuddly toy of fur made of recycled panels of the faux fluffy stuff, or a really rather chic coat that had been quilted inside, allowing the pattern of the padding to "blend through" to the surface.
Read Also: Glam Look Of The Day: BBN's Phyna Slays In New Photo
Hwang may have had that in mind when he spoke of the reasonable and irrational. If so, the following is still another excellent illustration: His skirts had wavy bands that could be tied or undone using a variety of hook and eye fasteners.
See full collection below;