Off White Spring Summer 2023 Collection gave way to some really amazing outfits as the creative director, Ibrahim Kamara made sure to put his customer's need first.
Read Also: Brandon Maxwell Pre-fall 2022 Collection
The collection creatively adhered to the brief while emphasizing the founding principles. On patched leather dresses, workwear, shirtdresses, feminized tailoring, and the collection's standout knitwear, the holes were exploited to reveal the navel.
On suiting, stitching was used to create a contour map of the muscles and internal organs beneath; later, printed X-rays performed the same trick on additional suiting and denim.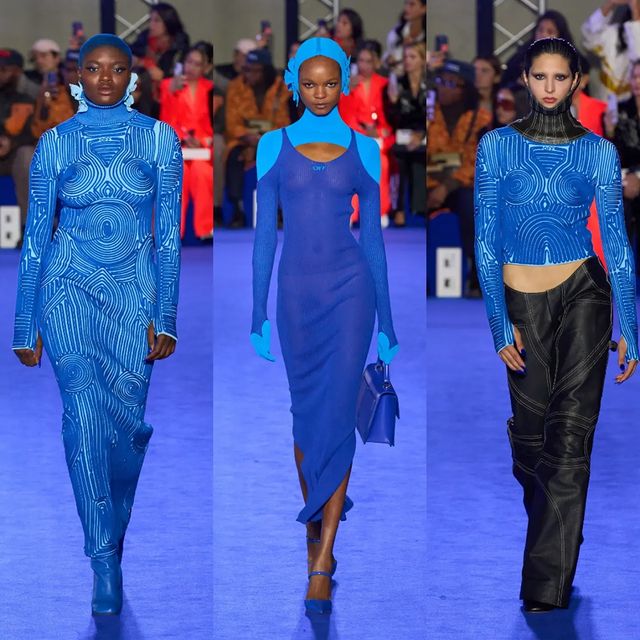 The result was that the clothing bore an imprint of the body inside. Thin braided ropelets were meticulously put on top of fine-gauge shells on the knitwear to provide more reefs of contour that depicted the bodies below.
Another outstanding knit suit for men was unadorned and mirrored the sartorial expression of shape while also allowing for free and elastic movement.
A group of dancers, largely from Paris, who were assembled by choreographer Nicolas Huchard and performed to Faty Sy Savanet's music while wearing hole-puckered blue body suits on a carpet of the same color preceded and accompanied the collection.
I had assumed that the hue was a subliminal nod to Marcelo Burlon's involvement in the Off-White tale, but Kamara also made a unique contribution with it.
Read Also: Claudia Li Fall 2022 RTW Collection
See full collection below;