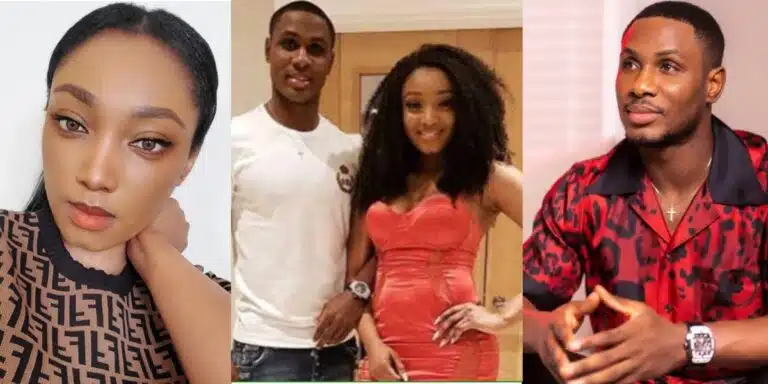 Sonia, the ex-wife of footballer, Jude Ighalo have disclosed why she parted ways with her husband.
Taking to her Instagram page, the mother of three stated that her decision to end the marriage was driven by a commitment to her children's well-being, not because she was tired of fighting with her man.
Spilling further, Sonia advised women to not let anyone, even their mothers-in-law, scare or boss them around. She says it's crucial to speak up for yourself and your kids. Referring to a Bible verse, Luke 10:19, she points out how being strong and praying are important.
Sonia wrote:
"I also want to use this opportunity to encourage every woman out there. I read a few of your messages… Sis, let no one intimidate you, let no evil MIL control your home. Stand up for yourself and your children. Remember, Luke 10:19 says GOD has given us power to tread against scorpions and serpents. Be prayerful, trust me. If not for prayers and my boldness, I would have been forgotten by now. I chose to walk out of my marriage not because I was tired of fighting but because I chose my children over marriage. Remember, I got married at 19, and I invested so much in my marriage as a real African woman who would do anything to see her husband succeed.

Flashback to when a famous Naija actress who married an Edo man came to the house in 2018. She called me aside and said, "Sonia, be very prayerful." Those who

have the spirit to see beyond the physical would understand what she meant. I laughed, but within me, I said they cannot kill an ONLY CHILD who has an assignment on earth. I hear people saying she's pained and broke bla bla bruh, go ask them, I was born with a SILVERSPOON.

"I promise to open a platform in the future to help and encourage women who are going through hell in their marital home. They need to speak up. Remember, marriage Is to enjoy, not to endure. Thanks once again for your kind words and prayers. God bless you all."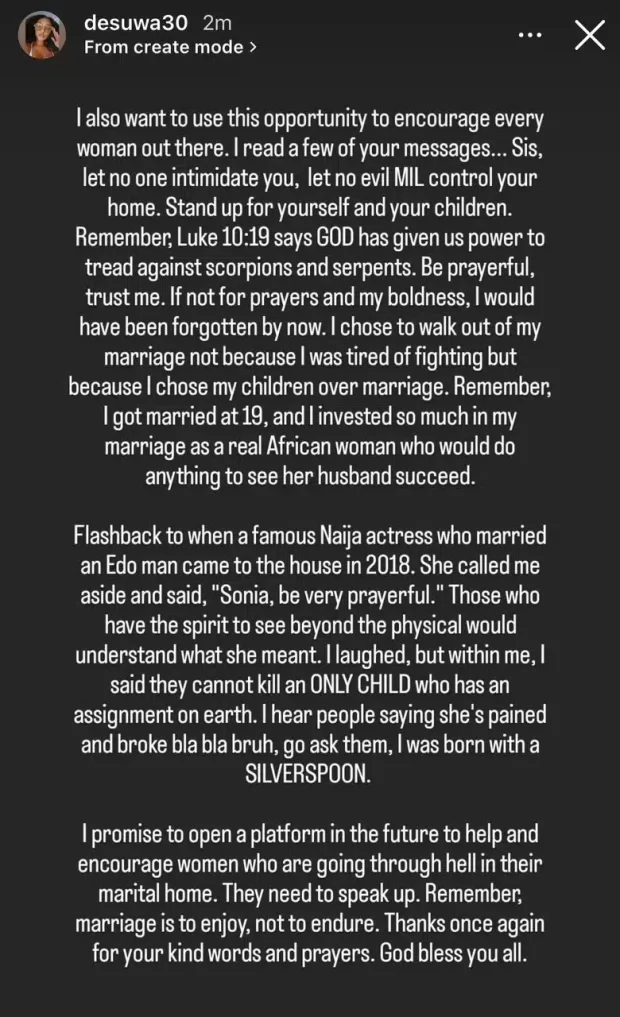 Read Also: Top Nollywood Actresses Who Play Mother-in-Law Roles in Movies