Nigeria's foremost female entrepreneurs set to gather at Oriental Hotel on the 18th of August in an all female conference tagged Boss Lady Conference organized by The Entrepreneur Africa.
The event speakers include Laura Ikeji, Mabel Makun, Ruth Kadiri, Annie Akpe, Mimi V. Omokri, Dr. Ola Orekunrin, Joy Isi Bewaji, Ifedayo Durotimi-Etti, Funke Kehinde, Derin Fagbare.
In the course of carrying out the objectives of The Entrepreneur Africa, which is the celebration and promotion of African businesses and the people behind them, we've discovered that despite the increasing participation of women in business across industries, the imbalance is still very glaring as the ratio of male CEOs, male team leads, male Heads of Departments, etc, still far outweighs that of their female counterparts.
On the other hand, many of the women who have been able to break through as business/corporate leaders, especially in recent years, have evidently become case studies in entrepreneurial excellence. What we have, therefore, set out to achieve through the Boss Lady Conference, is to make the event a platform that would bring together some of these excellent female business/corporate leaders to interact with the upcoming ones, so as to rub off some of those principles that have enabled them attain such enviable heights as boss ladies.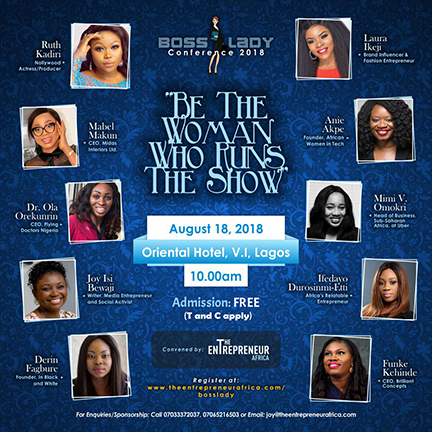 Theme and Structure Of The Event
Theme of the event is: Be The Woman Who Runs The Show. The aim is to inspire the attending women to begin to maximize the opportunities within their disposition and learn the principles of influence and how to effectively utilize it to succeed in business, corporate circle, and life, generally.
It is worthy of note that this event is an all-women conference, including the speakers and the audience. The attendees will comprise of upcoming female entrepreneurs and the accomplished ones, on one hand, and women in corporate employments, from lower to management levels, on the other hand. The conference will feature podium presentations, panel sessions, and networking sessions. There'll also be a coffee break, and other exciting features. #Bosslady2018 promises to be a great event.
Click to register: http://www.theentrepreneurafrica.com/bosslady/