The chance to show their collections at Lagos Fashion Week is perhaps the climax for Nigerian designers, who put in devoted time and money into creating a collection. The fashion week is a great platform to show us the incredible works of Nigerian designers and how the Nigerian fashion industry have evolved over the years. With that said, not everyone makes the cut and not every good Nigerian designer showcases at Lagos Fashion Week but we the attendees are always in awe when we spot common names in the schedule. Here are the list of designers that were my highlight from the entire event. I won't define them as the best designers as that would be an insult to several others who had their creative works on the runway but let's just say these ones made a lasting impression for me.
Maxivive

Maxivive has a reputation for polarizing the Nigerian fashion community, pushing an idea of minimalism and androgyny that turns traditional menswear tropes upside down and inside out. Led by 26-year-old Babatunde "Papa" Oyeyemi, the brand is famed for it's androgynous style. Last season for it's AW18 collection Maxivive was inspired by Paris Is Burning, the Sundance prize-winning documentary is an intimate portrait of 1980s Harlem drag balls. This season Maxivive went all extra with a provocative collection with words printed outfits like "No Underwear" and more. Indeed most if not all his models had no underwear on as I could see swinging bulge from a distance as they strutted on the catwalk.
Orange Culture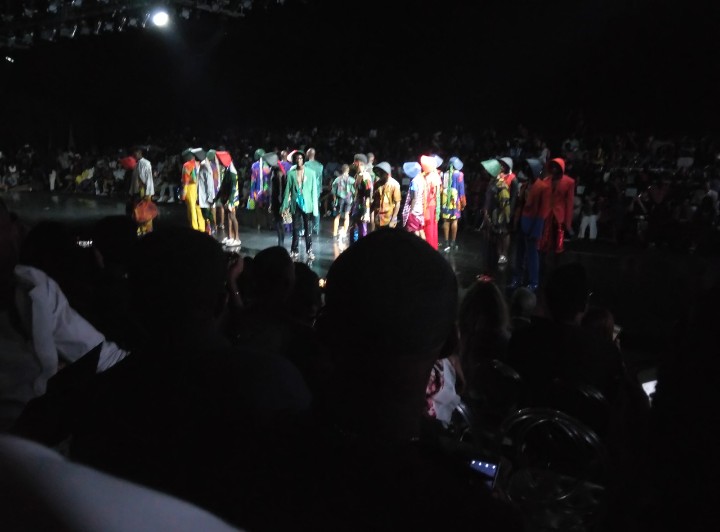 Orange Culture redefines masculinity every season and this season was no different as he showcased pieces with bold coloured hues and his presentation was top notch. It's no wonder that he was the last designer to close the event. The theme of the collection was Orange Moon, therefore using the blood moon as visual imagery for his set design, the ambience was dark and shrouded. A "blood moon" occurs during a lunar eclipse and it occurs when the Earth passes between the sun and the moon, trapping the sun's light. This deeply metaphorical art was to analyze core individuality and the society's endless pressures that force one to be stereotyped and conflicted. The models all filed out, standing in pairs with their heads bowed and one by one they strutted the runway dramatically. There was a special performance by the indie artist, Falana as the show came to an end.
Tokyo James Woman

For the first time ever, the menswear brand based in England debuted it's womnswear line shortly after the menswear collection had showcased which had a minimalist feel to it and the pieces were classy and sophisticated. The looks were clean and the colour tones were soft. The singer Seyi Shay closed the show in a black leather trench coat with cut out waist details.
Sisiano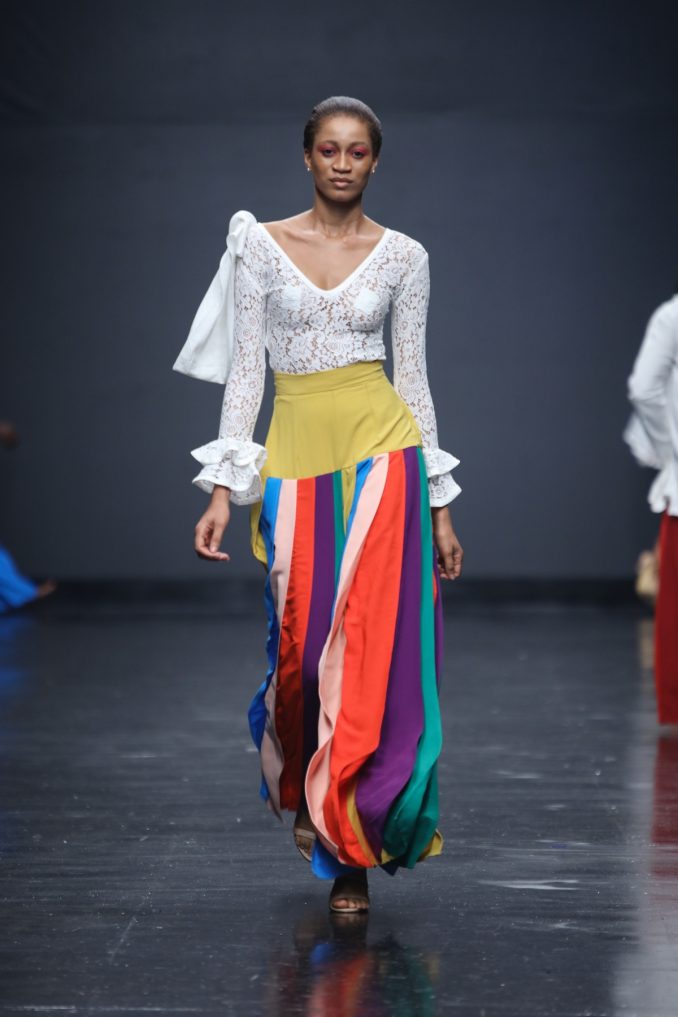 Paulo Sisiano has always been a huge fan of fluid elegance, palazzo pants, dresses and fringed skirts and in the past his collections have been with pastel colours but this time around he switched things up with bold colours, adding stripes to his collection. His aesthetic still remained playful and fun as usual. Yagazie Emezi walked on the runway for his collection.
Style Temple

Each time Style Temple hits the runway, it never fails to impress the audience. Every collection since the brand's debut in 2016 has left us in awe of the Creative Director behind the brand, OG Okonkwo. This season the brand opted for draped pieces ending the show with chantelly ball skirt to remind us that the brand has a specialty for bridal.
Meena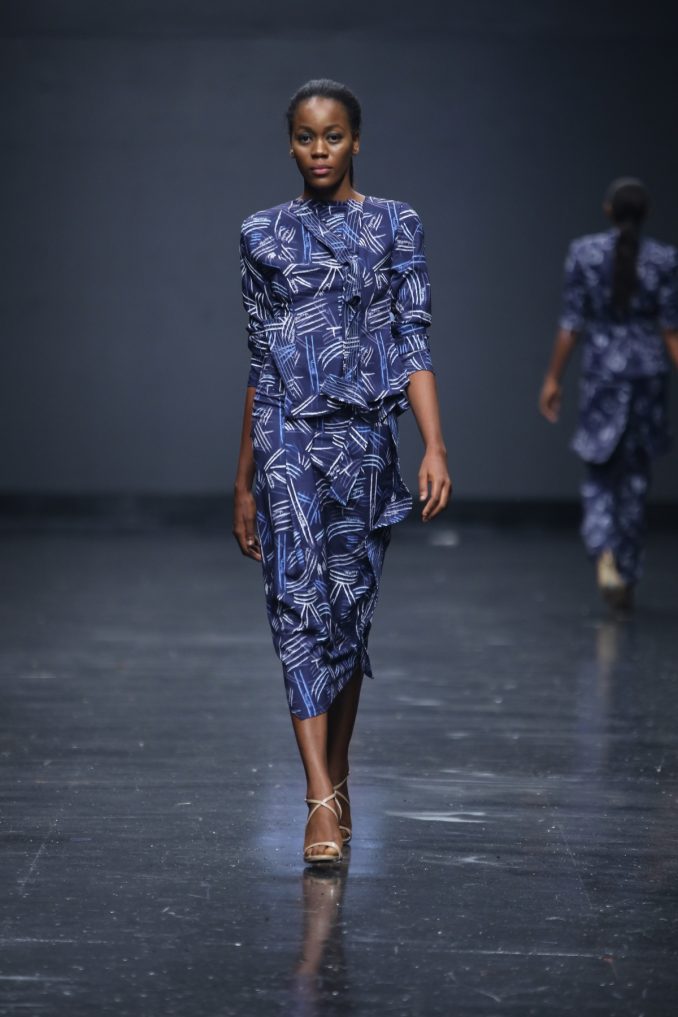 After a brief hiatus the edgy womenswear brand, Meena came to snatch wigs. Showcasing on the last day of Lagos Fashion Week with its usual artistic cuts and fabric manipulations.
Nkwo

The clothes are free-spirited and nomadic, inspired by the lives of the wandering people of the African deserts and the great plains. This is an ethical collection with an African vibe. Very playful and perfect for summer.
Gozel Green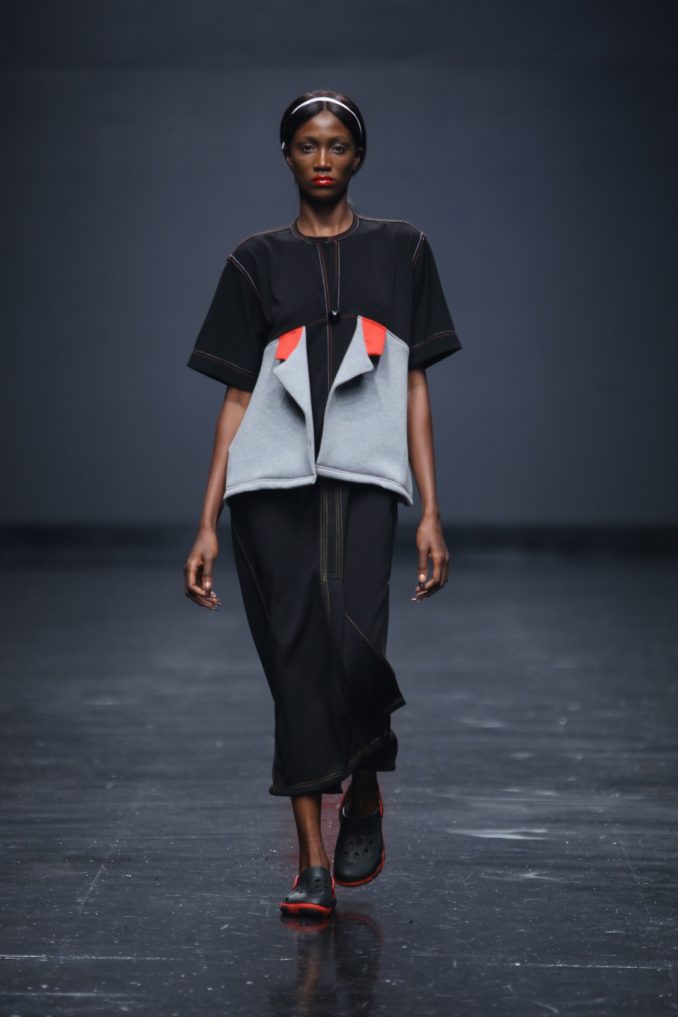 Gozel Green showcased an artistic, timeless and laid-back collection. Famed for it's outwardly androgynous vibe the brand presented structural pieces at the Lagos Fashion Week and among the models was Ezinne Chinkata who stocks the products in her store Zinkata.
Deola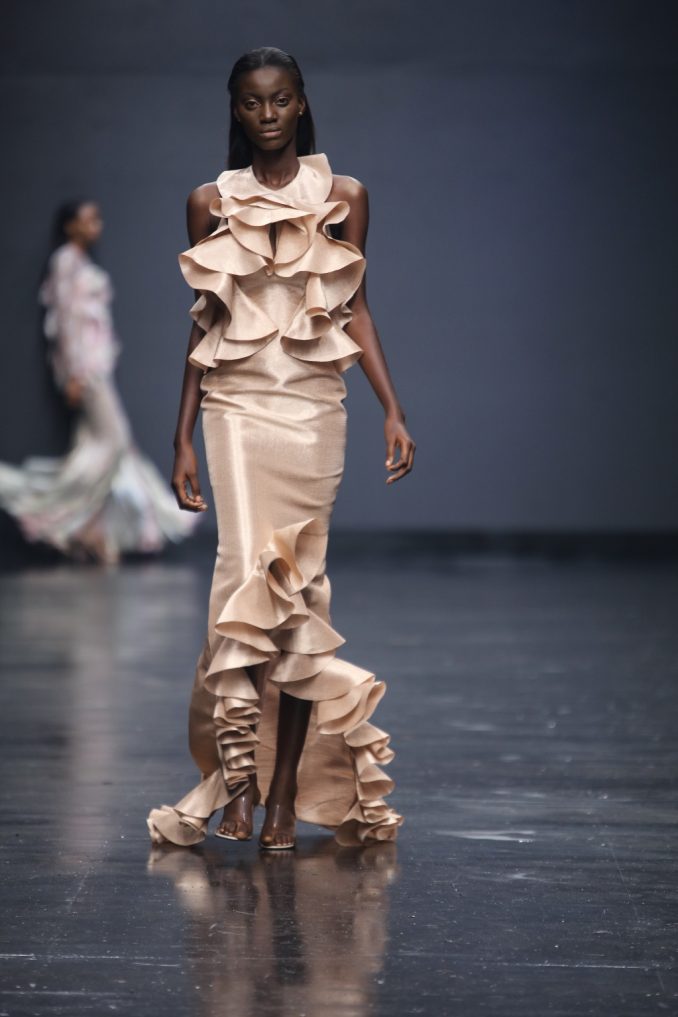 Before the show began we were presented with a short fashion film that set the tone of heritage and longevity and closed with the logo which proudly stated: 'established 1989'. Creative Director of Clan, Teni Sagoe, displayed her gloomy collection which in my humble opinion seemed too dark for a Spring Summer collection however she stuck to her minimalist aesthetic. Shortly after Clan, we were introduced to the mother brand, Deola which made our jaws smack the ground with haute pieces that obviously cost a fortune. Playing around with laser cut aso-oke fabrics and ostrich plumes. Super model, Ojy Okpe closed the show.
Fruche
The creative director, Frank Aghuno of Fruché, showcased on the first day and was one amongst my favourite as his pieces were incredibly artistic. In the past two years Fruche has evolved as a brand and we look forward to seeing more collections. This season his collection featured mostly deconstructed theme with a youthful summer vibe.
Maki Oh

Maki Oh served us her "Buka Special" collection that was recently shown at New York Fashion Week, although I'm not one to feed on leftovers it was nice to see it up front and admire the creativity that went into it. She also had two male models wearing dresses as symbol of gender fluidity as she did in New York Fashion week.
Emmy Kasbit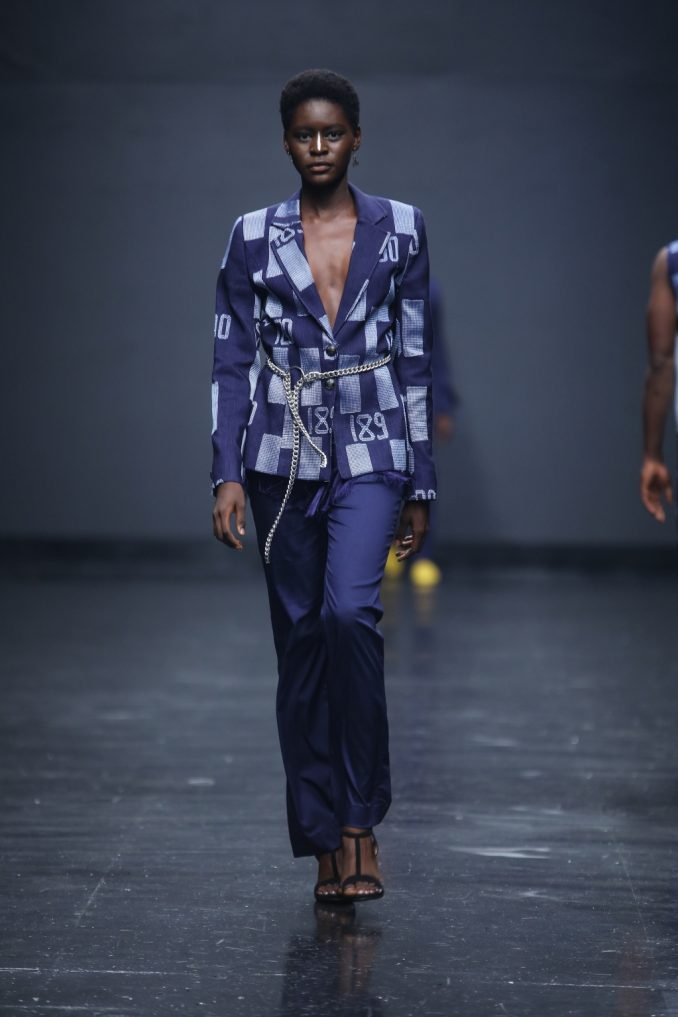 Inspired by slavery history museum in Calabar, the fashion Focus winner, Emmy Kasbit, showed us pieces made from Aso Oke as a tribute to Nigerian culture and with the slavery hint of chains dangled from some outfits as well as anchor. Blue as a symbol of the ocean and white as a symbol of hope. This collection was an absolute masterpiece.
Photo Credits: Kola Oshalusi