TV reality show star Kim Kardashian makes it on the front cover of Bazaar Magazine September edition where she talks about reconciling the soul of a feminist and the body of a bombshell. The magazine revealed on their official instagram handle.
Read Excerpts From The Interview Below:
Watching Kim Kardashian West work on the set of Harper's Bazaar Arabia's September issue cover shoot really brings home to me Kim's influence as an aesthetic-shaping super-power. Her every decision – on clothes, make-up, hair – is deeply considered and will have an impact far beyond the physical reach of Bazaar's pages.Her digital voice is not only heard by millions, it is acted upon, too. Perhaps more than anyone else, Kim Kardashian West has the power to command what is seen as beautiful today.
As Harper's Bazaar's photographer Mariano Vivanco confides to me on set, she is the Aphrodite of our times. Bazaar's cover story with Kim pays tribute to another Armenian woman at the vanguard of style, Cher; a woman whose fashion choices 40 years ago must have caused as much of a furore as Kim's provocative selfies do today.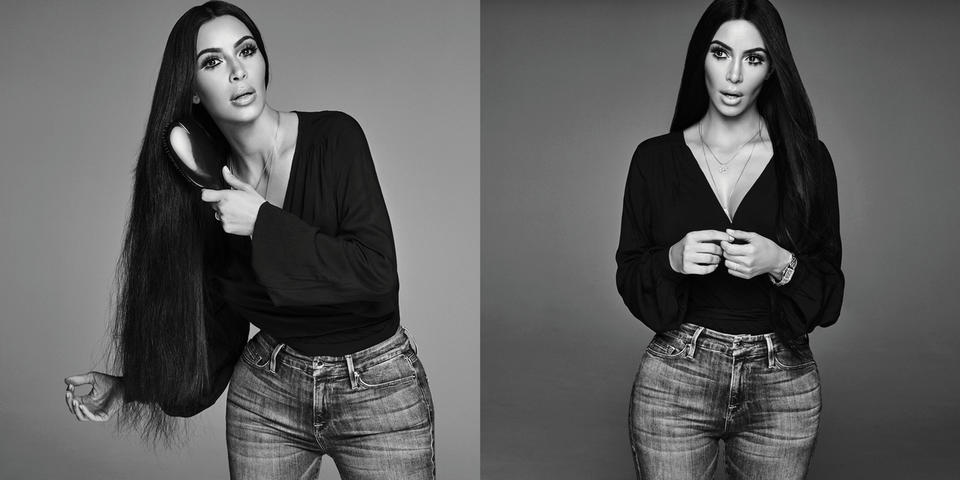 Louise Nichol, Kim Kardashian West and Mariano Vivanco
There is no denying that, like her style icon, Kim is a fierce presence who sets scant stock by what others think of her. Yet, in person, she appears to shield an inner vulnerability that Bazaar's pictures, shot so intuitively by Mariano, bring to the surface.
It is this combination of strength and softness that makes the portfolio so compelling.
Perhaps my favourite images are the black and white shots of Kim wearing jeans and a black blouse, accessorised only with a hairbrush and Cartier Panthère watch. It is not only the physical similarity that Kim bears to Cher in the original pictures taken by South African portrait photographer Norman Seeff for the singer's 1976 album I'd Rather believe in You (which is remarkable in itself), but the shared spirit, 40 years later, that threads together two icons of their time.
"I always look up to other Armenian women," Kim explains to me of her admiration for Cher, acknowledging the shared heritage of "deep family roots that are similar to hers."
The Middle East has always held a special place in Kim's heart. Next month she launches an edition of her eponymous fragrance created exclusively for the region. "I've always wanted to create a scent that the women in the Middle East would really like," she tells me of the oud and gardenia blend. "I've never had a scent that's exclusive for the Middle East." Housed in a bottle based on a healing crystal, Kim explains, "I started to think how special it would be to have something that you spray on yourself that had those healing components in it. It's like having good energy, good positive vibes."
---
Photography: Mariano Vivanco at Today Management. Stylist: Simon Robins at CLM. Group fashion stylist: Anna Castan. Stylist's assistants: Megan King and Deno. Make-up: Mario Dedivanovic at The Only Agency. Hair: Chris Appleton at The Wall Group. Manicurist: Mar y Soul. Photography assistants: Tomas Hein, Semir Hajdarevic and Adhat Campos. Digital operator: Adam Kryzer. Producer: Joey Battaglia at Rosco Production. Production assistants: Davin Singh at Rosco Productions and Beau Bielski. With thanks to Emirates Airline
Credits: Bazaar Magazine http://www.harpersbazaararabia.com