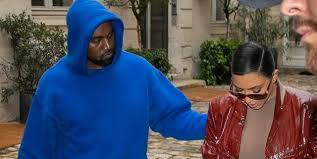 Reality TV star, Kim Kardashian breaks down in tears as her 6-year-old son, Saints sees her sex tape as ad's on a game in his tablet.
The sex tape which was made in 2007 when Kim and her boyfriend at the time, Ray J went on a vacation in Cabo has taken a different turn when an adult company bought the tape for $1 million.
Kim kardashian who had to call up her estranged husband, Kanye West to tell him how she felt when Saint had shown her the video.
Read Also: Peruzzi accused of sleeping with Korra Obidi – see details
"I almost died when Saint thought it was funny," she told West, noting Saint didn't understand the ad's context. She said she would've "died inside" if Saint was "a little bit older and old enough to read."
The new episode of the " Keeping Up With The Kardashians",  Hulu which will be aired on April 14 shows a moment when Saint walks up to his mother and showed her the video, Kim seemed to shock to react took the tablet from Saint as he laughed and walked away.
Read Also: What your daily skincare routine should look like
In a confessional interview, Kardashian said that while she was crying, West helped calm her down. "Kanye was like, listen you have the power, nothing will cancel you. Stop worrying about the public perception. you know who you are," she said.
Kim was later heard saying she wouldn't let her sex tape from 20 years ago ruin her chance of being a good mother, she was later seen calling up her lawyer as she may be suing the company.