Contrary to popular belief, late Nollywood actress Ada Ameh did not die of depression, according to self-acclaimed investigative journalist Kemi Olunloyo.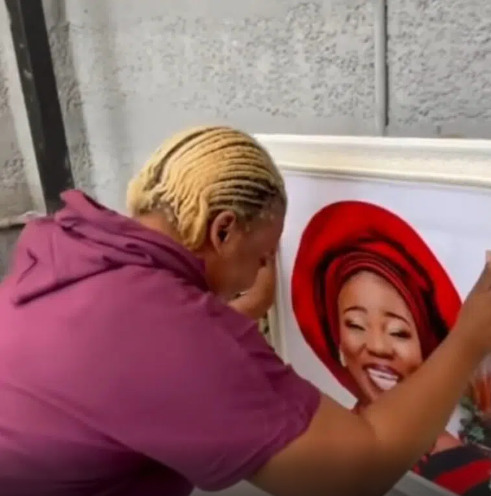 Kemi Olunloyo claimed in a series of tweets that Ada Ameh's friends poisoned her to death.
As you may recall, on July 22, Olunloyo claimed that the late actress had been poisoned by a few of her business partners who had paid her for work she had not performed. In part, Olunloyo wrote:
"…They paid you to do a job, you took the money, they came after you, invited you to some stupid dinner then they poisoned you and eliminated you because of the debt…"
Olunloyo claimed that her friends poisoned her just a few hours after Ada Ameh was buried, and it is a relief that she is no longer alive. She tweeted:
"Ada Ameh's sister says her spirit fought family members yesterday. Her body didn't want to leave the mortuary into the ambulance transporting her to Benue state. After an hour they left. To those who said her spirit will torment me. Them no born that spirit."
"Ada Ameh finally gone. What a relief. Don't threaten or bully a journalist. Leviticus 26:6 was referring to her. They said she died of depression. NOT TRUE! She was poisoned by her own friends. Those saying I'm MOCKING her are the same people mocking Abacha every single day."
Empress Njamah, who was grieving for Ada Ameh, bemoaned how difficult it was for her to see Ada Ameh's body in a coffin.
Empress Njamah posted a clip on her Instagram page showing Ada Ameh's body lowered into a casket. Empress penned:
HEARING YOU HAD LEFT ME WAS HARD,KNOWING I WILL NOT SEE YOU AGAIN WAS HARDER,MAKING THIS TRIP TO SEE YOUR BODY IN THAT BOX AND PAY MY LAST RESPECT WAS THE HARDEST, @emmanuelmaryene thanks for everything, kilogram you are amazing,goodnight dearest,keep resting away from this wicked world.