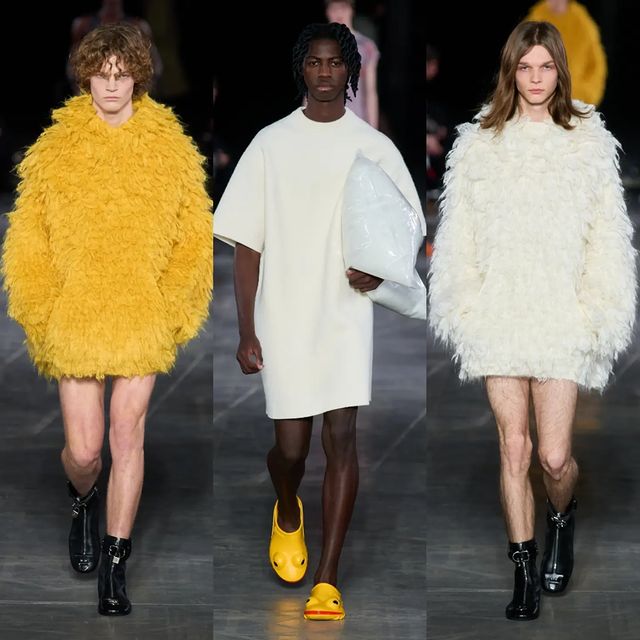 JW Anderson FW 2023 Menswear Collection where displayed at the Milan Fashion Week and as expected the designs are as amazing as always. The fashion house went for simple and remarkable designs that left its loyal customers in awe.
Read Also: Alexis Mabille Runway Show for Paris Haute Couture Week Spring Summer 2023
Primavera was displayed in its unpackaged, undressed state at the beginning of the performance by two boys holding bolts of cloth while wearing just their underpants. Then two women with painted tomato-shaped limbs entered, carrying pillows that had been sewn into their outfits in the Birth of Venus fashion.
The ruffled short then appeared. Version 2.0 differed from the original in that it was made of leather (2013 was also the year Andeson joined Loewe), but aside from that, it was essentially a new version of the item that the designer struggled to sell the first time around and continues to strive to repurchase at auction when they reappear on the market.
Your ideas of façade and identity were teased by the ensuing looks. In the 1990s, the heir and spare of the British royal family wore anthropomorphic frog-faced slides and boots by Wellipets, a brand that was just reintroduced but was formerly exclusive to children. Some healthy frogs can change their gender depending on the situation, as every beginning biologist is aware of.
Read Also: Maison Valentino Runway Show for Paris Haute Couture Week Spring Summer 2023
Terry vests with patterned torsos, some butch and some skinny, were worn over baggy slacks. There were some childish animal print briefs and a number of duffel jackets that resembled uniforms; they were made of faux fur and leather, and the horn and eye fasteners were replaced by locks and keys. Occasionally, the ruffle reappeared. A beautiful leather insert was included in some clothes at the top of the spine.
See full collection below;