Nigerian songwriter, rapper, record and television producer, Abdulrasheed Bello better known as JJC Skillz has announced his separation from his actress wife, Funke Akindele.
The 45-year-old father of four announced this on his official Instagram handle on Thursday morning. He noted that his marriage with Akindele has had issues for the last two years.
READ ALSO: Funke Akindele and husband, JJK Skillz fight dirty over money
JJC said that he has to move out of their home three months ago after Akindele insisted he did, and she has refused any form of amicable communication with him.
READ ALSO: Funke Akindele-Bello Nominated As PDP Deputy For Lagos Governorship Candidate 
He further said they were yet to discuss the custody of the children and the next step in their relationship. He also said that he chose to announce the separation so that the public could know they now lead separate lives.
He wrote,
"Dear friends and family I need to let you know that Funke and I have separated. While it lasted we shared a lot of things together and have created 2 beautiful children. The last two years have been extremely difficult.
"The last two years have been extremely difficult for us. I know I have tried my best fix things but I believe it is beyond repair now. 3 months ago and at Funkes insistence. I moved out of the house and apart from AMVCA have not been able to get Funke to sit down in an amicable matter to discuss the future of our relationship.
"I'm making this announcement so that the public is clear that we both are pursuing separate lives. We still have issues that need to be addressed such as custody and wellbeing of our children which is paramount as well as business interest which need to be disentangled but I have no doubt that these will be resolved one way or the other."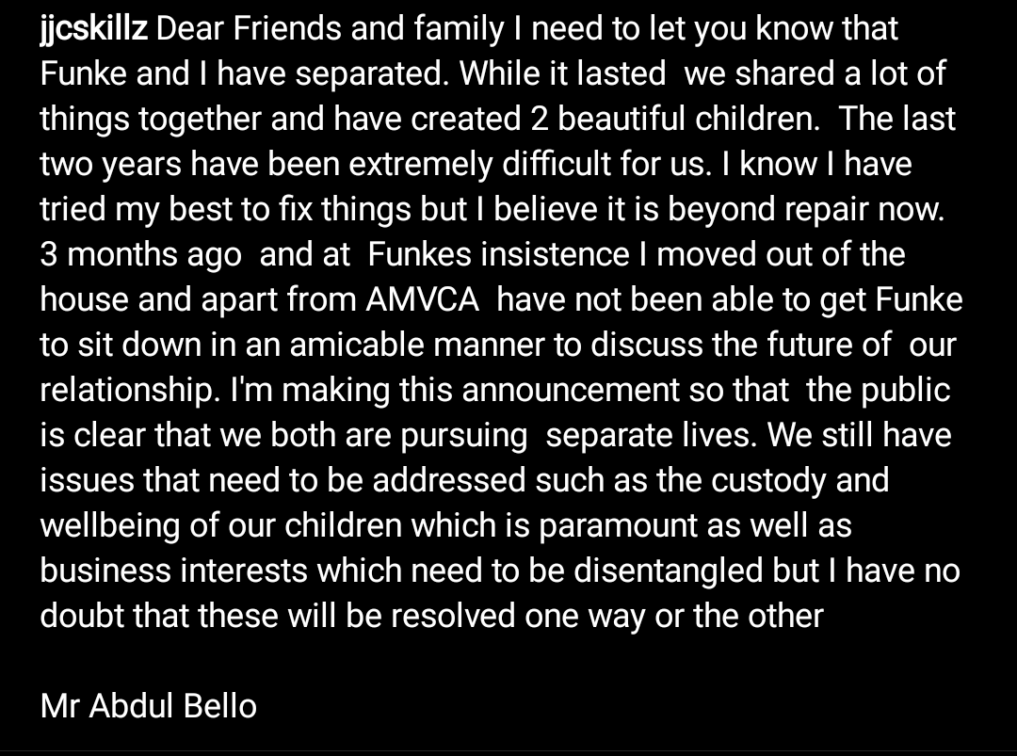 Akindele and JJC welcomed a set of twins birthed in the United States in December 2018.
However, the children were kept away from the media until the rapper's ex-wife, Mello, who is the mother of his first son Benito, shared pictures of the twins on social media following a rough family drama.
Glamsquad Magazine recalls that Akindele had broken her silence on her rumoured breakup with JJC Skillz by pretending that all was well in her marriage.
Her decision to celebrate her estranged husband, JJC Skillz on father's day quenched rumours that the duo had gone their separate ways.
She shared a series of pictures JJC Skillz snapped with all his children and noted that he is a wonderful and caring father.
READ ALSO: Regina Daniels And Billionaire Husband, Ned Nwoko Welcome Second Child On 1st Son's Birthday