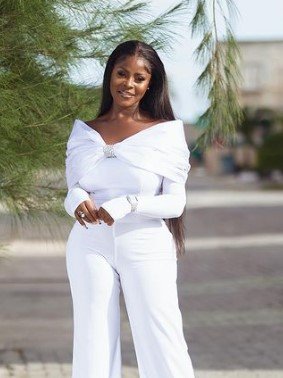 Big Brother Naija former housemate,  Abiri Victoria Oluwabusayo better known as Khloe has addressed an oral s*x video making rounds on social media.
Taking to her Snapchat, the reality star refuted the video and raised questions asking if she is a nun.
According to Khloe, the fact that people assumed she was the person in the video demonstrates society's tendency to blame women for the mistakes of men.
She further disclosed that if a man ever treats her in such a manner as seen in the video, she would consider taking drastic measures, including threatening harm to his entire family.
Khloe expressed her bewilderment at why anyone would turn something pleasurable into a joke. She also confidently asserted that if she ever engaged in such behaviour, she would sell the video and profit from it.
"Even if!!! Even if that's me!!! (Which will never be) you think I'll fold about it??? Like am I a Nun?? But the fact that you all wish it was me is the height and everytime we shame women for men's mistake. Are we normal????

"If a man do that to me…. I'm killing his whole family I swear with my life….I'll find his family and kill all of them and watch him suffer…. And trust me I'm that demonic (ask around) like how you gon turn pleasure to mockery???

But women gets to be blame and attached….are we even growing or drowning?????

If I ever indulge myself in such activities…. you'll not see it on your smelling dogs, I'm selling that shit and making money off it cos what's done is done BUT AS I SAID "IT CAN NEVER BE ME"… Never.

Last time I'm speaking about this!!!! I WANTED TO HELP YOU ALL PIST THE VIDEO TO WATCH WELL BUT SNAP WILL BLOCK MY ACCOUNT AND UNA PAPA NO WORTH AM".

"Last one I promise. For you to think I'm that fat, my butt is that massive, my hand is that big with veins, my neck is that thick with layers, my back and hand tattoo disappears overnight and I can't let myself be that wild is [email protected]….

Hehehe!!! Una dey on drugs".

"Just one time I let loose and let you dûmb humans into my private life. Una win kill your mama. Spot on".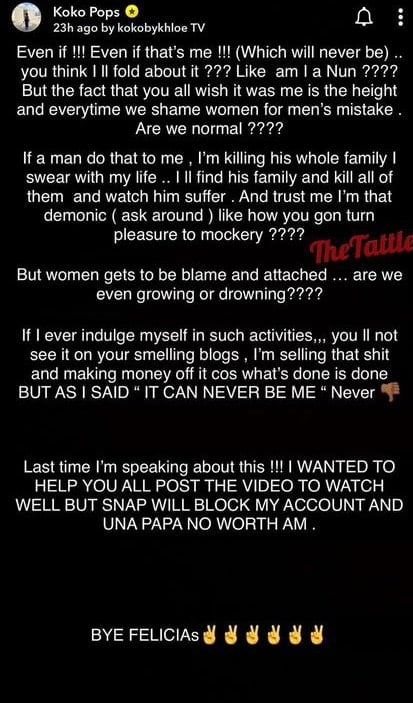 Read Also: Actress, Etinosa Idemudia advocates for touts, says they possess valuable skills that are often unappreciated