African Fashion Week Nigeria, did not spring out of the blues. It was birthed out of the love for African Fashion in the diaspora.
In an exclusive interview with Timileyin Amusan of Glamsquad Magazine, fashion expert and entrepreneur, Princess Ronke Ademiluyi detailed the journey of how she pioneered the glamorous fashion week in Nigeria. She took us through the journey of the urgent need to have representation of African fashion in the global industry and how it has helped shape and make well known the African cultural heritage.
What inspired you to begin the Africa Fashion Week in London?
Back in 2011, there was hardly any representation of African fashion in the mainstream global fashion industry, unlike now that African fashion influences global fashion and many western designers take inspiration from African fashion, so Africa fashion week London was born out of that urgent need and moral obligation to showcase African designers in the west.
11 years on, how has the acceptance of the AFWL been so far? And how has it helped Nigerian fashion designers in the Diaspora create a sustainable market for themselves?
The acceptance has been amazing, we use the platform to showcase our cultural heritage and tell our African stories, Africa is a continent with over 3000 tribes and every year on the catwalk, we see various designers bring their heritage to the catwalk and the media who come to watch will always ask questions about the different designs and fabrics seen on the runway. As part of the fashion week, we have a marketplace where visitors can buy products straight off the runway, and sales agents and buyers can network with designers for future orders. It has become the longest-running festival of African fashion in the UK and designers return every year to participate. So it has indeed helped the Nigerian designers in the Diaspora to create a sustainable living.
As a fallout of the AFWL, you set up a mentoring scheme for Black fashion students in the UK in partnership with Northampton University in The UK, How many students have you been able to mentor through the AFWL?
The Aim of the mentoring scheme in partnership with the University of Northampton is to assist in giving black fashion students in the UK equal footing and to enable them to overcome systemic barriers that cause the underrepresentation of leading black designers within the UK fashion industry. We teamed up with UON to offer undergraduates personal coaching and master classes from some of the UK's leading fashion industry professionals of colour. The theme was Enough of the talk, let's take action.
According to research Black designers in the UK have to work twice as hard to get on in the industry. We have mentored quite a few, our pilot project started with a few fashion students pairing them with leading top UK fashion designers of colour, like Adebayo Jones, Yemi Koshiba, Samson Soboye and it is still ongoing.
In 2014, you set up a sister platform in Nigeria, Africa Fashion Week Nigeria. What has been the success story over the years?
A few years after the London event there was an influx of emerging African designers who were very creative and wanted to showcase at the London Fashion Week, but could not get the financial support, so we set up a sister platform called Africa Fashion Week Nigeria. It's now in its 8th year and is a phenomenal platform for young emerging Nigerian and African creatives, whilst supporting growth and development.
Glamsquad notes that The AFWN took place from the 7th to the 9th of September at the Eko Hotel. For the first since its inception in 2014, it partnered with another powerful brand- Lagos Fashion Fair owned by Atlantic Exhibition, for a spectacular show.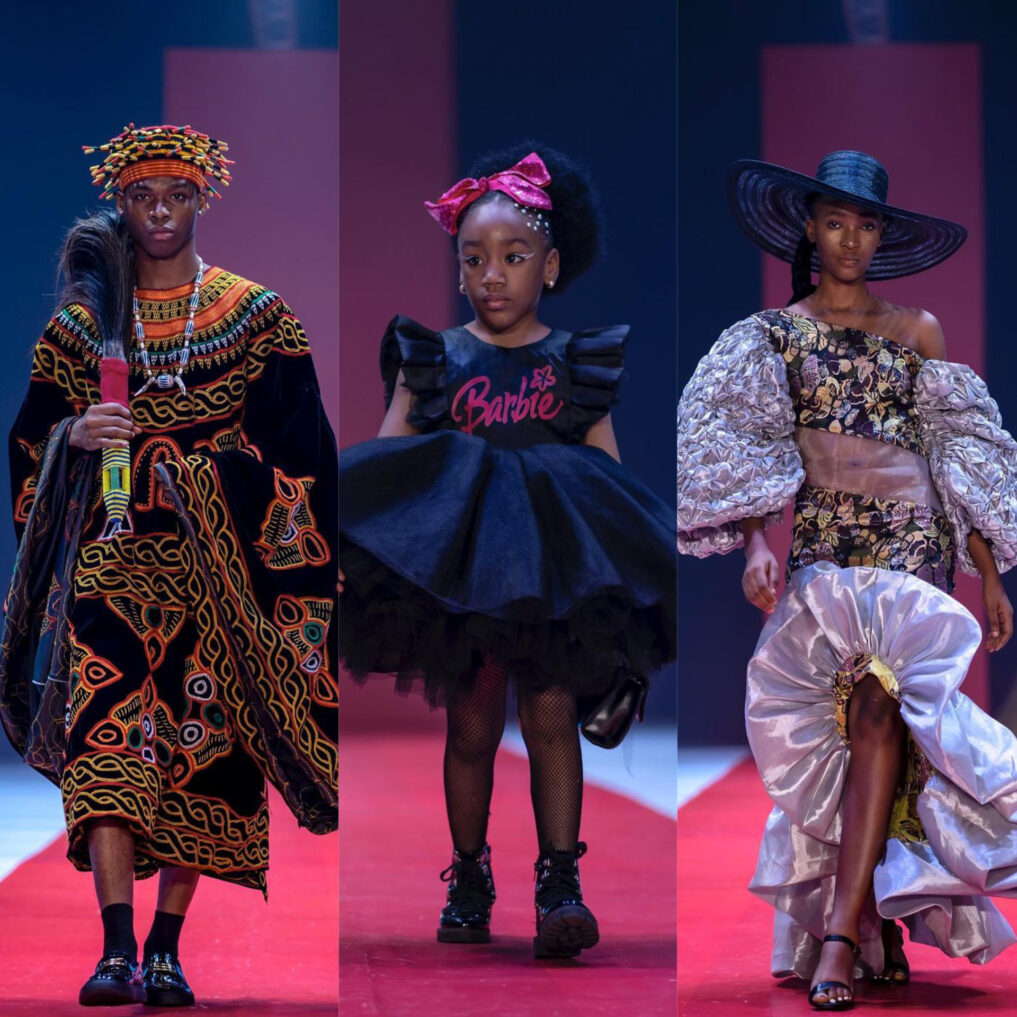 The First Lady of Kwara State, Her Excellency, Ambassador Dr Mrs Olufolake Abdulrazaq the Matron of AFWN gave out Special Recognition Awards. Read here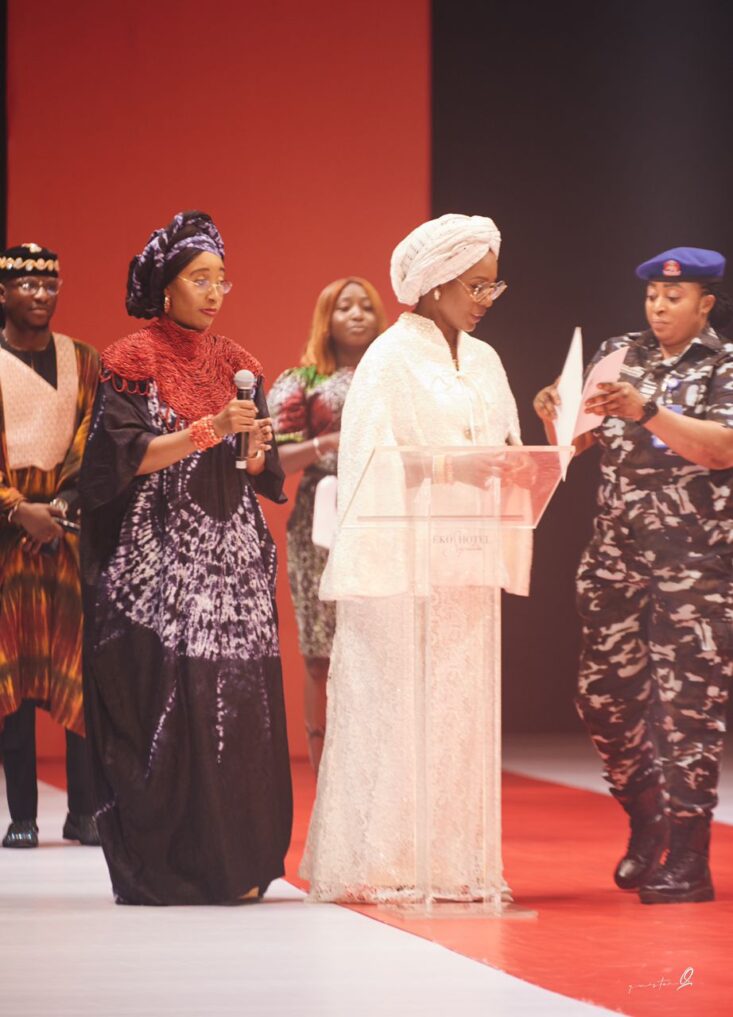 AFWN also collaborated with FADAN to showcase a collection of Nigerian designers.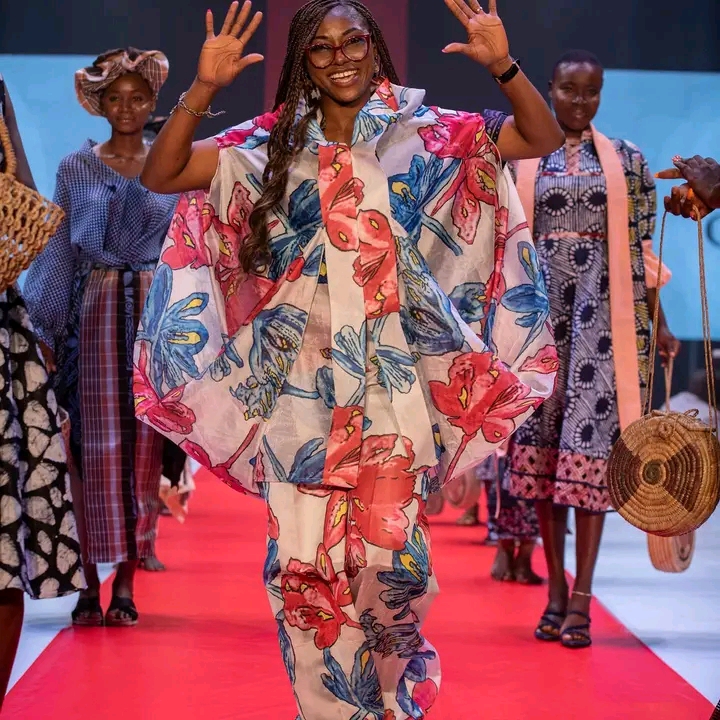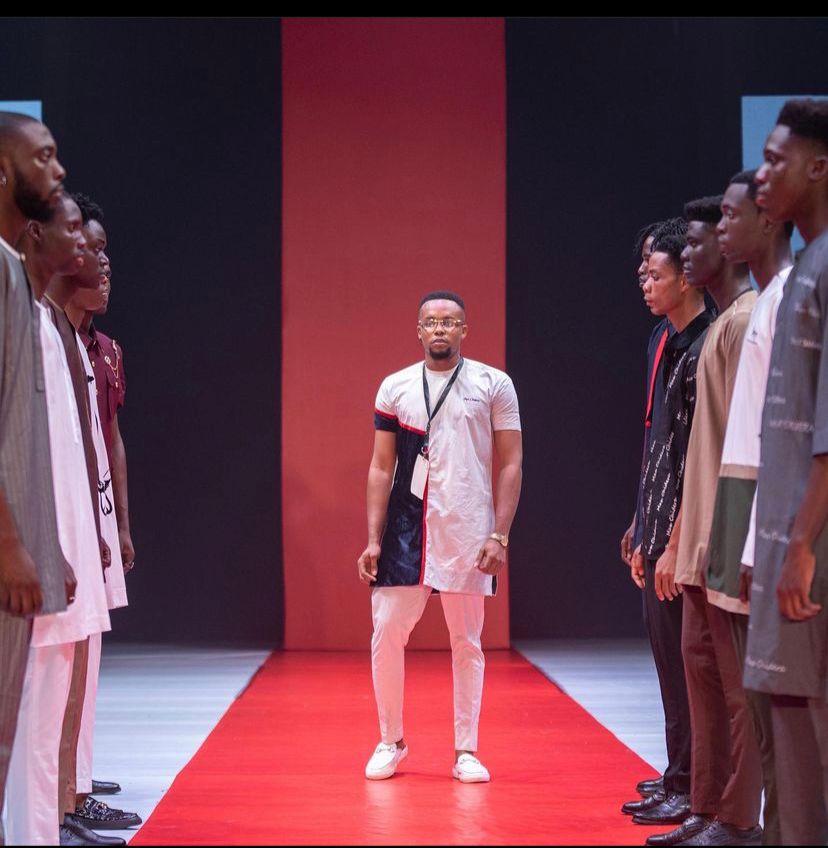 You are presently doing a lot with the Adire and obviously reviving the industry, for instance, the Adire Oodua hub in Ife, and the adire on wheels project, which are all your ideas. What is the inspiration behind this and what do you aim to achieve with the Adire project?
Adire Oodua Textile hub was established in 2021 as a covid bounce-back facility for women and unemployed youth. Our sole benefactor is His Imperial Majesty Ooni Adeyeye Enitan Ogunwusi Ojaja II of Ife Kingdom the custodian of Yoruba cultures and traditions.
The inspiration was to set up an indigenous textile hub for training of our youths, as Nigeria has so many unemployed youths. We believe by teaching them this craft of Adire making it can help in wealth creation and eradication of poverty.
We aim to use our heritage fabric as a poverty eradication scheme for rural women by enabling them to generate a sustainable living by increasing their production capacity and at the same time sustaining the beautiful craft of our heritage fabric.
The Adire hub invests in human capacity building and we rely on human labour and not machines, this enables us to engage the services of 100s of locals. Based on this we have the capacity to produce 1000s of handmade Adire every month, we cater to retail markets, wholesale markets, and individual designer markets for those who want their customized designs.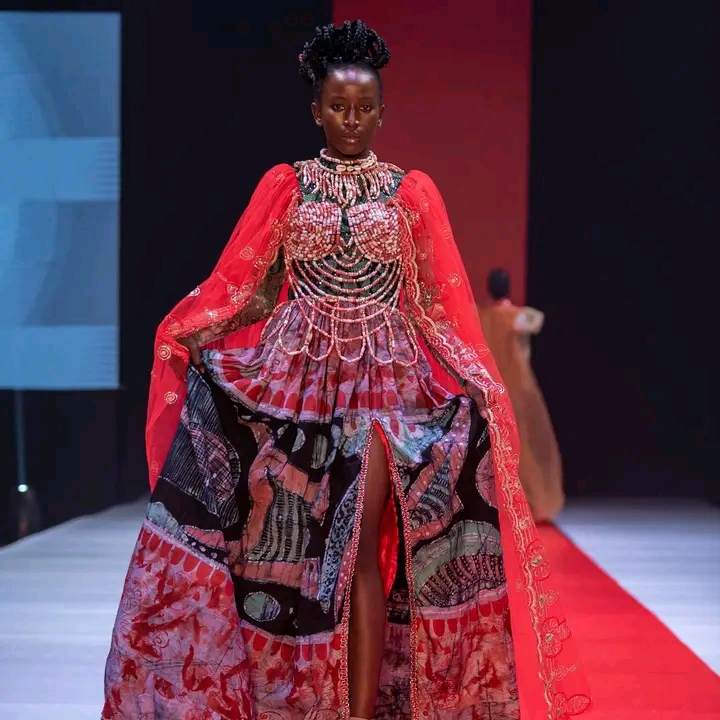 The Adire before now was seen as one fabric that runs and not what you can wear for long, how you would describe the evolution of the Adire? And what are some of the innovations that can make things better?
The Adire fabric is a heritage fabric that dates back to centuries ago and that is still relevant in our present generation, it's a beautiful technique that was created using different methods to create beautiful patterns on fabrics and using various resistance methods to resist the dye when the fabric is eventually dyed.
The resistant methods include the stitch resistant method, the knotting with thread resistant method, the wax resistant method and the starch resistant method. This ancient fabric creation technology allows us to create so many patterns, symbols and signs on our fabrics, and it also allows us to tell different stories about our fabrics.
Adire has now taken over the Ankara fabric as it enables designers to repeat designs and make their own unique designs in small runs, unlike Ankara which has to be mass produced making it financially difficult for designers to repeat their designs.
Our focus is developing more markets outside of Nigeria, especially with the diaspora we intend to set up and Adire Trade Centers in a few Major cities around the World starting with London and that's why our Theme of Africa Fashion Week London 2022 is the Adire Culture, we have started with an awareness showcase, discussions and workshops at AFWNigeria 2022 held in Lagos on the 7th to 9th of September and we pick the best of Adire for export to showcase at Africa Fashion Week London in October during Black History Month, we intend to position Adire as one of the non-oil exports of Nigeria.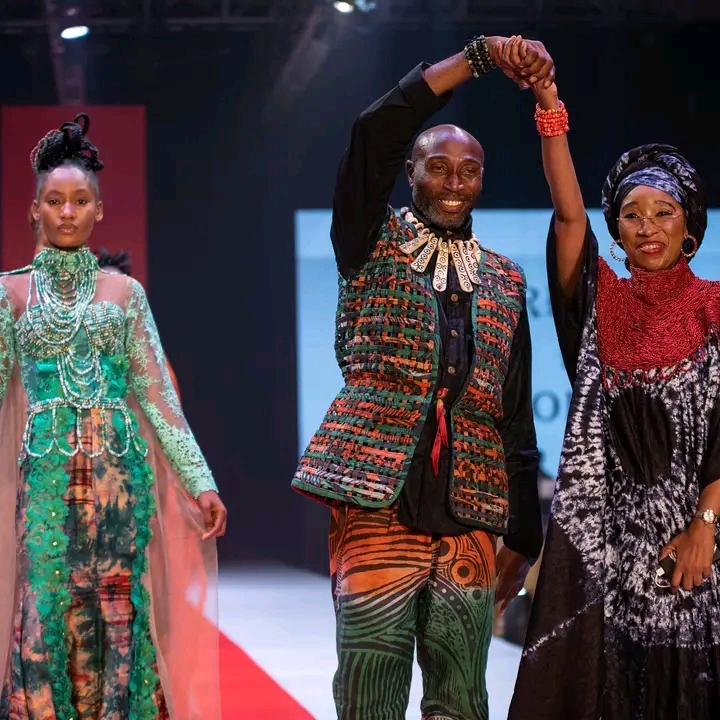 You mentioned that there will be an Adire pavilion at the Africa fashion London this year, tell us about it and what should we expect?
The Adire Pavilion is a Collaboration between Eco Bank AFWLondon. Eco Bank is supporting us to exhibit Adire Artisan in London and our focus is developing more markets outside of Nigeria, especially with the Diaspora we intend to set up Adire Trade Centers in a few Major cities around the World starting with London and that is why our Theme for Africa Fashion Week Nigeria and London 2022 is the Adire Culture, we start with an awareness showcase, discussions and workshops at AFWNigeria 2022 holding this September and we pick the best of Adire for export to showcase at Africa Fashion Week London in October during Black History Month, we intend to position Adire as one of the non-oil exports of Nigeria.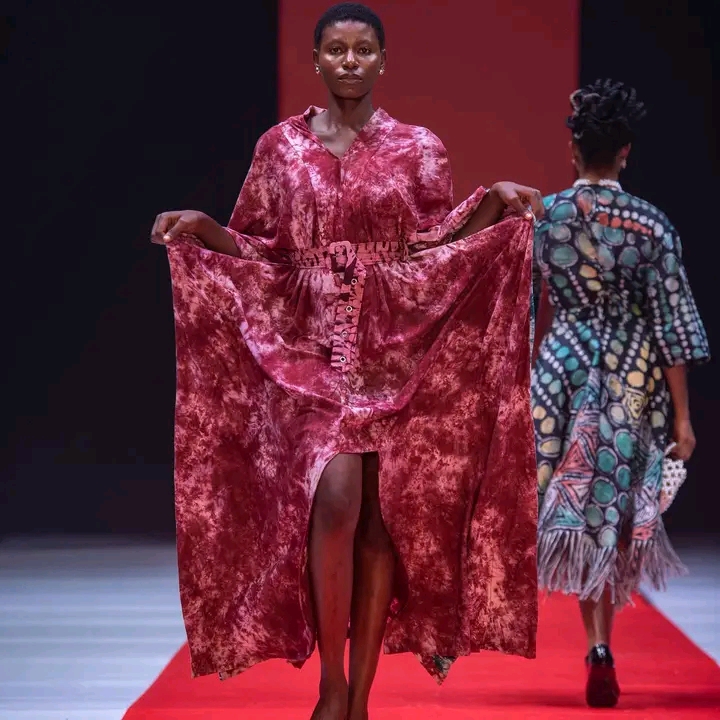 How would you describe the efforts made by Nigerian designers and what advice do you have for them?
The creativity of Nigerian designers is unbeatable; they always bring their A-game to the runway, and that's why Lagos is now considered one of the fashion capitals of the world despite no support. The fashion arm of the creative sector is underfunded and lacks support and I applaud our Matron HE Amb Dr Olufolake Abdulrazaq who continually supports the growth of the Nigerian Fashion industry by wearing designs made in Nigeria.
Our Ambassador Plenipotentiary HIM Ooni Adeyeye Enitan Ogunwusi Ojaja II is also a dedicated supporter and it was under his stable that we set up the Adire Oodua Textile Hub.
Designers should continue to stay focused and keep being creative; the world has now become a global marketplace thanks to social media.
Where do you see Adire in the next few years?
I see Adire as the next shea butter. Right now we have developed an L'ADIRE TV Series which is currently showing on Africa Magic. The Series is coined to promote the traditional Tie and Die (Adire) industry of our heritage fabric. To enable us to engage more youths in the indigenous textile industry alongside promoting the trade and skills of tie & die (Adire). A visit to the hub will educate you on how the women and youth we are working with in Adire in a very fascinating way.
Our Adire free training programs train women and youth for free through the support of our training partners like Chestrad Global, which is under the leadership of Dr Lola Dare. Partnerships like these enable us to empower students with creative skills and work with women in rural areas to ensure that the craft of Adire is passed on to the next generation and enable them to come up with innovative and digital skills to enhance the old methodologies.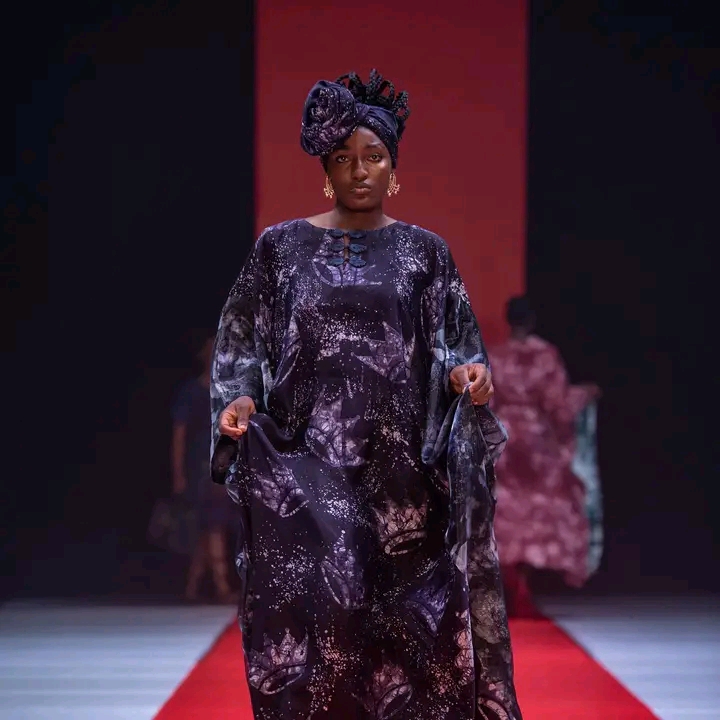 What can the government do to improve the quality of fabrics and the sector?
Adulteration of our indigenous handmade Adire is a major problem, the Chinese have seen how Adire is now in high demand and have jumped on the bandwagon and are turning these authentic handmade fabrics into prints and selling them at very cheap rates, this is a major challenge for the artisans who own the IP of the designs because it was created by them, recently one of our top designers saw one of his designs in printed version selling for cheap at Balogun market, luckily for him his designs had been trademarked.
Investing in the textile sector in Nigeria is one way that the Government can do to improve the quality. To improve the sector, the Government should put the right infrastructure in place for manufacturing, the government should support emerging designers to showcase outside of Nigeria, and the government should do awareness and sensitization campaigns to promote made-in-Nigeria clothing. The government can give low-interest rate loans
Tell us about some of the memorable moments in your life and career?
The first time we had AFW in London with over 4000 visitors that was a very memorable one for me. Also, when His Imperial Majesty, the Ooni of Ife, graced our catwalk.
Who or what do you consider as the greatest influence in your life?
Everything I do is influenced by the Almighty creator of the Universe, once I think of His ultimate creation of the world; my creativity has no bounds or limits, bearing in mind that every journey starts with a thought.
How has Adire changed your personal outlook?
My Adire looks for the past one year are deliberate as it allows me to share the story of our heritage fabric every day.
What is your definition of style?
Unlike fashion which changes every season, what is in fashion this year might not be in fashion next year? Style is unique and individuals have their own different styles.
You are always seen in Adire now; don't you get bored sometimes, wearing the same kind of fabric daily?
Adire has endless possibilities, the methods, the ancient and the modern designs, the mixture of colours, Adire allows us to be super creative with fabrics so there cannot be a dull moment when creating these beautiful vibrant designs.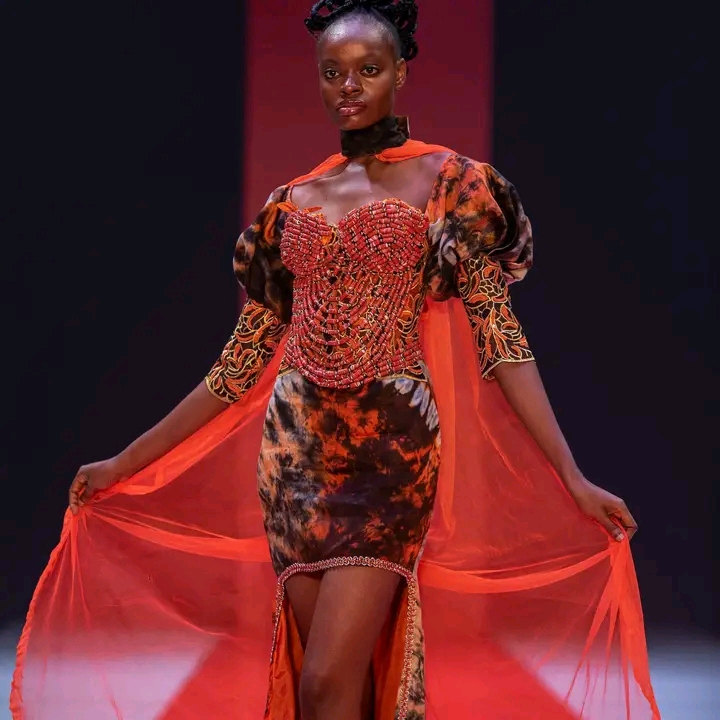 When you're not busy how do you relax? What are some of the things that occupy your time?
I relax with my friends and family and in the ancient city of Ile Ife too as it allows me to get away from the fastness of Lagos.
What lessons have you learnt from the sector and as an individual in life?
I have learnt to stay positive no matter what the situation is and to keep knocking on doors even if one is closed in your face, another will open. As a leading figure in the fashion industry, I have leant to share my experiences with others so I work with a lot of youths to enable me to pass steps of my journey with them, I have learnt that collaboration and partnerships can really play a big role in one's success.