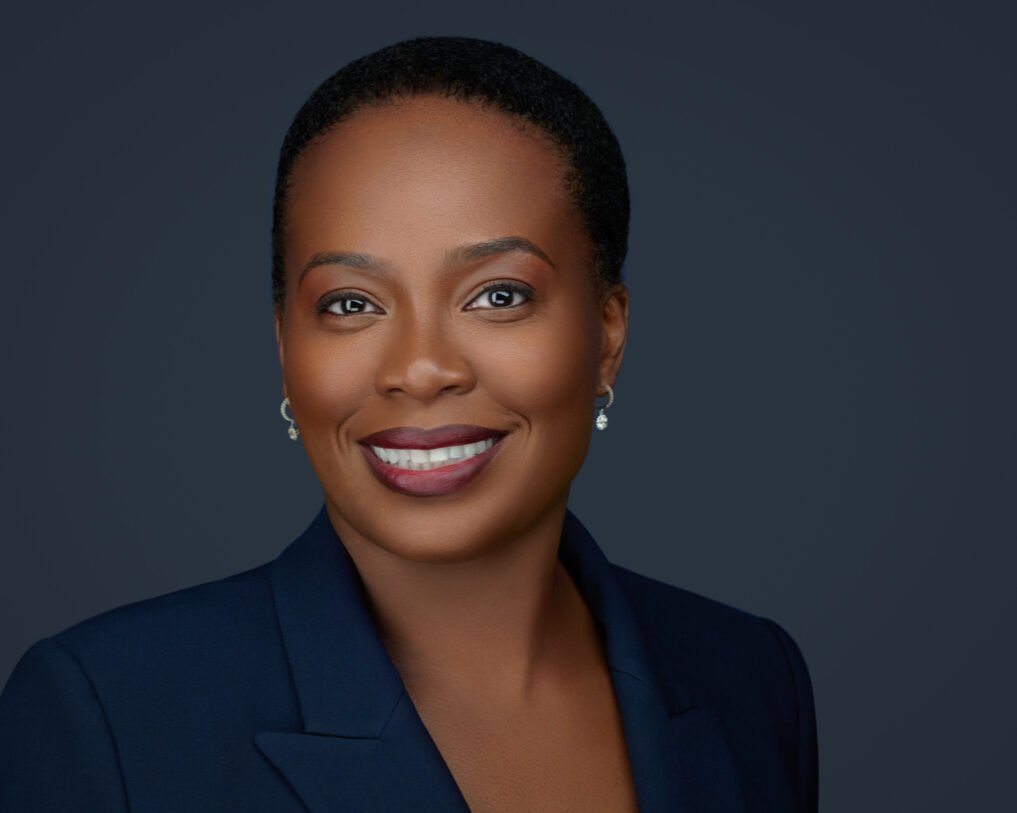 Ijeoma Akunyili has been appointed as the new Chief Medical Officer of Jersey City Medical Center in the United States.
Ijeoma Akunyili, the newly appointed Chief Medical Officer of Jersey City Medical Center in the United States, is the daughter of the late Dora Akunyili, who was the former director-general of the National Agency for Food and Drug Administration and Control (NAFDAC) and ex-minister of information.
Read Also: AGN demands the detention of Empress Njamah's ex-fiance
The statement released on Wednesday, January 11, 2023 by the medical center announced that Dr. Akunyili has been appointed as the first Black Chief Medical Officer.
The statement reads:
Jersey City, NJ – Jersey City Medical Center, an RWJBarnabas Health facility, announced the appointment of Ije Akunyili, MD, MBA, MPA, as the new Chief Medical Officer effective January 2, 2023. Dr. Akunyili is the Medical Center's first Black Chief Medical Officer.

RWJBarnabas Health is proud to add Dr. Akunyili to its executive clinical leadership team. Her experience managing multi-specialty physician groups in integrated health care systems will help support Jersey City Medical Center in providing comprehensive health care throughout the community," said Andy Anderson, MD, Executive Vice President and Chief Medical and Quality Officer for RWJBarnabas Health. She will be a tremendous asset to our team.

Dr. Akunyili has a wealth of experience and knowledge, and as our Chief Medical Officer, we look forward to creating a world-class experience for every patient at Jersey City Medical Center. I am confident that Hudson County will benefit in a great way from her leadership, and that her presence will have tremendous impact," said Michael Prilutsky, President and Chief Executive Officer of the Medical Center.

"In her most recent role, Dr. Akunyili served as the Regional Medical Director for TeamHealth, Northeast Group, where she had strategic, operational, and clinical oversight of nearly twenty emergency departments, critical care, and hospitalist service lines in Connecticut, New Jersey, New York, Rhode Island, and Pennsylvania. She led an unprecedented fourfold expansion of service lines with a specific focus on medical services and access to care for underserved populations.

Previously, Dr. Akunyili served as the chair of emergency medicine at Waterbury Hospital, a Level II trauma teaching hospital. There she was the change agent who led a dynamic team in dramatically reducing the lengths of stay, improving overall performance across multiple patient-centered metrics, and increasing physician staffing. She was awarded the 2019 Medical Director of the Year Award for the impressive turnaround of the Waterbury Hospital Emergency Department.

In addition to her executive experience, Dr. Akunyili has vast leadership and advocacy experience, and is currently serving as the President of the Connecticut College of Emergency Physicians (CCEP). Prior, she served for several years on the board of directors of Texas and Connecticut Colleges of Emergency Physicians. She was an Assistant Professor of Emergency Medicine at Baylor College of Medicine Houston, TX, and she is currently a Clinical Assistant Professor of Medicine at Yale University.
Akunyili, upon her appointment, expressed her gratitude to the hospital and affirmed her dedication to providing high-quality service.
She said:
"I am grateful for this opportunity, and I look forward to serving the residents of Hudson County and continuing to provide safe, innovative, efficient, and equitable care. It is a true privilege to lead the clinical effort at Jersey City Medical Center and to create sustainable health outcomes for our community."
Dr. Akunyili received her education at the University of Pennsylvania where she graduated Summa Cum Laude. She went on to attend the University of Maryland School of Medicine and completed her emergency medicine residency at McGovern Medical School at UTHealth Houston.
Dr. Akunyili also holds an MPA in international development from the John F. Kennedy School of Government at Harvard University, as well as an MBA from the Wharton School of Business at the University of Pennsylvania. Additionally, Dr. Akunyili and her husband are the parents of two teenage children.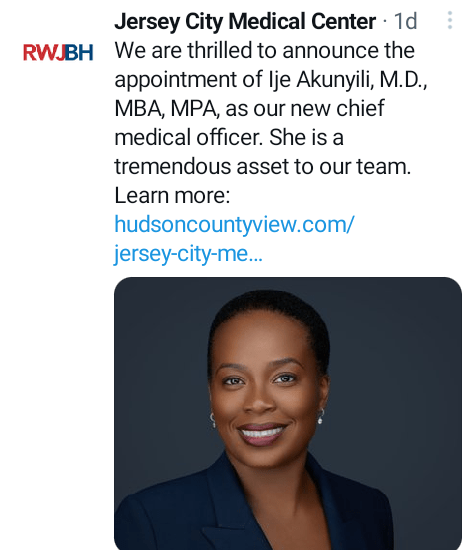 Read Also: Samuel L. Jackson forced to leave theater gala early after "getting into a fight with his wife, LaTanya Richardson