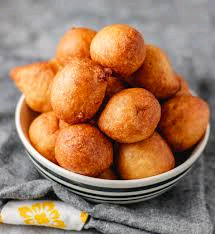 In other the make the perfect puff puff you have to use the perfect ingredients.
When making puff puff try not to use a yeast that is out of date or bad in other not to spoil your mixture when making it.
Here are all you will need for a better and perfect puff puff;
Ingredients
1. 3 Cups Plain Flour
2. 1 Cup of Sugar (according to your taste)
3. 4 teaspoon Instant Yeast
4. Sprinkle of Nutmeg
5. Vegetable Oil
6. Pinch of Salt
7. 2 Cups Warm Water
Read Also: 4 Tips To Take Care Of Your Face
Read Also: How To Chose The Right Product For Your Skin Type
How To Make
Get all the ingredients(starting from the flour) and mix in a bowl for about 10 minutes keep it in a warm place either in the microwave or oven leave for 45 minutes, put your vegetable oil in a pan and begin to cut your mixture with a small spoon and fry. Tour lovely puff puff is ready.
Watch video below in case you get confused along the line;