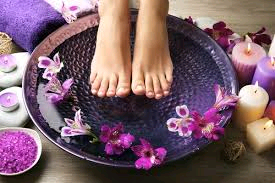 Foot cracking is a major discomfort that occurs mainly in dry season, because the skin becomes too dry due to lack and improper management it cracks.
Read Also: Tips On How To Have A Healthy Hair
Read Also: Hair Food Growth For A Healthy Hair
Although there are other foot mask but not as effective as Avocado foot.
Here is a way to make your own;
1 avocado
2 tbsp coarsely ground oatmeal
4 tbsp sea salt (or sugar)
1 tbsp essential oil (optional)
1 tbsp honey (optional)
Direction;
Remove the pit, whole, from a ripe avocado. Let the pit dry for a couple of days. Store the rest of the avocado in the refrigerator until the pit is dried out and you are ready to make your foot scrub.
Once dry, grind the pit until you have a gritty powder consistency. Set aside.
Scoop out the contents of half of the avocado and mix it with the cornmeal.
Add the pit powder to the mixture.
Add sea salt (or sugar) as desired for exfoliation.
Combine honey and essential oil into the mixture if you choose to include them.