Former Big Brother Naija housemate Abiri Oluwabusayomi, popularly known as Khloe has said that fellow reality star Alex Asogwa saved her life on countless occasions.
The 26-year-old shared a picture of Alex to wish her a happy birthday on Instagram on Monday.
She also shared the story of the time she was sick and Alex took her to the hospital.
"Yay my baby is half of 50  i'm not the type to write long messages like you but let me tell you somethings @alex_unusual … Don't stop being the Alex i know now , not for any single soul cos the woman you are is amazing and special.
"For all that you do , i'm grateful … Thanks a lot. which friend wud run half dressed in middle of the night , banging on a hospital doors to open , crying and praying with my lifeless body in their hands … All i could hear was " koko you ll not die and drop of you and kenny's @ctihanah tears all over me.
"You might think that's normal cos you are 'good peoples' but that is courage to me .. And till i die i ll always seat on a table to praise u and tell people how amazing you are ….
"Countless times you and @antolecky saved my life … listened to me nag , cry , complain and want to give UP… But you keep saying "Koko you ve been through a lot to give up now " you give me strength Amuche," she wrote.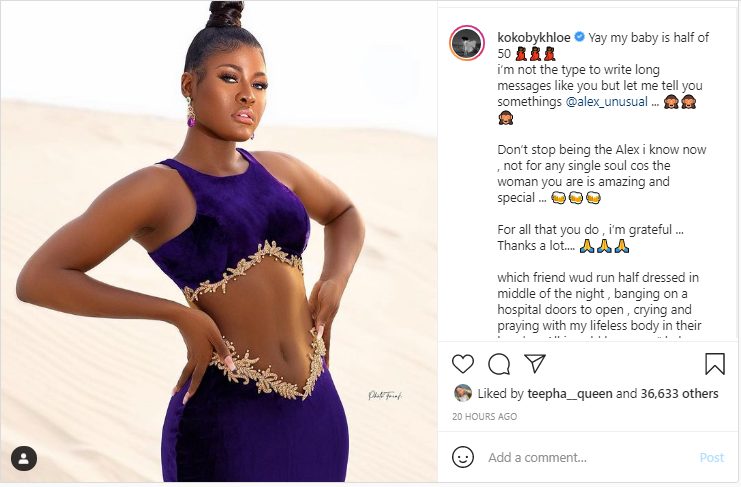 The ladies were housemates on the season three edition of the show titled 'Double Wahala'.