Hip Hop Mogul Sean "Diddy" Combs officially has a new name.
The 51-year-old super-producer revealed on Monday that he changed his middle name from his maiden "John," for which Combs launched his famed Sean John clothing line in 1998 and later sold a majority stake to Global Brands Group in 2016 – to "Love," which he has been telling fans to refer to him as in recent years.
On Monday, Diddy shared his new driver's license. This Florida state-issued card revealed that Diddy will officially be known as Sean Love Combs.
"Look what I just got in the mail today…," he captioned the photo of the Florida ID. "IT'S OFFICIAL!!! WELCOME TO THE LOVE ERA."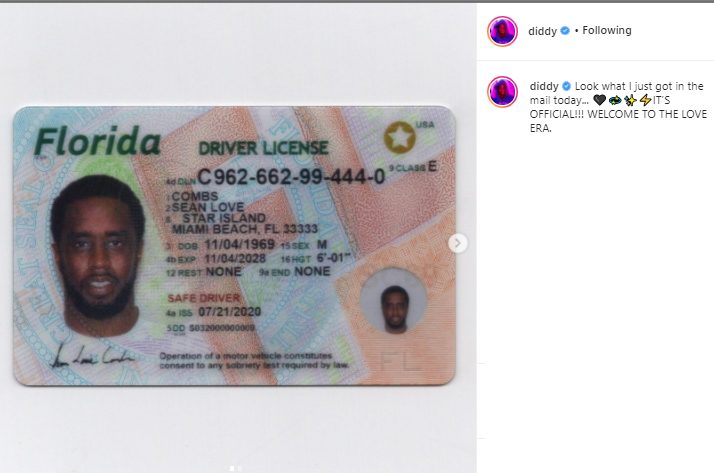 He also shared an extract from a court document over the change of name which was dated 21 January 2020. He wrote: "Imma need y'all to take me seriously on this one!!! #TheLoveEra LOVE (sic)"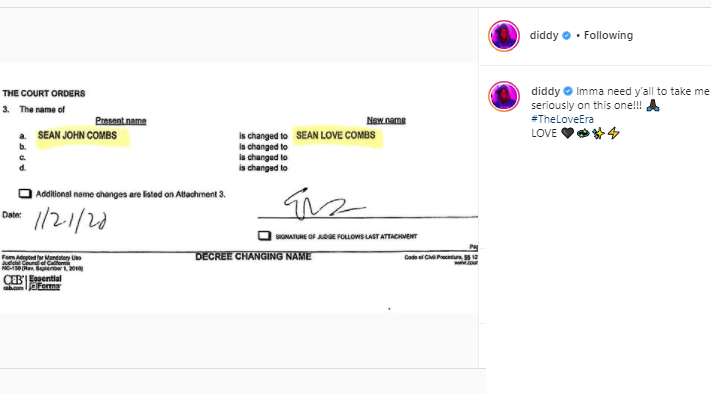 Diddy first announced he was changing his name to Brother Love in 2017.
"I have some very, very serious news," he tweeted at the time. "I've been praying on this … I know it's risky because it could come off as corny to some people. Like, yo, I decided to change my name again. I'm just not who I am before.
"I'm something different. So my new name is Love, aka Brother Love. I will not be answering to Puffy, Diddy, Puff Daddy, or any of my other monikers, but Love or Brother Love, okay?"