Hair has become increasingly popular over the years. The main reason for this is an increase in hair loss and baldness, regardless of gender or age.
Artificial hairs are also utilized to add style and fashion to a person's appearance. Wigs and other similar products are always the greatest alternative if you want to modify your hairstyle and color without hurting your natural hair. Hair wigs and covers are far more convenient and may be styled in a variety of ways while yet maintaining a natural appearance.
Hair and hair extensions are manufactured in a number of nations throughout the world, including Vietnam, India, and China. In Vietnam and China, there are numerous wig manufacturers who specialize in wholesale, retail, and custom wigs.
The article focuses mainly on the top hair manufacturers in Vietnam.
Human Hair and Synthetic Hair
– Human Hair: Human hair, as the name implies, is manufactured from actual or natural human hair. When compared to synthetic hairs, these hairs are more expansive and have a longer lifespan. Human hair is easy to style and has a realistic appearance. These hairs must be properly handled, and their texture is more delicate.
– Synthetic Hair: Human-made fibers, such as acrylic fibers or plastic fibers, are used to create these types of hairs. It is less expensive than human hair, and it provides a less natural appearance than the others. Synthetic hair comes in a variety of styles and colors. Heat-resistant synthetic hair is also available on the market, which can survive the heating devices used in styling.
Peculiarities of Vietnamese Human Hair
Human hair is available from a variety of producers and wholesale hair providers in Vietnam. Because of its healthy structure, length, and durability, Vietnamese hair is one of the best hair types in Asia.
In Vietnamese culture, hair is extremely important. Since ancient times, long hair has been a symbol of Vietnamese identity and tradition.
In the early years, Vietnamese men and women, regardless of gender, wore their hair long and neatly groomed. Vietnamese hair has become well-known for its distinguishing features.
The bulk of human hair wigs made in Vietnam are made from virgin human hair.
Virgin hair is unprocessed, natural hair that hasn't had any chemical treatments or products applied to it. Those hairs have an original silky and robust texture as a result of this. A high percentage of hair is taken from healthy female donors between the ages of 18 and 25.
These collected hairs are treated by skilled employees and sold at a reasonable price on the market. The most remarkable feature is that hair manufacturers in Vietnam offer high-quality natural hair at a reasonable price.
Top Wholesale Wig Suppliers in Vietnam
Mic Hair Company
Mic Hair Company Limited has been in business for almost ten years. In the domain of wigs and extensions, Mic Hair offered a wide range of options. Natural human hair manufactured from Asian human hair is produced by them. With the support of their partners, they had made significant inroads into the international market. They work with partners from all over the world, including Brazil, Argentina, Italy, Germany, Israel, and others.
Laylahair
Laylahair is a well-known hair manufacturer in Vietnam. As a raw material, they employ natural, healthy, and authentic Vietnamese and Cambodian hair. They provide a wide range of hair extensions and wigs to meet the needs of their customers.
Lewigs
Hair loss and baldness are addressed by Lewigs hair manufacturers in Vietnam. Both men and women can get hair extensions and wigs from them. Lewigs is one of the few hair companies in Vietnam that sells men's wigs. Natural human hair wigs produced from Vietnamese and Cambodian hair are available.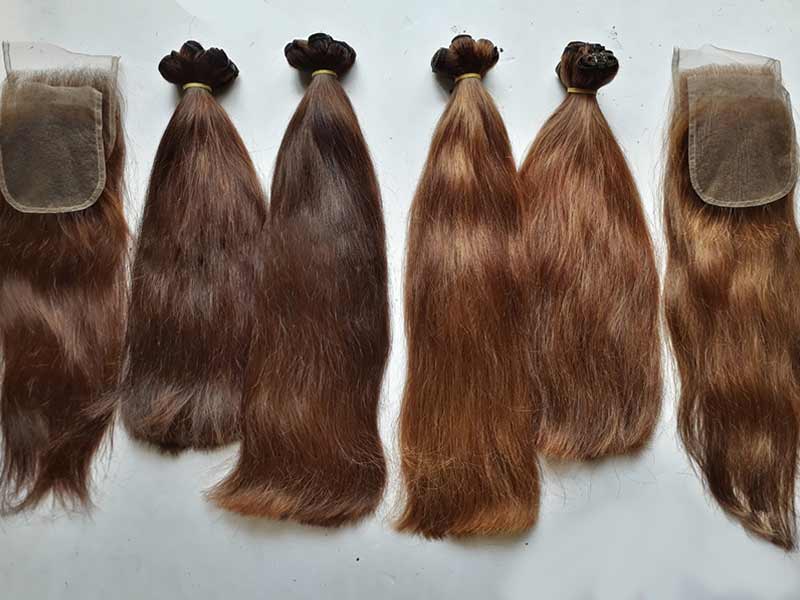 Hadahair
In this profession, Hadahair has roughly ten years of experience. For wigs and hair extensions, they use natural hair from Laos, Vietnam, and Cambodia. They sell their goods in over 30 countries throughout the world.
Beequeenhair
In the year 2013, the Beequeenhair enterprise in Vietnam was founded. Wigs and hair extensions are made with smooth and durable Remy hair. They have branches in several nations and export their products to various countries.
MCSARA
The MCSARA hair firm is a market leader in the creation and export of wigs. They first appeared on the scene in 2014 and quickly rose to prominence. This company's authentic Vietnamese hair wigs and hair extensions are primarily exported to Europe and the United States.
Conclusion
Many countries had expressed interest in Vietnam's hair sector. As a result, Vietnam's hair industry has grown economically. Furthermore, this aided the emergence of hair makers in Vietnam, who now export their wares all over the world. The usage of natural Vietnamese hair and virgin hair distinguishes Vietnam's wigs and hair extensions as exceptional and unique. Many other countries, on the other hand, are more focused on the production of synthetic hair wigs.
This article provided a wealth of basic information on Vietnam's distinct approach to the hair industry, which can assist you in purchasing high-quality, trendy wigs and hair extensions.
The majority of the hair factories mentioned feature online purchase platforms, which are extremely convenient for buyers.