Godwin Tom is a talent manager with over 10-year experience. He entered the Nigerian music industry out of the boredom working in a PR company he no longer enjoyed.  In 2008, he quit his job to go manage MI Abaga, who went on to become one of the best rappers in Africa.  Over the years, Godwin Tom has gone on to work with some of the biggest players in the African music industry such as Wizkid and Wande Coal. In the process, he has evolved to be a brand that is now passionate about creating value by raising a new generation of industry players.  In this interview, Godwin Tom opens up on his journey as an industry player, some of the harsh lessons he has learnt, and how these experiences spurred more ideas, to help grow the industry.
With his wedding also approaching, the groom-to-be, talked about the new family he'll raise and the exciting times ahead.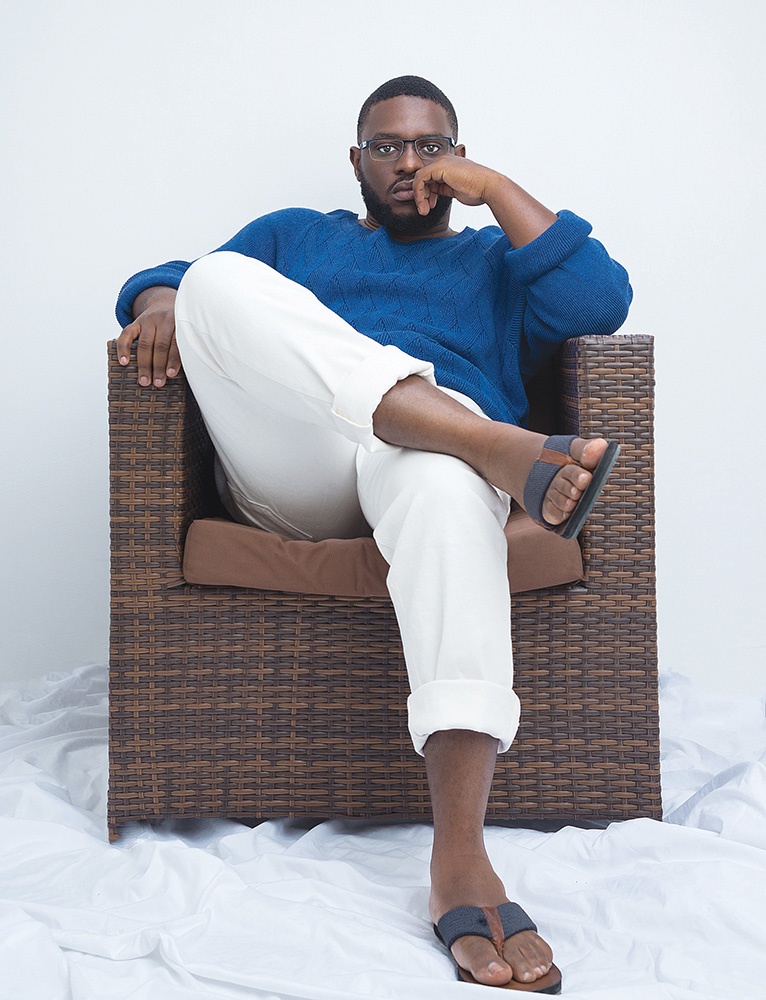 How has it been working in the Nigerian music industry for over 10 years?
It has been a learning experience for me. I had worked in multiple industries before joining the entertainment industry; so I came in with some knowledge of what major brands look for in conversations. Nonetheless, there weren't enough people guiding most of us newbies back then. Generally, it has been filled with ups and downs. I have learned patience and how not to judge people. More importantly, I have learnt to redefine myself and focus on growth for myself and the industry. 
What are some of the biggest challenges you've faced?
That'll be the challenge of people not signing contracts. When they eventually sign, most people do not respect their contracts. My biggest challenge so far has come from my decision of trying to learn to build my own brand,  and provide value to businesses I engage. I needed to be Godwin Tom and not the guy who manages Wande Coal. I believe I have gotten to that point.
You've managed the biggest artistes in Africa including Wizkid, and worked with the likes of Davido, how was that experience?
With Wizkid, it was exciting times. It was filled with a lot of drama because of the disturbing London/EME situations and tweets; but, we overcame those challenges. But something worthy of mention, is that Wizkid is one of the hardest-working people I ever worked with. To put in perspective, we all know he plays/parties a lot but, he works harder than he plays. So his success is not a surprise to me.
Working with these guys can come with its own challenges. From almost being kidnapped by students to constantly avoiding getting mobbed for just being in public. I have, sometimes, been forced to develop exit strategies to get out of uncomfortable situations. It was crazy but it was also rewarding.
What three unforgettable lessons did you learn managing artistes?
The first thing to note is; when you manage one artist, you are managing 2 careers. The talent's career and yours. The second thing is strategic partnerships will help you get far. The third thing to keep in mind, should be for you to stay relevant by creating value on a constant basis.
How has the experience in the Nigerian music industry changed you and when did you realize this change?
The Nigerian music industry has given me a thick skin, and taught me to build my own brand through active impactful work and value. Most importantly, I believe it has taught me not to take things personally or hold grudges. I realized this change when Wizkid and I stopped talking. Almost all my "friends" in agencies and brand/marketing departments stopped taking my calls. This made me realise that we were connected by the artists I managed and this made me start thinking of how to provide value to them. This changed my life!
Why the need for this TMT masterclass when you already have a podcast that teaches people the ropes?
The goal is to reach as many people as possible and different people want to be communicated to, in different ways. I have met people who are willing to pay top money to be part of the day-to- day business, and some others are fine with following my tweets and Instagram posts. I want to reach them all. The more people we reach, the higher the chances of getting more informed people into the industry, which for me, is the goal of the masterclass.
Considering your background, have you ever been faced with imposter syndrome?
I would not call it imposter syndrome. I know where I come from and I know who I am. If anything, I am very grateful for where I am now. I have also worked very hard and refused to give up in so many situations where I was told I should have given up. I see the things happening now as a reward and God's grace. I am simply grateful. But I am reminded that hard work and humility, and being firm also got me here and those are values I hold dear.
What's the most difficult situation you've had to face while managing an artiste, and how did you deal with it?
That'll be managing money. Making them understand that the money would not come forever. Financial education is needed in this industry, but we must also find a way to reach the artists who need it the most.
It is a real struggle. It is easy to get carried away by the lifestyle. One of the ways I have successfully dealt with it, was to document as many expenses as possible and show them how much money they are throwing away. It worked great for some but didn't go well for others.
How would you say the Nigerian music industry has grown?
It has grown massively. Nigerian artists are "hot cakes" around the world now and the music is travelling faster than ever before. It is a great time to be a Nigerian musician. I am currently sitting in multiple conference calls and meetings for a number of Nigeria artists, and the numbers on the table were a dream a few years ago.
Do you think there is an industry or people are just doing things themselves and growing with the support of friends in the industry?
There is an industry. That people are building brands and have colleagues helping out is proof that an industry exists. We just need to grow. We need more businesses with better internal and external policies and processes, to come into the industry. We need more education for people in the industry, and for people coming into the industry.
Some management companies or labels or entertainment lawyers/law firms or aggregators or promoters, need to merge businesses and provide a stronger value proposition. We cannot keep doing things ourselves. It hasn't worked so far.
Do you think we can build global record labels like Universal, Sony and the likes?
Just like I said in my previous response, we cannot keep doing things ourselves. But another way to put it is that, we must ensure more people who understand how the business works are involved in the business. Also, we forget that companies like Universal is a product of mergers and services that work. If two labels each have 50 million to spend, coming together gives them more human and financial resources to create bigger solutions. That's a way forward we should adopt.
What's the craziest experience you've had in this profession?
Well, I have had a few. From seeing a crowd chase me and Wizkid at a mall in Dubai, to having a girl show up in all the pictures Wizkid took, followed us to the hotel and refusing to leave until she goes to his room. We have had a girl in Benin Republic knock on all the doors on a floor where Wizkid was, looking for him. When I managed MI, a show promoter in the UK sent us return tickets but only booked one way. After the show, he was nowhere to be found and we almost got stranded when we got to the airport. Luckily, we had money to buy new tickets. We have had people send us false information for rooms and hotels. So, yes, I've had my fair share of crazy (Laughs).
What would you advise artistes to do better to maintain a relationship with their manager?
Artistes should ensure that they are clear about what they expect from their managers and managers should in turn, state what they are comfortable with. Artistes should also be honest with managers about terms and money. Most artistes say things like "we will discuss that later". Do it now and avoid issues later on. Artistes should also treat their managers with respect. People will engage with your management based on the value you place on them.
What's that one thing people don't know about Godwin Tom that you want them to?
I am not an arsehole! (Laughs) I am actually a fun guy but I think that most people meet me at work where we're trying to get things done and think that I am always that way. Sadly, I cannot explain that to everyone. Vanguard Allure, help me tell them! (Smiles)
What would you regard as our greatest achievement in the Nigerian music industry?
Being a part of Wande Coal's return to greatness! We put in a lot of work and it is always great to see a plan fall into place. Most times, you can only do your best.
Your wedding is coming up soon and we're giving early congrats! Care to give inside gist on who is getting you suited for that special day with your gem?
Thank you for the early congrats(Laughs). Well, Mai Atafo will be dressing me up for my big day! He always impresses me. We have already started talking and I am looking forward to seeing what he is going to do.
What are you looking forward to on your wedding day? The couple's dance or the public kiss?
I do not know how to dance, so I can't be looking forward to that (Laughs)… and sadly, I am not very great with PDA. I am, however, looking forward to marrying the best babe in my world and truth is, nothing else matters.
What do you look forward to the most as a husband and a father?
Dinner with my kids and attending all their events. I want to be there for my family when they need me. As a husband, I pray for wisdom. My soon-to-be wife has become my best friend. I want to keep it that way for the rest of our lives together. So help me God!
What drives you and keeps you grounded?
My family, my future wife and kids. I want to make sure my family is proud of me every day and every year. I also want my kids to live better than me. Hopefully, I teach the value of money but it will come from my experiences they can learn from and not from situations beyond their control as I had.