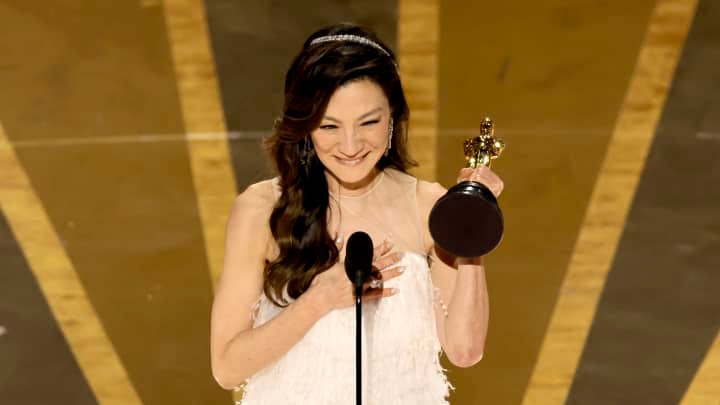 On Sunday night, "Everything, Everywhere, All at Once" won seven Oscars, including best picture, best actress, best director, best editing, best supporting actor, best supporting actress, and best original screenplay as captured by glamsquad
READ ALSO: Actor, Idris Elba Jokes that the title of "Sexiest Man Alive" was his most challenging role
"Everything, Everywhere" had 11 nominations and was a heavy favorite going into the night.
Throughout the awards season, the film, which has become a major touchstone for Asian representation in American cinema, received nominations for acting, directing, and best picture from a variety of organizations.
Directors Daniel Kwan and Daniel Scheinert won the directing award. Michelle Yeoh was named best actress, making her the first Asian actress to receive the honor. Kwan and Scheinert took home the award for best original screenplay.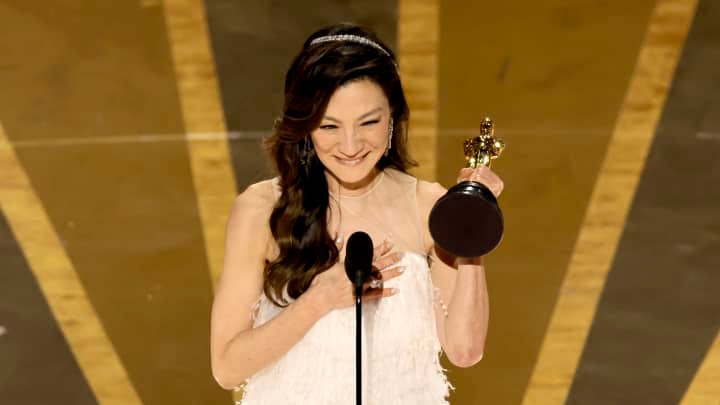 "Everything, Everywhere, All at Once" was not nominated for best actor, a category that features five actors who have never been nominated before for the first time since 1935. Brendan Fraser took home the award for "The Whale."
Ke Huy Quan was named best supporting actor for his role in "Everything, Everything," and Jamie Lee Curtis, who has been a film icon since the 1978 horror classic "Halloween," won an upset.
This year's ceremony featured four Asian actors competing in multiple acting categories for the first time.
Yeoh, 60, is the first woman of Asian descent to be nominated for best actress. This distinction has been made because, technically, Merle Oberon, who was of mixed British and South Asian descent, was the first to receive an Oscar nomination in 1935 for her work on the film.
Ana De Armas was the first Cuban actress nominated for best actress for her performance as Marilyn Monroe in the Netflix film "Blonde."
Angela Bassett also made history at the ceremony by becoming the first actor to be nominated for a role in a Marvel film. Her performance as Queen Ramonda in "Black Panther: Wakanda Forever" earned her a nomination for best supporting actress. The film received an award for costume design.
Early on, "All Quiet on the Western Front" won four awards, mostly in technical categories.
This year's ceremony received extra attention after Will Smith smacked Chris Rock during the previous year's ceremony. Sunday night, host Jimmy Kimmel brought it up at every opportunity.
Here is the full list of winners:
Best Picture: "Everything Everywhere All at Once"
Best Actress: Michelle Yeoh, "Everything Everywhere All at Once"
Best Actor: Brendan Fraser, "The Whale"
Best Director: Daniel Kwan, Daniel Scheinert, "Everything Everywhere All at Once"
Best Original Song: "Naatu Naatu," "RRR"
Best Documentary Feature: "Navalny"
Best Adapted Screenplay: "Women Talking"
Best Original Screenplay: "Everything Everywhere All at Once"
Best Costume Design: "Black Panther: Wakanda Forever"
Best International Feature: "All Quiet on the Western Front"
Best Supporting Actor: Ke Huy Quan, "Everything Everywhere All at Once"
Best Animated Feature: "Guillermo Del Toro's Pinocchio"
Best Visual Effects: "Avatar: The Way of Water"
Best Cinematography: "All Quiet on the Western Front"
Best Supporting Actress: Jamie Lee Curtis, "Everything Everywhere All at Once"
Best Film Editing: "Everything Everywhere All at Once"
Best Score: "All Quiet on the Western Front"
Best Sound: "Top Gun: Maverick"
Best Production Design: "All Quiet on the Western Front"
Best Makeup and Hairstyling: "The Whale"
Best: Documentary (Short Subject): "The Elephant Whisperers"
Best Short (Animated): "The Boy, the Mole, the Fox and the Horse"
Best Short Film (Live Action): "An Irish Goodbye"
Source: CNBC