Fendi went all out in the production of their Fall-winter 2023 Menswear. The designs which saw some really classical color combination has been one of the highlights from Milan fashion week.
The fashion house which has styled many celebrities over the years has remain strong as the touch of men's bag is another impeccable detail of the whole event.
Read Also: Top 12 Storage Hacks to Keep Your Luxury Handbags Pristine
The fashion house presented literal baguette bags, cut in shearling and shaped like the famous French bread.
The fashion show which was done in a space provided for them saw models in dashing well designed outfit going in and out of the runway which was provided for them.
FENDI seemed to be yearning for its "It Bag" moment once more as the Baguette bag itself appeared in a variety of incarnations, from ones that resembled a classic brown leather satchel to techy black leather iterations. That's because bags were noticeable in even the smallest aspects.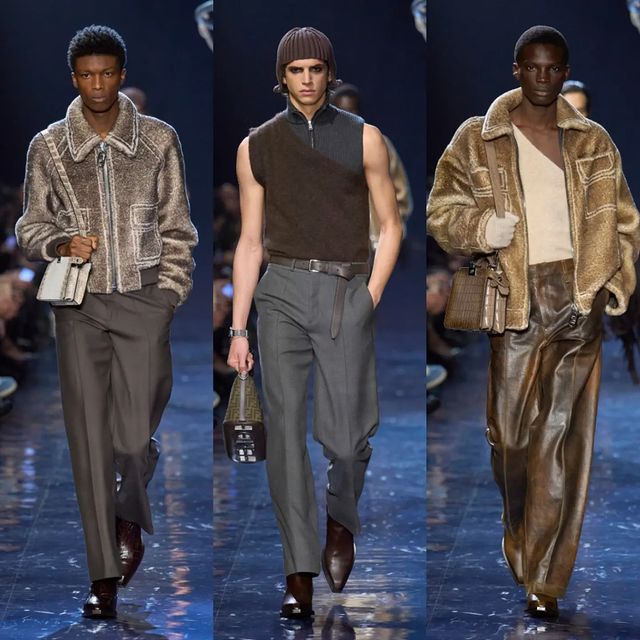 There was no stopping FENDI from getting that bag in the picture, whether it was the Delfina Delettrez Fendi-designed FENDI Shadow dangling from necklaces, shopping totes, camping versions that carried scarves like blankets, or even tiny embossed chrome silver metal card holders on dainty chains.
Trompe-l'oeil moments were generated by sprayed shearling and fleece throughout the entire show, giving clothing that is typically weighty and solid to the eye a dynamic twist while moving with loose-fitting but nonetheless tailored trousers in opulent materials. To finish things off, shearling made a comeback and was used on a long-line leather vest, which also happened to be a show highlight. It also worked a floating placket on a shirt that was really tucked below a ribbed knit.
Read Also: Dsquared2 FW 2023 Menswear Collection
See full collection below;