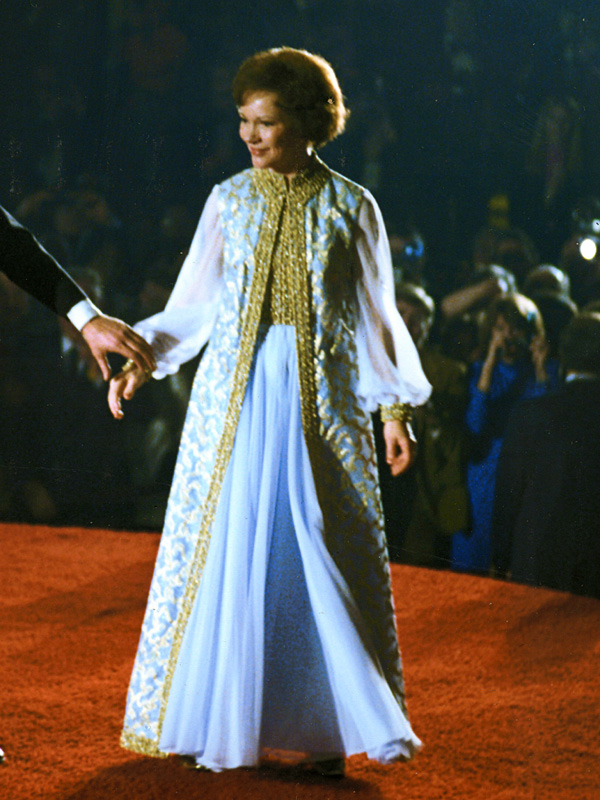 Rosalynn Carter had excellent fashion sense, in my opinion. Her clothes were elegant, timeless classics from her time. But because of the harsh criticism Mrs. Carter faced for wearing the same dress twice to the 1977 inaugural ball, many female politicians still avoid wearing the same outfit twice today.
Rosalynn made the elegant choice to attend the event in her blue ball gown. The collar, waist, cuffs, and bodice of her gown were adorned with gold trimmings made of chiffon material. She paired this outfit with a sleeveless coat embellished with gold embroidery.
Read Also: Billboard Music Awards 2023: Most Iconic Red Carpet Looks
She wore this outfit to her husband's inauguration as Georgia's governor in 1971. The first lady's unfulfilled duty to the fashion industry and the American people's yearning for her to exude elegance in her attire were hot topics in the news.
Digging into her personal activities as a woman in power, she felt that it was crucial to speak up about mental health difficulties and stress the value of kindness in fostering a more compassionate society. Despite being legally prohibited from holding the position of official chair, she served as the honorary chair of the then-new President's Commission on Mental Health in 1977 with the goal of fostering "a more caring society." She also testified before Congress and organized hearings across the country to support the passing of the Mental Health Systems Act of 1980.
The Carter administration's folksy style followed what had been several tumultuous years, due to the Vietnam War and the Watergate scandal. A working mother of four, Carter was never a clotheshorse but she was known to carry a briefcase to the White House — another first for a presidential spouse. She also advocated for the Equal Rights Amendment and coordinated with voluntary relief organizations, labor and corporate leaders to help raise tens of millions of dollars for Cambodian refugees.
Carter worked to immunize children against preventable diseases and organized a roundtable discussion at the White House about aging. As a sounding board and trusted advisor to her husband during his presidency, she was miffed when the media focused on their cost cutting decision to not serve hard liquor in the White House as opposed to weightier issues.
Rosalynn Carter has been reported dead as it was said she died at 96. The news of her death was officially announced by the couple's non-profit organization, the Carter Center, in a statement released on Sunday at 2:10 pm.