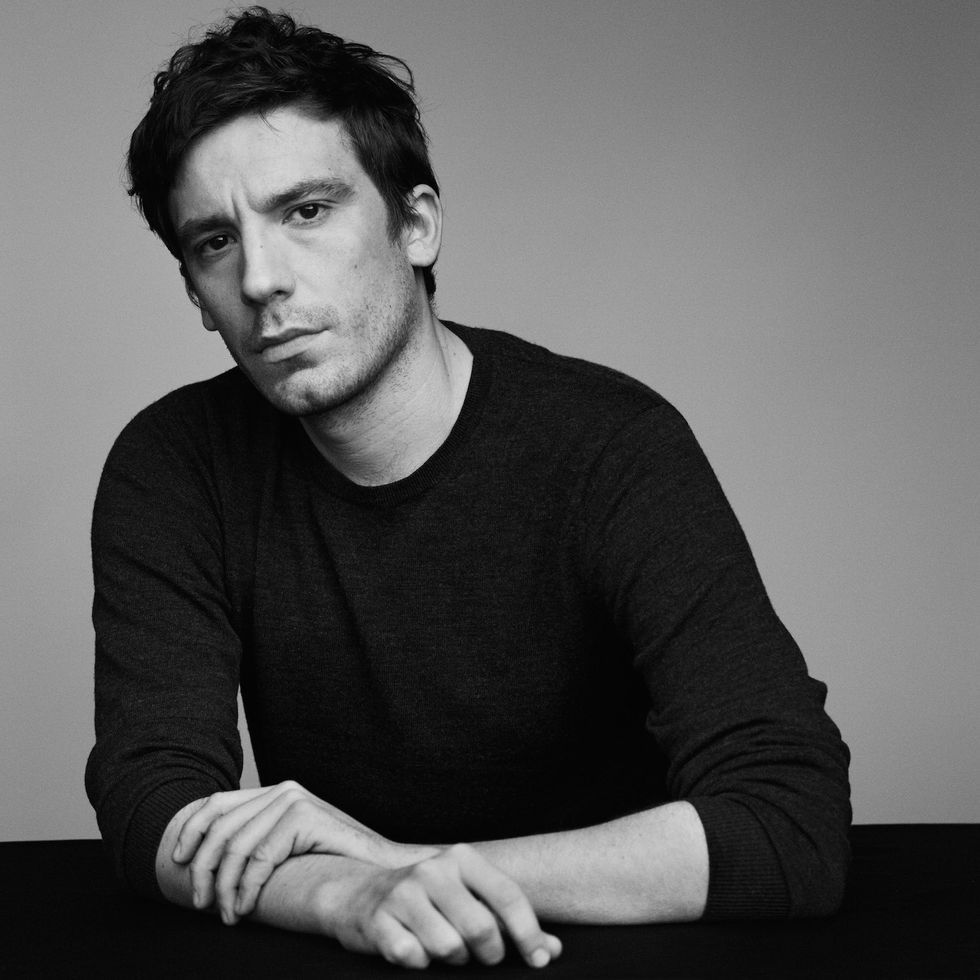 The French designer has effectively revived the 53-year-old company, which was formerly known for its punchy, reasonably priced scents. Julien Dossena  has done a great job so far since being appointed the Creative Director six years ago.
Speaking with Porter on his plans for the future of the fashion brand he had amazing dreams in mind.
Read Also: Lookbook: Rohk Spring Summer 2023 Ready To Wear Collection
Paco Rabanne is intrinsically linked with futurism, and fittingly, the house's cruise 2020 unveiling felt strangely prophetic as creative director Julien Dossena spoke of traveling "in your head… free of literal reality". Precisely one year on, vacation plans have been widely put on pause during the coronavirus pandemic and traveling vicariously is our only option for now. "It's like inner travel, let's say; through references in movies that you've always loved but didn't have time to watch again, and the same for books, or discovering new photographers," Dossena explains.
This mental journeying means time travel is possible, too, and when the 37-year-old recently read The Private Diaries of Catherine Deneuve, he was transported to Norway in the year 2000, where Deneuve was starring opposite Björk in Lars von Trier's Danser i Mørket (Dancer in the Dark). And next, to Vietnam in 1992 while she plays the lead in Indochine. "They shot for maybe two months in Vietnam, and she talks about all the traveling she did there and gives these really detailed descriptions. In one part, for example, she describes the functionality of what the people were wearing, because of the temperature and the rain as it was monsoon season, which was really interesting. And, in that sense of something being described so vividly, it can sometimes feel even more like you've been there, through the eyes of someone else."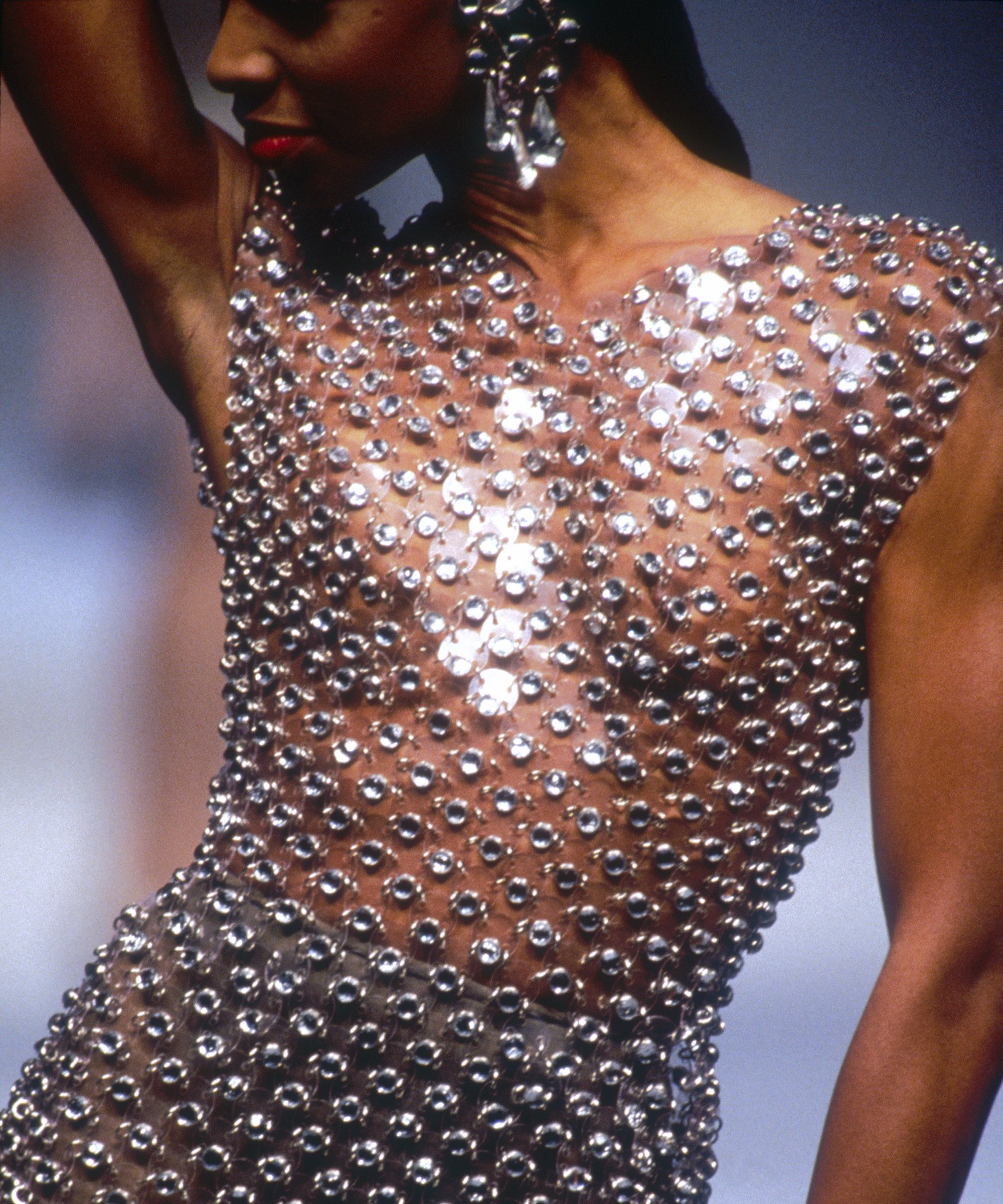 Read Also: MEET THE DESIGNER: Creative Director of Paco Rabanne, Julien Dossena
The high-summer capsule that Dossena has designed exclusively for NET-A-PORTER takes this spiritual escapism and bottles it. The designer also advocates "traveling in your wardrobe" this summer, and it would indeed be impossible to slip into his citrus-orange tie-dye T-shirt, emblazoned with 'Lose Yourself', and not envision an Ibizan beach bar, throbbing with blissed-out revellers. Music has always been at the core of Dossena's aesthetic, having grown up in his father's nightclubs in Brittany, and as a '90s teen, he counts grunge as a perennial reference point, too. As with every Paco Rabanne collection, the mish-mash of references are executed via super-elevated silhouettes and finishes: Dossena's signature 'luxe bohemia' plays out on a pink paisley-print, lace-trimmed slip dress, while a gold chainmail blouse looks as though it's been plucked right out of the brand's '60s Space Age-inspired archive. "You can mix them all together, or just buy once piece and put it with jeans or shorts," he advises.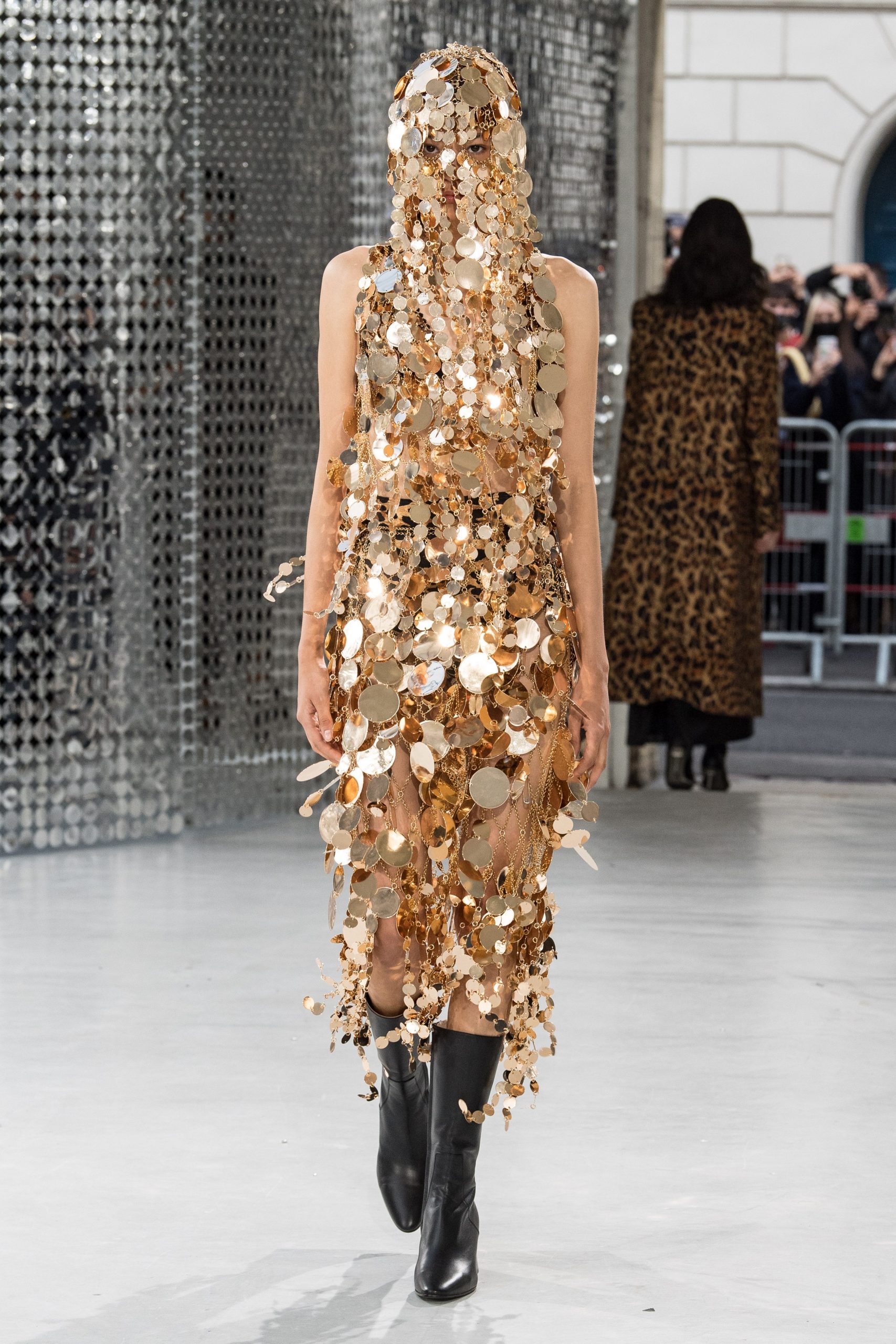 In the fashion industry you can explode in a minute and then go back down a minute later, so I just want to be steady and really grounded

"
Dossena has always been a voracious reader, and lockdown provided even more time to dedicate to his favorite hobby. "It's like drinking water for me; it's almost a reflex now. It helps me to sleep, it helps me to rest and relax; it's like a door to calm," he says. With the eyes of the fashion world watching his every move – and duly nodding along in approval – since his appointment at the Parisian fashion house seven years ago, it's unsurprising Dossena needs an escape route. Since taking the reins, the designer has focused on growing slowly, measurably, and molding the brand to his vision in a thoughtful way while authentically honoring its heritage. "It's still something I hold on to, because in the fashion industry you can explode in a minute and then go back down a minute later, so I just want to be steady and really grounded," he says. "I really want to be confident in my proposal of each collection, and in creating that total universe and global image of the brand."
Under Dossena's direction, Paco Rabanne saw triple-digit growth last year. The creative director's strategic transformation has included unifying the visual identity of the house's successful fragrance line and that of its fashion campaigns, recruiting a coterie of cool girls including musician Kelela and model Londone Myers to front such campaigns. In line with Dossena's fluid vision of fashion, for SS20, he added menswear to his offering – think chainmail t-shirts and floral-print tailoring. And he's transformed the brand's Paris Fashion Week show from a relative outlier to one of the city's hottest tickets. Next, a genderless makeup line is in the works.
After studying fashion at La Cambre in Brussels, Dossena decamped to Paris, where he landed an internship at Balenciaga, under Nicolas Ghesquière. Within four years, he'd been promoted to senior designer. When Ghesquière departed in 2012, his design team followed, including Dossena and Natacha Ramsay-Levi, who is now creative director at Chloé. The trio remain close and are part of a support network that Dossena holds dear. "We are friends in life besides being designers, so we talk a lot and sometimes just ask, 'How are you doing?'" It's a question that became all the more important during lockdown in Paris, where Dossena lives on the outskirts of the trendy Le Marais neighborhood. "I'm lucky enough to be friends with people who work in the fashion industry who are really wise and always give me advice and guide me – not in my work, but when I have a question, I can always call them," he says. "It keeps you grounded because having people to listen to is really fulfilling, too." After leaving Balenciaga and initially setting up his own label, Atto (which was shortlisted for the 2014 LVMH Prize), Marie-Amélie Sauve – the influential French stylist and long-time collaborator of Ghesquière – put Dossena forward for a role at Paco Rabanne, where he was eventually enlisted as creative director.
It's the beach I grew up on that I crave the most. Even when you are facing difficulties, you still know that the sea and that place have their own rhythm, and you can always find it when you go back there
Under normal circumstances, we would have conducted this interview in person, but for obvious reasons we're speaking over the phone. Having met previously, I can confirm Dossena is as boyishly handsome as other profiles extol and, for one of fashion's most prolific young designers, refreshingly affable. He grew up by the sea in Brittany, with one younger sister, Clementine. His parents divorced when he was six, initiating a peripatetic upbringing as he and his sister moved between Paris, Berlin and the South of France with their mother, before returning to Brittany for high school. Despite his nomadic younger years, Brittany is definitely home, and a place Dossena looks forward to visiting once travel is possible again. "It's the beach I grew up on that I crave the most. Even when you are in a rush in life or you are facing difficulties, you still know that the sea and that place have their own rhythm, and you can always find it when you go back there. It's like a presence and something that makes you feel really even; just thinking about it makes you feel quieter and calmer. I was walking to the office [in Paris] yesterday and I thought, 'Let's go along the Seine'; just having the rhythm of the water and seeing the scale of the sky on it was calming."
Life in Paris is resuming some semblance of normality as lockdown restrictions continue to ease across France. Yet Dossena acknowledges that things are far from business as usual. For one, the presentation of his SS21 collection in September remains up in the air. "It's interesting because for a long time I've been thinking, 'Is there another way to present clothes? Is there a way to open up the presentation format a little?' In Paris, when you want to invite more than six or seven hundred people to a show, the venues are quite tight. So, maybe there are a lot of possibilities to go back to the core of what you want to present. Not to make it bigger and bigger, but tighter and, at the same time, better – still retaining that impressive feeling, but I think people will crave intimacy and sensitivity after being afraid of being around people."
The opening dress at Dossena's SS20 show last September came with a big red heart placed in the very center of the bodice. Backstage, he spoke about the importance of kindness. "Fashion for me is built on emotional connection," he says now, and passionately describes the intimacy of wearing something that's been constructed completely by hand. Currently, he and his team have been discussing moral values following a period of reflection in lockdown, while looking ahead to the future. "It's a good moment to remember that in the future we may need those pauses to just do better. We're questioning that in the team: how we can bring back that kind of time to be creative more calmly," he says. "Before, we sometimes felt like we were headless chickens running everywhere – more shows, more collections and more clothes; sometimes you just feel like it's not making sense, especially when we are also thinking about sustainable values and how we can avoid waste."