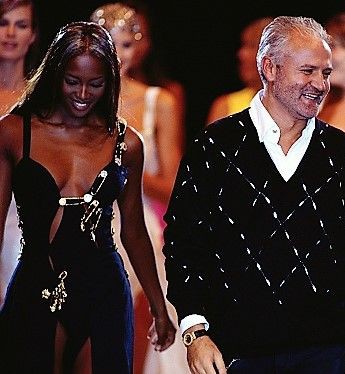 In this week's fashion history, we will be taking a look at the history of Versace. Gianni Versace popularly referred to as Versace is an Italian luxury fashion company founded by Gianni Versace in 1978. The fashion company is known for its tradename, amazing ready to wear and accessories.
Read also: LookBook: Versace Fall Winter 2022 Ready To Wear Collection
Gianni Maria Versace 1972 designed his first collections for Callaghan, Genny, and Complice. A few years later in 1978, the company was launched under the name "Gianni Versace Donna". Gianni Versace is known as one of the few independent designers who are also in control of everything about the brand From designing to retailing.
The Versace logo is said to be inspired by Medusa, a mythological goddess whose hair is made up of snakes.
Throughout the first four years of opening his boutique, Versace sold only designer clothing. In 1982, however, the company began to expand by offering other products such as designer accessories, furniture, and fine China under the Versace brand.
Read also: LookBook: Versace Fall Winter 2021 Ready To Wear Collection
In 1997, Gianni Versace was murdered at the age of 50 which led to his sister Donatella Versace, formerly vice-president, taking over as creative director, and his older brother Santo Versace became CEO.
The history of Versace continues with the Italian fashion house designing clothing for the Princess of Wales and Princess Caroline of Monaco. The green Versace dress worn by Jennifer Lopez to the 42nd Annual Grammy awards gained lots of attention. The dress was voted as the fifth most iconic dress of all time in 2008.
Photo credit: Pinterest