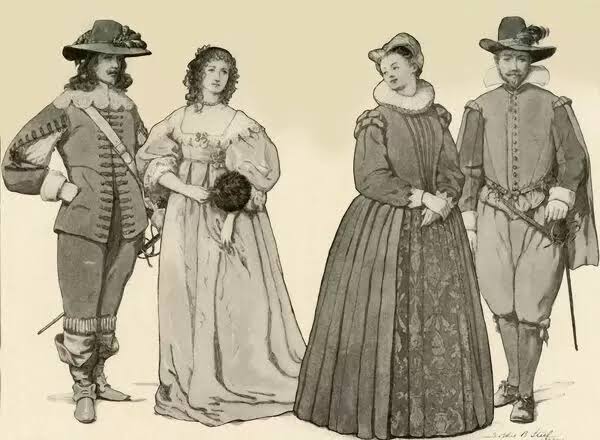 This week, we will continue with our fashion history session by taking a look at the fashion of the 1600s. So it actually turns out that fashion goes a long way, it existed from the moments humans began to put on clothes.
Read Also: Fashion History Sessions: fashion history of the 1700s
Rapid change is a defining feature of 1650–1700 fashion in Western European clothes. Baroque is the name of this era's fashion.
Following the Thirty Years' War and Charles II's restoration to power in England, military influences on men's attire were replaced by a brief fad of ornate excess before giving way to the coat, waistcoat, and breeches fashion that would rule for the following 150 years.
High-waisted silhouette was replaced by a long, slim line with a low waist for both men and women according to the typical cycle of fashion. Periwigs became a staple of men's attire during this time period as well.
Midway through the 20th century, full, loose sleeves stopped just below the elbow and started to get longer and tighter in line with the new fashion.
Read Also: Maison Valentino Resort 2023 Collection
With a broad, low neckline and drooping shoulder, the body was closely corseted. In subsequent decades, the overskirt was pulled back and fastened up to reveal the ornate petticoat.
While affluent Holland likewise continued to follow its own modest patterns, particularly in headdress and haircuts, much like it had done with the ruff in the previous era, Spanish court fashion remained out of line with that of France and England.
Did you find anything fascinating about the 1600s fashion?
Let us know on  Instagram