Fashion blogger and Billionaire's daughter, Temi Otedola  gives inspiration for her looks.. With a growing fashion brand and  style, Temi Otedola opens up about her looks and the secrets behind it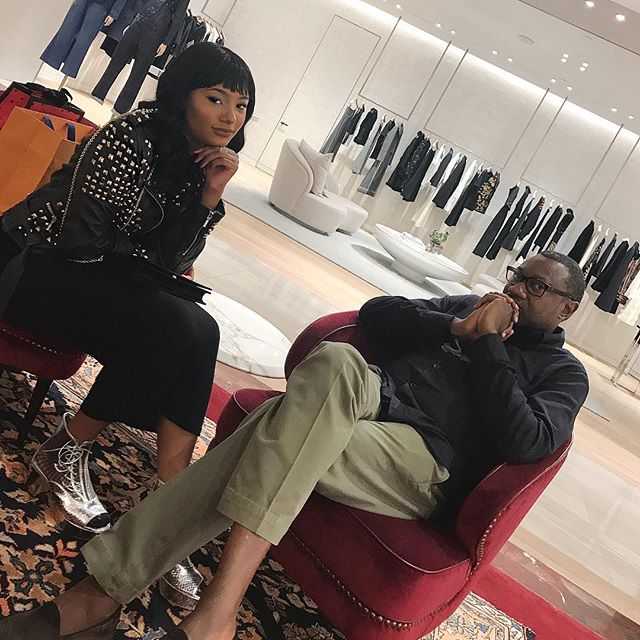 What's fashion to you?
Fashion is creativity. It is exploring a personality and not sticking to one thing or following trends. I think it is essential to know what suits you and what you enjoy wearing. Stick to that instead of just copying whatever it is people are wearing.
How did you know fashion is the path you want to pursue?
Right from when I can remember I have always been obsessed with clothes and experimenting with the way you dress. For me fashion has always been a way or expressing my personality; hence it only makes sense for me to work in the fashion industry.
Describe your style?
My style is probably very eclectic so by day to day it changes. I love colours; I love cool jewellery. When I'm not in Lagos, I love coats, fringes, exaggerated silhouettes, big trousers, so every day the look kind of changes but the main things I like are colours and big shape.
What won't you do for fashion?
I won't be uncomfortable for fashion. So as long as I'm comfortable and I like what I am wearing.
What's your fashion secret?
Every time I get dressed I pick one piece, and then I build everything around it. Either my outfit is built around the bag I have chosen to wear or the shoe, or the top or even sometimes I use my makeup to pick my gear.
What's your perception of African fashion?
I really won't say African fashion can be divided into a region, I think every African country has their different identity of fashion, so let me speak about Nigerian designers, I see incredible talents coming out of Nigeria, and they're making day to day clothes, not just in Nigeria but across the world. Some of my favourites are Orange Culture, Bridget Awosika, Maki Oh, Andrea Iyamah, but the lists go on and on.
What do you perceive beauty to be?
Beauty is being you hundred percent.
What beauty secret do you employ to look as good as you do?
Well, you have to do what works for you. Hence you have to try out different products as you can, and when you see the result just keep using it, but everyone skin is entirely different so we shouldn't try to copy other people's regime, we have oily skin, and dry skin and what works for me might not work for them.
Do you exercise?
Yes, I do at least twice a week, on a good week I can do four times a week.
What's your beauty regimen like?
My beauty regimen is in the morning I use my moisturiser, and in the evening I use my face wash exfoliator, and sometimes I do a mask, and I found out that the less you do, the better.
What do you do to relax?
I read a lot! I love reading a lot, I love reading magazines, I go to the cinema, sometimes exercising is relaxing, I go to the movie, and sometimes I just chill out with family and friends.
What's your ideal vacation spot?
My ideal vacation spot will be somewhere with a beach, cocktail and good music. In Africa, I would love to go to South Africa, Cape Town and that's because of good pictures! It is so good to take pictures in, and then they have all these old clothing and multicolour, so I think it'll be great to take pictures there as well.
What's your watchword in life?
I would say take every day as it comes because I feel like sometimes we focus on the more significant issue when we should just enjoy or deal with the moment. Like why do I have to be bothered about what will happen in two weeks or two months when I have 'now' to deal with and live?
What are you passionate about in life?
Fashion obviously! I love fashion and art which is what prompted my present study of the history of art in the university. Art is my main passion even before fashion. So I love art and music, let me not forget that one (laugh).
Beauty rule and fashion rule?
My beauty rule is never to sleep with your makeup on, ever! Well, I don't think you should have rules where fashion is concerned, whatever works for you works for you but I would say my one rule in fashion is do not over accessorise because I don't.
Interview conducted by Linda Orakwe was first published in Vanguard Allure.
Credit: Linda Orakwe for Vanguard Allure