Fans have taken to social media to sympathize with controversial Nigerian celebrity journalist, Kemi Olunloyo.
This comes after she took to social media to cry about the fact that she hasn't seen her second child in 18 years.
The Yoruba-born self acclaimed Investigative journalist, is a single mother of three children for three different men.
She wrote, "I've not seen my second child for 18 years. I wanna cry! Tears are good for you! I'm going to see God soon to ask him why?"
See the post below: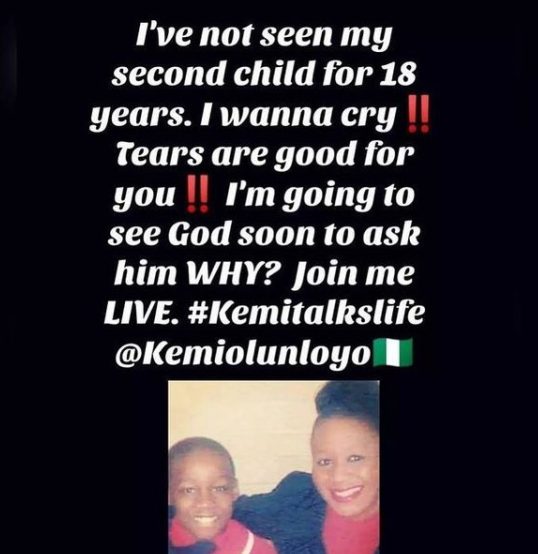 Reacting to the post, one of her fans took to social media and wrote, " I try not to judge people most times because I don't know their hidden struggles. I go on a trip for days and I am Already feeling sick without my kid's."
Another fan, Obianuju wrote, "It is well ma'am. The Lord is your strength. Hang in there, keep hoping, One day everything will definitely be fine again. "
A Jane Jude wrote, "but why have she not seen him,I don't understand,did he go missing or he refused to identify with her."