Alexx Ekubo, a popular Nollywood actor and model, has announced his engagement to his longtime girlfriend, Fancy Acholonu.
Alexx who took to his IG page shared a lovely photo of him and the love of his life with the caption,
" asked the love of my life @fancyacholonu to marry me…."
See below: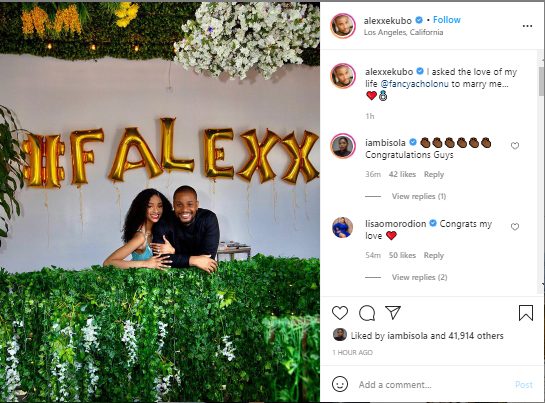 Meanwhile, Bbnaija star, actress and model, Venita Akpofure, has opened up on how walking out of her marriage was one of toughest decisions she has ever had to take.
She made this known during an interview with Sunday Scoop, revealing that it was seven months after moving out of her marital home that the public got to know.
Akpofure said, "One of the toughest decisions I have made was leaving my marriage. It became known to the public about seven months after I had moved out of my matrimonial home. I am grateful that I had a great support system that really helped me through that period. Being a single mother is not easy, especially if ones work a lot. I had to multi-task to make sure I'm there for my kids. I don't consider being in the limelight as a fulfilment.
"Fulfilment, for me, comes from within, which is when I am meeting personal goals and providing for my kids."
The former Big Brother Naija contestant also stated that celebrities have the responsibility of cautioning their fans when they use hate words or victimise others on the Internet.
She said, "Social media is toxic. There are some things I believe people should be responsible for.
"For example if I have a fan base that spews hate online, I would call them to order but some people feel they don't owe that social responsibility to anyone……..