The internet was set on fire after popular Nigerian singer, Tiwa Savage's Real s*x tape was released.
Glamsquad Magazine recalls that on a radio station, Tiwa Savage claimed that a blackmailer was attempting to extort money from her because he had her and her boyfriend's s*x tape on his phone.
Read Also: Tiwa Savage's s*xtape set to be released
Here are facts about the trending s*x tape;
It's indeed Tiwa Savage:
The person on the 10 seconds video is indeed Tiwa Savage. Tiwa Savage and her fling (maybe side piece) had the s*x on a yacht during her trip to Ghana. Before the s*x tape, Tiwa Savage, was seen cruising and enjoying with her friends on a yacht.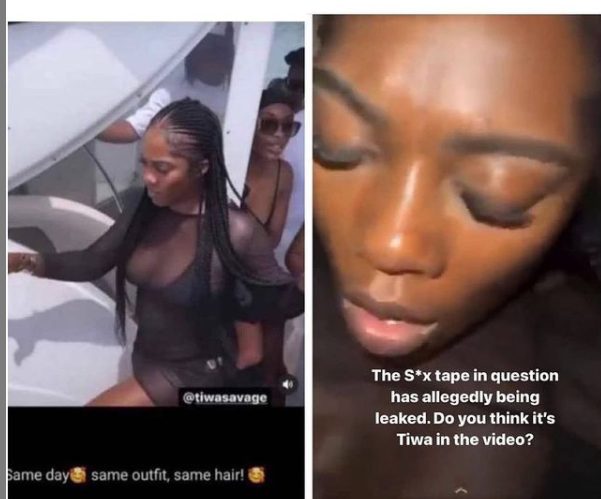 She appeared DRUGGED/DRUNK
Tiwa Savage appeared stoned (drugged)/drunk in the video. For a celebrity of her status, she obviously wouldn't allow a man to record her during s*x. She was high AF and probably just "flowing with the moment".
The act was carried out the period when her alleged ex-boyfriend, Obama DMW died
Recall that Tiwa traveled to Ghana the period when her alleged former lover, Obama DMW died. She was literally mourning him while she had s*x with another man and recorded it?
Read Also: Obama DMW allegedly dies of heart failure
We still Insist that it's publicity stunt
Being very careful is a big deal for someone as huge as Tiwa Savage. The recording and uploading by "mistake" of the s*x tape was all planned by her management to promote her latest album, "Water and Garri".
Who records themselves during s*x via Snapchat? Was he trying to enhance the beauty of their private parts using filter? LOL.
PS: We couldn't share the tape here because we do NOT share p*rn on this site. You can search for the video on the internet as it's littered everywhere.