Last year, 902 hopeful aspirants flocked to Lagos for a chance to win a global modeling contract with IMG Models Worldwide. This year the casting is expanding to two other African cities, giving more aspirants a shot at the spotlight.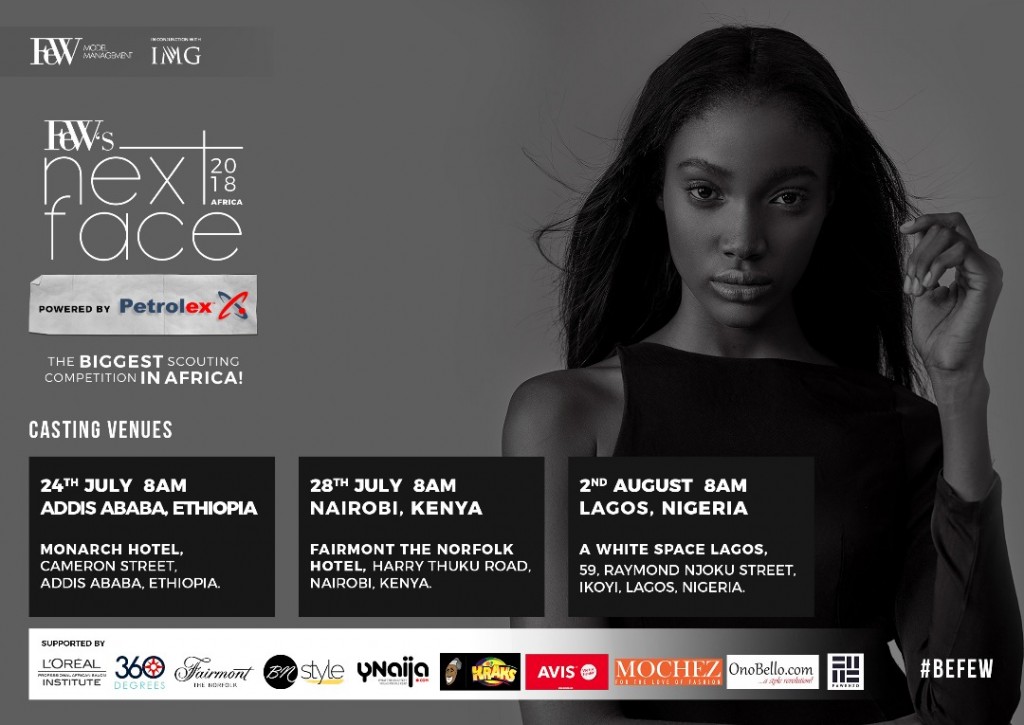 Few's Next Face is a modeling scouting competition organized by Few Modeling Agency and IMG Models Worldwide. It is focused on identifying girls with star quality and providing young, aspiring models an effective platform through which their skills and talents can be nurtured. By nurturing and honing these talents, many will have the opportunity to be scouted by local and international agencies.
The first edition was held in 2017, and 19-year-old Daberechi Kalu emerged as the winner. This year, the project will include pan-African scouting and a one-week boot camp before the finale on the 2nd of September, 2018 at the Federal Palace Hotel, Victoria Island, Lagos.
Think you have what it takes? Show up for the first casting in Ethiopia.
Casting Dates:
Ethiopia
Date: Tuesday, 24th July 2018.
Time: 8AM
Venue: Monarch Hotel, Cameron Street, Addis Ababa, Ethiopia.
Kenya
Date: Saturday, 28th July 2018.
Time: 8AM
Venue: Fairmont The Norfolk Hotel, Harry Thuku Road, Nairobi, Kenya. 
Nigeria
Date: Thursday, 2nd August 2018.
Time: 8AM
Venue: A White Space Lagos, 59, Raymond Njoku Street., Ikoyi, Lagos, Nigeria.
OnoBello.com is a media partner for this event.
More about Few Next Face
Since December 2015, Few Model Management has scouted models across a range of African countries – including Nigeria, Ghana, Ethiopia, Kenya, and Rwanda – to find unique faces. They have set a precedent for themselves as Nigeria's most high-end boutique scouting agency, and thus garnered international acclaim and a partnership with IMG Models Worldwide.
In order to tackle the prevalent lack of African models in the global industry, Few Model Management and IMG Models Worldwide joined forces to start a project now known as 'Few's Next Face Africa'. Few's Next Face is a model scouting competition which aims to identify and provide a platform for aspiring young models through which their talents can be nurtured and honed to the global standards. With a continent full of beautiful African women, diversification and redefining the concept of 'Africa. Beauty' is also a major point of focus.
The maiden edition of Few's Next Face Africa was a two-day event held at Federal Palace Hotel, Victoria Island, Lagos. On the 30th of July, 2017, 902 contestants showed up for a casting presided over by Luis Domingo: IMG Models London, Zara Odu: Fashion Brand Analyst and Casting Director, Adebayo Okelawa: Founder of Orange Culture and Godson Ukaegbu: Editor-in-chief of Mania Magazine. 15 finalists emerged on July 31st and competed for the grand prize of a 2-year contract with IMG Models worldwide, N1,000,000 and a contract with Boss Models Cape Town in South Africa. 19year old Daberechi Kalu emerged as the winner.
The entire project for the 2018 edition includes casting for models in Ethiopia, Kenya, and Nigeria, after-which the top 15 girls will participate in Bootcamp from August 25th till the finale at The Federal Palace Hotel, Victoria Island, Lagos, on September 2nd. These girls will compete for the opportunity to work with international modeling agencies like IMG Models, Next Models, Select Models, and Boss Models in their different locations – Paris, London, Spain, New York – as well as other prizes.