Nollywood actress Empress Njamah has joked about getting a tattoo of actress Ada Ameh.
The 40-year-old in a post on Instagram asked for the correct spelling of Ada's native name on Thursday.
Empress also asked her followers to tag Ada to the post as she has booked her appointment at the tattoo place.
"Ada Ameh.. Am about to tattoo your name on my lap ohhh, but I need the correct spelling of that your local native name, pls be fast about it, maybe if I put your name for my body you stop dey bully me," she wrote.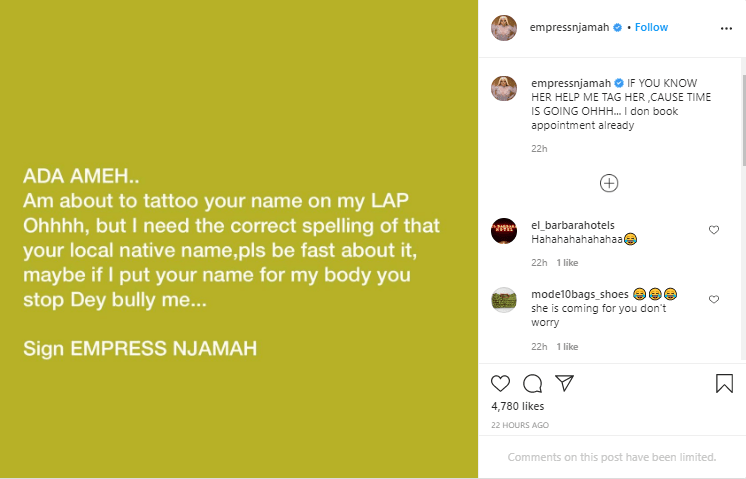 Ada replied in the comments sections saying, "@empressnjamah I don do video but I dey think 🤔 I am Chief Amb Ada Grace Obande Ameh.d Ochanya 1 ku 'TV k Idoma. D 1&only Oshigiri mama 1 of Nigeria d jaguda boundary 1 of AJEGUNLE!!! D katakata 1of Urobo Kingdom!! Emuakpo of the Johnsons. Thank you very much my small mama start d tattoo."
She also said, "@empressnjamah I dey wait for you oo!! Turn to Oliver naaaa😂😂😂😂😂ask for more."
Ada had on Wednesday slammed Big Brother Naija star Ka3na for the way she reacted to a lady who tattooed her name on her thigh.
She said Ka3na had asked for it and when the lady did it she went on to embarrasses her.
"You went on Twitter, you wrote something you would have loved for someone to have a tattoo of you on their body and this young lady did. You did not come to say what the lady had done was wrong after she had done it, you came and did a video all flirting with your hair.
I don't know where the hair hung that you were flirting with it and you were being sarcastic. That was sarcasm as far as Ada Ameh is concerned and that was very wicked of you and that is still wicked of you," Ada said.