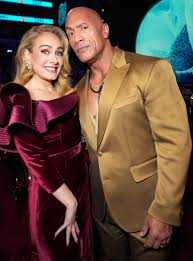 American actor and former wrestler, Dwayne Johnson better known as 'The Rock' has disclosed how he was able to surprise his super-fan, English pop singer, Adele Laurie Blue Adkins at the 65th Grammy Awards.
Grammy host, Trevor Noah surprised Adele by introducing her to Dwayne Johnson, which left her blushing on Sunday, 5th February..
Adele, 34, had revealed in December 2021 that she would, 'actually cry' if she ever got to meet the 50-year-old actor and WWE legend.
The singer told YouTuber, NikkieTutorials, 'Someone that I?ve never met that I think I would actually cry is The Rock.'
She further said she was his biggest wrestling fan when she was younger, adding that Johnson sent flowers once when he couldn't make it to her One Night Only show in Los Angeles, as she admitted when she got the flowers, 'I nearly fell off my chair.'
At the Grammys, Noah decided to surprise her by introducing her to Johnson, causing her to blush. The Rock has now opened up to Variety and revealed how he pulled off the surprise.
Johnson admitted he had known for some time that Adele was a fan of his, adding, 'We wanted to do something special for Adele.'
'I know that she is a very big fan of mine and has made that clear publicly many times.'
The Rock admitted that,
 'but I?ve got to tell you, I am a huge fan of hers, as well ? her music, her journey, her openness and directness in how she speaks. I?ve always admired that about her.'
It's not an easy road' – Wizkid's baby mama, Jada Pollock shares her struggle as a working mum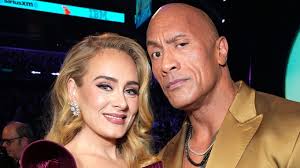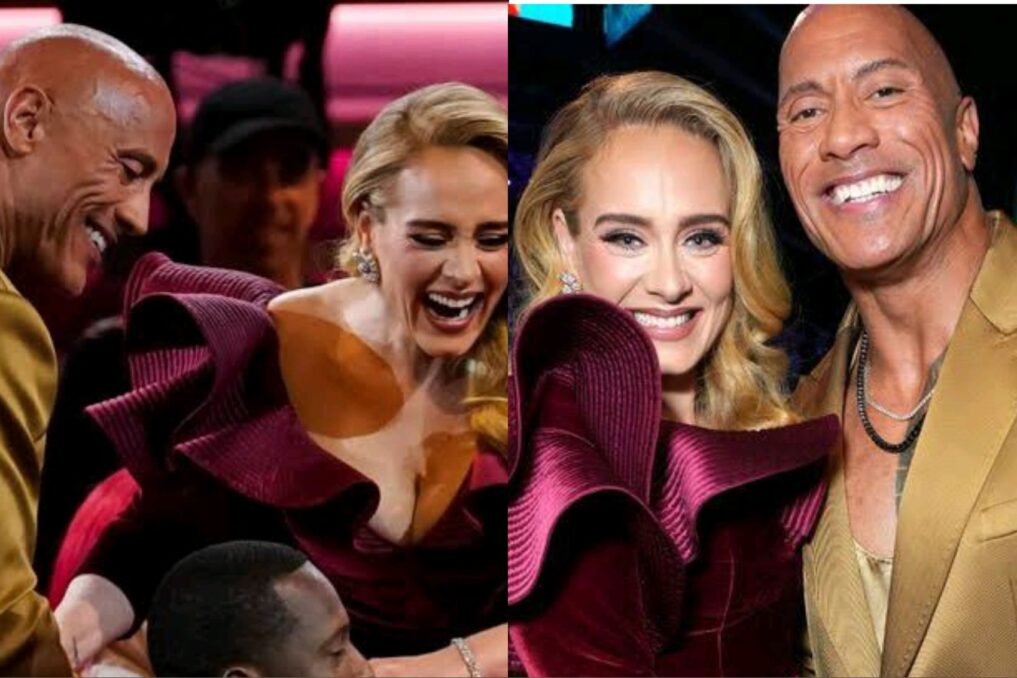 When Johnson confirmed he'd be attending the Grammys, producer Ben Winston pitched him the idea of surprising Adele at the top of the show.
Johnson said.
'We were trying to figure out something to do that was going to be fun and surprise her, and we had kicked around ideas all week,'

'The key to a surprise like that is to actually keep it a surprise. Myself and the Grammys went to great lengths to make sure that Adele was authentically surprised in the moment, and she was.'
He added it was a, 'great surprise' and he was able to chat a bit with her and her boyfriend Rich Paul after the surprise intro, adding it was a special bonus to present her with her 16th Grammy later on that night for Best Pop Solo Performance.
'And talk about the universe meeting our friendship halfway: I get up onstage and I open that Grammy envelope and it said ?Adele.? So that?s why I was able to say, "Get up here best friend, Adele!"'

'It was such a special night. And she's such a special iconic brilliant inspiring artist who has inspired a generation and who will continue to inspire generations to come. I love that woman. We had a really great time tonight. I think probably the best part about it is she's just cool and I had never met her before,'
Read Also: Video: LeBron James becomes NBA's all-time points record holder, surpasses Kareem Abdul-Jabbar's record