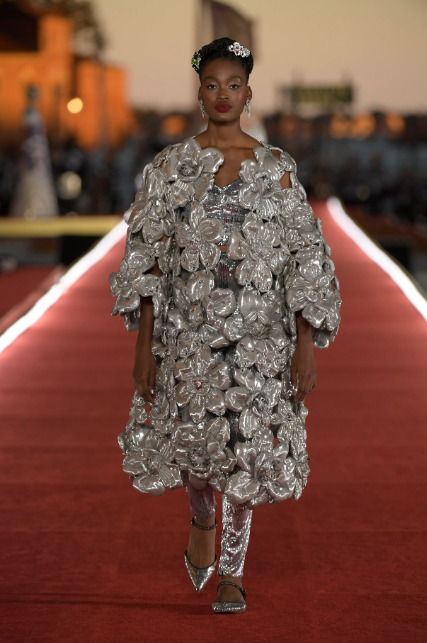 Almost a decade later and with over 1,000 participants, Alta Moda has grown into an international event attracting notable celebrities and individuals in the high-end lifestyle industry. Now, DG's Alta Moda collection has put the brand on the map for its artistic displays in some of the most luxurious cities in the world.
Alta Moda 10-Year Anniversary
Since 2012, Dolce & Gabbana has released newly inspired variations of their Alta Moda line. Marking the 10-year anniversary of Alta Moda, Dolce & Gabbana released an exclusive Alta Moda fashion show in Saudi Arabia.
Read Also: SA Fashion Week launches Fashion Bridges
The Alta Moda Attraction
Dolce & Gabbana features 4 main lines every year at Alta Moda. Their Alta Moda line represents their women's collection, while Alta Sartoria shows Dolce & Gabbana's men's collection. The other two lines, Alta Gioielleria and Alta Orologeria attribute work to both women and men.
Since the onset of Alta Moda, Dolce & Gabbana has presented every year's collection at some of the most famous landmarks in Italy. Alta Moda collections have taken place at St Mark's Square and Piazza San Marco in Venice, Teatro alla Scala in Milan, and Temple of Concordia in Agrigento. However, the event does not stop in Italy. In years past, Alta Moda has visited Sicily, Mexico City, New York, Tokyo, and Beijing.
The Inspiration
The inspiration of Alta Moda lies in an effort to renew and rebirth Italian high-end lifestyle looks. In other words, Alta Moda represents an attempt to revitalize Italian arts and tailoring. While every Alta Moda event is different, a theme honoring Italian craftsmanship is usually present.
To honor Italy's rich artistic history, Alta Moda 2021 centered around the 1600th anniversary of the dawn of Venice, Alta Moda 2020 sought to honor the Italian Renaissance, and Alta Moda 2017 was entirely inspired by Italian Composer Giuseppe Verde. An overview of Alta Moda's history presents a story that seeks to highlight Italian art.
At the most recent Alta Moda, Dolce & Gabbana dressed Alta Moda models in attire influenced by Antonio Vivaldi's Four Seasons concertos and the serpentine flooring laid in St Mark's Square. The collection incited wonderfully bold colors, floral patterns, and scenes of Venice's landscape. The red carpet that ran through St Mark's Square connected to Vivaldi's Four Seasons by featuring a rainbow and stormy clouds.
The Who
Dolce & Gabbana's latest Alta Moda also attracted celebrities from around the world to come and view their artistic inspiration. Lady Kitty Spencer, Dame Helen Mirren, Kris Jenner, Kourtney Kardashian, Doja Cat, Sean Combs, Christian Bale, and Jennifer Lopez all attended among dozens of other celebrities and big names in the industry.
For entertainment, Jennifer Hudson performed in a beautiful golden dress as she sang "Nessum Dorma," from Turandot, an Italian Opera composed by Giacomo Puccini. The title skyrocketed in popularity after the 1990 FIFA World Cup performance by Luciano Pavarotti.
Read ALso: Lagos Ranked Second Worst Liveable City In The World
Receive Your Own Inspiration
The lifestyle industry is constantly changing and evolving. You can stay up to date with Dolce & Gabbana Alta Moda by visiting Dolce & Gabbana's website and social media. Here, you will find the latest information on Alta Moda collections, inspiration, celebrity attendance, and location.