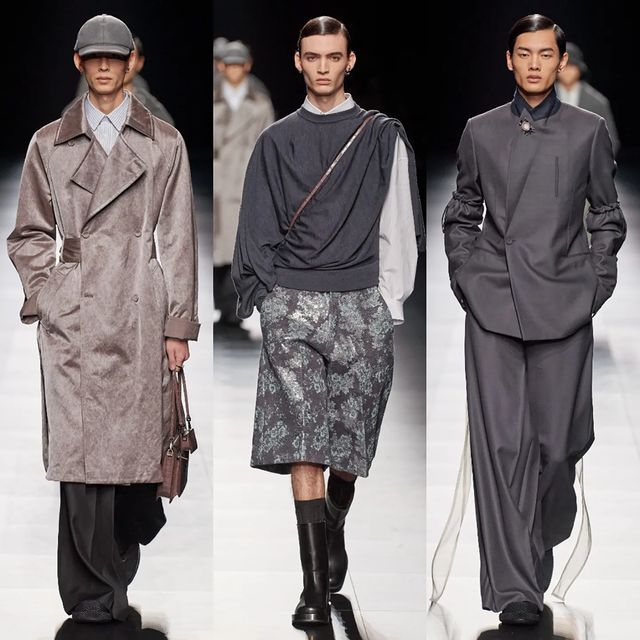 For Fall-Winter 2023, the fashion house went all out in the production of Menswear. The show started with models in overall coats made of fur with well tailored pants.
The color choice are something to applaud; not too bright, not too dull just the perfect amount of beautiful. The detailing of the outfits was noteworthy as some of the models were spotted with handbags made of leather.
Read Also: Saint Laurent FW 2023 Menswear Collection
Instead of a direct recreation of vintage styles, it was more of a flavor, possibly a gesture to fashion history buffs (both young and old—competitive debate of references is very much becoming a TikTok and Instagram video thing). As for the "Me" component Jones alluded to, that was undoubtedly in the development of the uniquely made suit that is solely his own—the minimal, single-breasted jacket with no lapels over flowing trousers. It exudes both an elegance and a mesmerizing sensitivity.
Over time, Jones has been a trailblazer in introducing street inspirations into the world of high fashion and insists on translating Christian Dior's womenswear designs to menswear. The fact that the skirts—and shorts so broad that they resemble skirts—in this show are now accepted as being very normal is a testament to Jones' effect on society as a whole.
He is not writing in 1923 like T.S. Eliot, but in 2023. Eliot's poetry being utilized in a fashion show may shock English academics throughout the globe, but the two Britons at least share one thing: a desire to transform the field in which they work by acting as a bridge between the past and the present.
Read Also: Lookbook: JW Anderson FW 2023 Menswear Collection
See full collection below;