Deezer has helped music listeners connect to the music and words they love since it introduced time-synced lyrics to its website in 2014. Today, the worldwide streaming platform takes its lyrics feature to a whole new level by offering in-app lyrics translation.
When streaming music in its native language, users no longer have to compromise the meaning of a song or its lyrics. Music fans can now browse real-time lyric translations of the most popular English songs* in French, German, Spanish, and Portuguese with a single click.
Additional lyric translations, including translations of songs from other languages into English, will be added over time. Meanwhile, those with English** phone settings can use the function to improve their language skills or learn a new language through music.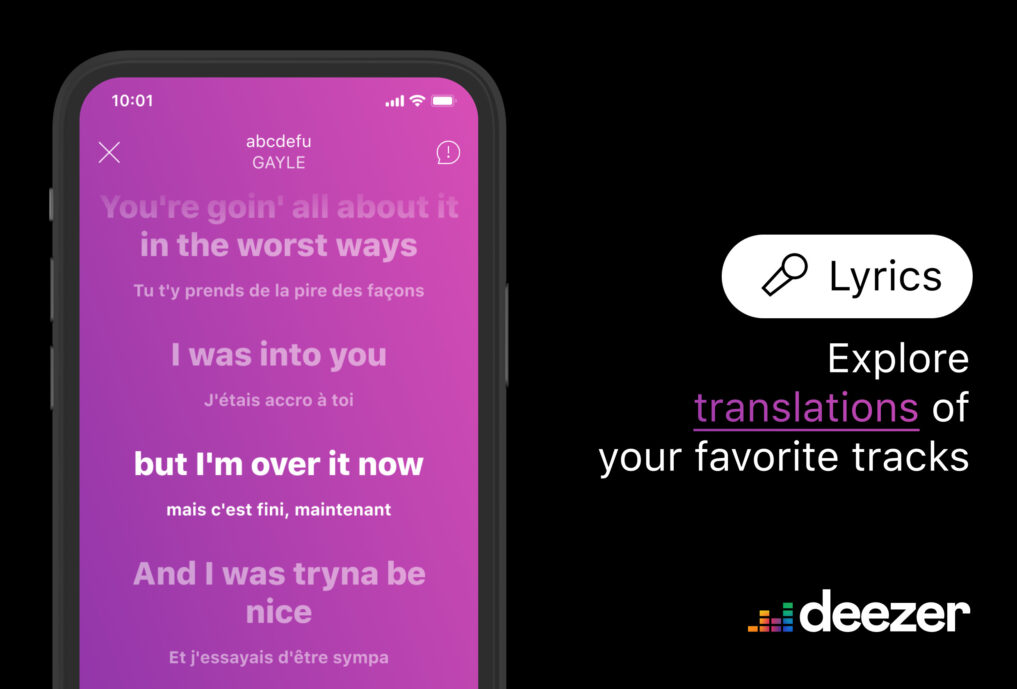 "Music fans have always been able to immerse themselves in the thoughts and feelings of the artist with our widely popular lyrics function. But with our new 'Lyrics Translation' feature, they can now discover the artist's true meaning behind their favorite tunes, and even sharpen their language skills, or totally learn a new language in the process," explained Alexandra Leloup, VP Product – Core Products at Deezer.
To activate the new 'Lyrics Translation' feature on Deezer follow these steps:
Access 'Lyrics' via the microphone icon
Select 'with translation'
To disable this feature, select the 'without translation'
If you're wondering about how the functionality works, try it with the top ten songs streamed with lyrics on Deezer in the United States.
Top 10 Songs Streamed with Lyrics
MAMIII – Becky G
abcdefu – GAYLE
Easy On Me – Adele
Sweater Weather – The Neighbourhood
Save Your Tears – The Weeknd
Cold Heart – Elton John and Dua Lipa
Desesperados – Rauw Alejandro and Chencho Corleone
Levitating – Dua Lipa
Woman – Doja Cat
INDUSTRY BABY – Lil Nas X and John Harlow
Alternatively, explore the 'Lyrics Translation' feature on Deezer by streaming 'Hit Tracks, Hot Lyrics.' The playlist is a collection of today's hits, which you can sing along using with lyrics, or sharpen your rusty French or Spanish language skills** by using the new in-app translation feature.
*Only  10,000 of the most popular songs streamed on the platform display the 'Lyrics Translation' function. Currently, the function only translates songs from English to French, German, Portuguese and Spanish. 
**Users whose phone's settings are in English need to update their language preferences in settings to French, Portuguese, German or Spanish to view translations from English in either of the aforementioned languages.